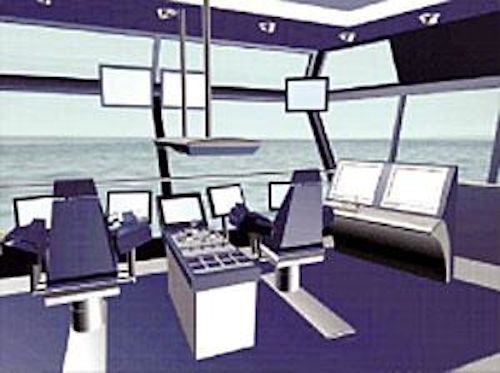 The CyberBridge integrated bridge control and monitoring system launched by Odim Hitec aims to provide a simpler and safer environment for performing bridge oper-ations. The concept is applicable across the whole range of marine vessels, including offshore service vessels.
The starting point for the CyberBridge is the successful Cyberbase Driller's Cabin developed by Hitec, which essentially brought drilling operations under the control of two operators in an ergonomically designed cabin in which a small number of monitors and displays enables the driller and his assistant to monitor and control operations on the drill floor and downhole.
The development of ever more sophisticated offshore vessels tackling ever more complex tasks has not been accompanied by adequate ergonomic solutions on the bridge, in the view of Ole Morten Hus y of Odim Hitec Solutions. The situation is not helped by the lack of official requirements for the design of the aft bridge from which offshore operations, not least dynamic positioning, are controlled.
The consequence is that a single officer is often faced with numerous consoles packed with control panels, push-buttons, and gauges which, while easy to operate on their own, make for a challenging proposition when all have to be handled simultaneously, and especially in an emergency situation. The safety implications are alarming, and Hus y draws attention to Det Norske Veritas analysis that shows that 80% of all nautical accidents in a recent period were caused by bridge-system failure.
The solution offered by the CyberBridge is to integrate all the systems into one high-speed network connected to a number of multi-function work-stations, each consisting of a powerful marine-approved computer, monitor, and control panel. The operator can then choose which operation he wants to concentrate on, filtering out unnecessary information. Control can be exercised through a touch screen or conventional use of a mouse, keyboard, and monitor.
"The CyberBridge has been designed with a focus on human factors and thus reflects the ergonomic requirements of the operators, ensuring that they have access to all necessary information and controls from one position, ideally the operator's chair," says Hus y. "Cutting out the information overload results in decreased evaluation time for the operator and avoids unnecessary stress."
A prototype version of a color touch display remote controlling window wipers, navigation and deck lights, and so on is now in operation on a Farstad Shipping Far Scotia supply vessel.