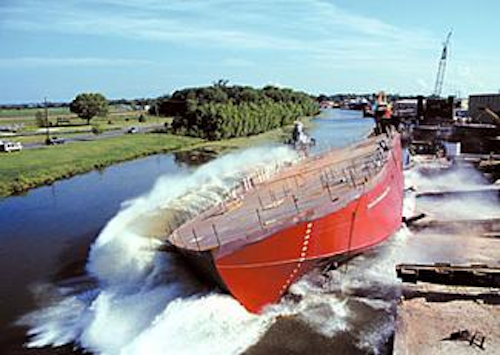 Jennifer Pallanich Hull
Gulf of Mexico Editor
As offshore supply vessel (OSV) utilization rates flag, supply boat operators hope for increased exploration activity in the Gulf of Mexico. "We've had numbers going down and utilization going down," said Ken Parris, director for regulatory affairs for the Offshore Marine Service Association. "There's a strong correlation between rig use and OSV use."
OMSA does not track the type of activity a rig is doing, just whether it is under contract.
Trico Marine Services showed 2Q 2002 GoM supply boat day rates averaging $5,839, compared to $7,269 for 2Q 2001 and $6,050 in 1Q 2002. Of Trico's 48 GoM supply vessel fleet, 15 are stacked in the face of market weakness, said Tom Green of Trico's investor relations department.
"We're trying to work fewer boats at higher rates," he said of Trico's approach.
Companies facing dropped utilization rates can respond by dropping day rates to keep more vessels working or stacking vessels and charging full-boat for those OSVs at work.
At the same time, Trico's GoM utilization rate decreased to 49% for the quarter, compared to 75% in 2Q 2001 and 53% in 1Q 2002.
Trico has been expanding its business from the GoM, where it was focused in the 1990s.
"That makes you very susceptible to upturns and downturns in one particular spot," Green said. Trico now has diversified itself to 50% in the Gulf of Mexico and 50% abroad. The company is working to achieve 60% international focus, Green said, adding that the Houma, Louisiana, company has been trying to increase its foreign business rather then shrink its US efforts.
The pricing for Trico's OSVs peaked in July 2001.
"It has steadily declined" to bottom in April 2002, Green said
The downturn has companies examining utilization rates and day rates, seeking an answer to the trend.
"If you had told me we could have $25 oil and $3 gas and bad drilling," Green said, he'd have been surprised. The industry seems sometimes to be at the mercy of market news, he added.
Increased rig counts in the Gulf won't do the trick, either, unless the rigs are doing work requiring pipe, mud, and bulk materials.
"What we'd like to see is 135 to 140 rigs in exploration mode," Green said.
Failing a pickup in the Gulf, companies are looking elsewhere for opportunities. Trico is marketing its vessels where the activity is better.
"Mexico is much hotter than the US Gulf," Green said, noting the company expects to focus on work off Trinidad and West Africa. Trico also opened an office in Nigeria in April.
One shipyard's approach
Bollinger Shipyards concentrates on the 1,700-dwt 145-ft OSV, which could be considered the company's signature design, and the 207-ft OSV. Bollinger keeps the 145-footer under 100 gross tons to ease manning requirements. The 207-ft OSV has been Bollinger's focus for use on the shelf, but it has the capacity to head out to deepwater. Robert Socha, Bollinger vice president for marketing and sales, said the 2,250-dwt 207-ft OSV, of which the shipyard is contracted to construct nine, is being accepted by operators and oil companies. Tidewater placed an order for four 207-ft vessels, two are under construction for MNM, and a major company has contracted for the remaining three 207-ft OSVs.
While designing the boat, intended to take the place of 180-ft vessels retiring after two decades of service, Bollinger talked with operators and oil companies to find out how OSV needs had evolved, Socha said. Requests
ranged from liquid mud bulk capacity to having toilet facilities in the wheelhouse.
Some of the new 207-ft OSVs will feature fixed propulsions while others will have Z drives for DP-1 or DP-2 status.
"There are a lot of other features that have come about from visiting with a multitude of operators," Socha said.
The new boats have evolved beyond the first OSV, Tidewater's Ebb Tide, built in 1955. Tidewater Marine Services opened the following year to serve the GoM. Before that, operators often made use of lugger tugs or fishing vessels.
Increasing size and capacity "has been dictated by the drilling industry," Socha said. OSVs didn't have now-vital liquid mud capacity until the 1970s. Methanol capacity is working its way into OSVs as well, but not too many vessels feature methanol capacity, Socha said. Also, the early '70s was a period of stern-only propulsion for OSVs. As longer OSVs emerged, bow thrusters were added to the lineup for better maneuverability. From there, OSVs entered the age of dynamic positioning and computerization.
"Future vessels are going to be DP-2," Socha said. "One customer said, 'We're going to go with DP-1 and be DP-2-ready.'" In answer to that customer's request, he said, Bollinger built a spot where a thruster could be added.
Future on the shelf
Parris suggested the road to improving utilization rates for OSVs in the Gulf involves both the majors and the independents.
"The obvious answer is the E&P companies need to release the purse strings on their exploration budgets, but many of the companies, especially the majors, are going to deeper water, which requires larger supply vessels," he said.
Some companies are building deepwater supply vessels to meet this need, Parris said. Other companies have developed smaller vessels, like Bollinger's 145-ft supply vessel, that have capabilities of much larger vessels, he said.
"While everyone focuses on deepwater, I think there is going to be a continuing market in the foreseeable future for shelf supply vessels," Parris said. Heightened activity on the shelf is attributable to "improved seismic, computer analysis of geophysical data, and the lean and mean independent producer who is able to successfully and profitably develop reserves that were too small for the majors to address."
The aging OSV fleet should keep shipyards busy. OSV age statistics reflect the vessel building boom of the late 1970s and early 1980s, with 75% being 19 years old or older, 16% 5 years old or younger, and 9% 6-18 years old, according to OSMA numbers.
"The repair yards are probably doing real well," Parris said.