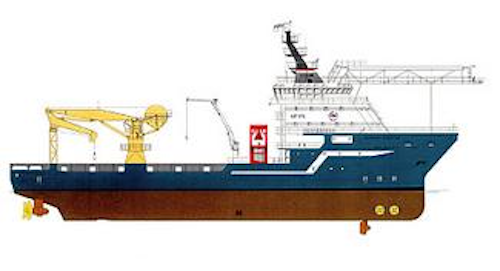 As the North Sea matures and the demand for drilling rigs declines, shipping operators locally are looking to diversify into regions farther a field, where there is demand for vessels to support deepwater construction or survey operations.
North Star Shipping, based in Aberdeen, operates a fleet of 30 standby/support vessels in the North and Irish seas, owned by its parent company George Craig Group.
"We're seeing a demand for higher-spec multi-role vessels," says Managing Director Callum Bruce.
In response, North Star commissioned two newbuildings last year with a combined capital outlay of £24 million. Both should be ready for duty by spring 2003.
The company started out in the North Sea offshore sector by converting trawlers to standby vessels. It purchased its first purpose-built standby vessels in the 1980s from Norwegian owners, but no newbuilds followed until a decade later. Instead, it continued to convert supply vessels and anchor-handlers.
Its first true multi-role ship was the Grampian Frontier, designed by IMT Marine Consultants in Montrose, Scotland. This was built in 1997 specifically to support BP's Foinaven field operations west of Shetland, where weather conditions are typically harsher than in other areas of the North Sea.
At the time, the vessel was the most sophisticated in its class, North Star says, with 9,000 hp and 100-ton bollard pull for emergency towing and tanker assistance, dynamic positioning for ROV operations, and onboard daughter craft to provide rescue and recovery services for several offshore installations.
"Because Foinaven was being developed with an FPSO and shuttle tankers," says Bruce, "BP wanted a vessel capable of looking after all the infield requirements, including being able to provide rescue and recovery services for any drilling rigs in the field. Our experience in this frontier region, especially providing ROV support services, gave us the confidence to invest in our two current newbuildings. We wanted to combine a platform supply and ROV support vessel into the same ship, not offer what was already available. We saw our competitors building very large construction vessels or smaller survey ships. But we saw our new vessels handling light subsea construction work and having survey capability."
The first order was placed in summer 2001 with Astilleros Balenciaga in San Sebastian, northern Spain. The 75-m x 16-m vessel is also an IMT design, based on a similar hull form to the Grampian Frontier. However, it is slightly larger, with a faster transit speed (15 1/2 knots).
"The propulsion system is different. This is our first diesel-electric configuration. That should bring higher efficiencies in terms of fuel savings." The two Contaz 15 contra-rotating, azimuthing propellers will provide enhanced maneuverability and help suppress noise - a growing requirement from survey operators.
Up to 50 personnel can be accommodated, compared with only 24 on the Grampian Frontier.
"This vessel will also be cap-able of taking two work-class ROVs, and it will have a large deck crane, which the Frontier didn't."
The crane will be able to lift 20-ton loads such as manifolds, mats, and templates; and install them in water depths to 2,000 m. An ROV launching deck will be available on the vessel. It will be left to the subsea contractor to install the launch and recovery system. There will also have the option to install a helideck capable of taking a Super Puma aircraft.
"This is our first job with Balenciaga," Bruce says. "They have a good track record, having recently delivered two ROV support vessels for the Saudi based company." It is a speculative newbuilding, being promoted to all leading contractors, such as Sonsub, Fugro, Subsea 7, Thales, Stolt Offshore, and Oceaneering.
"Before we initiated construction, we went round asking them all what they wanted. We got a mixed bag of suggestions. Some wanted an ROV hangar, moonpool, and integral launch systems. Some wanted a crane, and some did not."
In any event, the vessel has been fitted with all the most popular requests, including strengthening to take an A-frame. According to Bruce, this vessel will also complement Seatronics, a marine rental equipment company recently acquired by George Craig Group, which is active in the survey and subsea sectors.
The second newbuilding, ordered a month later, is an enhanced Ulstein UT755-L design ROV/platform supply vessel. The hull has been built in Romania, and is being outfitted at the Aker Brattvaag yard in Soviknes, Norway. It will also be targeted at the subsea market. Unlike the other vessel, it will only be equipped to handle one work-class ROV at a time.
Two Bergen Ulstein KRMB9 engines will provide 5,460 hp. There will be two thrusters at the stern and bow, with two variable pitch propellers and two high lift rudders, and a fully redundant DP-2 system. The 72 x 16 m vessel will be fitted with a moonpool for subsea construction tasks, but the full underdecks will also make it suitable for conventional platform supply duties. There will be removable bulwark sections on both port and starboard, 680 sq m of deck space, and accommodation for a crew of 38.
"This vessel will be more attractive to foreign support operators in Brazil and West Africa," Bruce says, "as it will save them having to bring across a dedicated ROV support vessel with high transit costs. Ours will obviously be able to alternate between ROV and logistics support. We're seeing regions like West Africa and the Mediterranean using higher-spec vessels. Traditionally, they have used boats built in the Gulf of Mexico, but these lack the same capability for deeperwater operations.
"We're looking to expand further into this market. That could mean further newbuilds, or acquisition of vessels owned by other companies. Our outlay will depend on the market requirement."