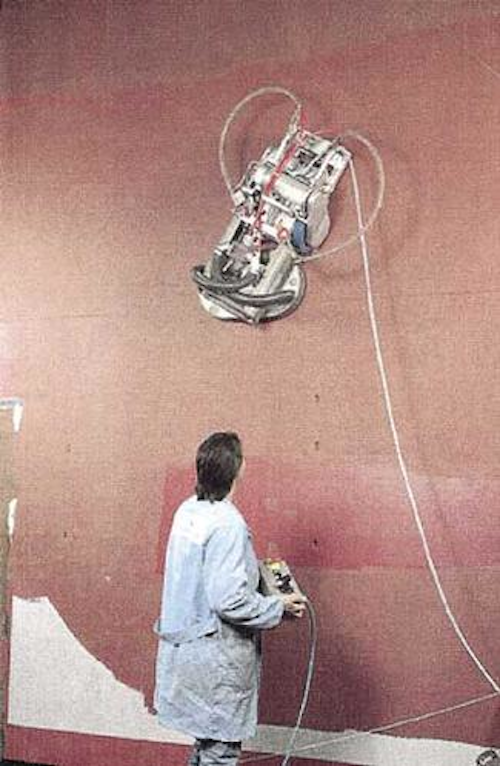 A French robotics specialist, Cybernetix, has developed an underwater version of its automated ship's hull cleaning system, Octopus, which will allow FPSO hulls to be stripped of marine growth at sea. This is a particularly acute problem in warm climate regions such as West Africa. Doing this work in situ will be much quicker and less expensive than employing divers for the task. It will also avoid the expense and inconvenience of taking the floater off-station and back to drydock if the marine growth is seriously extensive.
Cybernetix, based in Marseille, developed its first prototype for the system for shipyards in 1999, backed by funding from seven other companies in Europe and the European Commission. This system has been used so far at the Lisnave shipyard in Lisbon and by Chantiers de l'Atlantique in St. Nazaire, France. Cybernetix started work two years ago on the marinized version, which would also be able to work in the splash zone and below.
Octopus is a vehicle with wheels that is able to travel over vertical, horizontal or inclined steel surfaces by means of powerful magnets. These maintain a 1 cm gap between the underside of the vehicle and the hull. The system can be pre-programmed to follow a pre-determined path, or controlled remotely in real time using a joystick.
As it travels, it cleans strips 40 cm wide, using an in-built water jet delivered through a high pressure nozzle (developed by Hammelmann in Germany), and powered by a high pressure pump. A maximum water flow rate of 40 liters/minute can be ach-ieved, at a maximum pressure of 2,500 bar. The system can cover up to 150 sq m/hr in this mode, or up to 90 sq m/hr if used to remove paint through blasting in a drydock. In drydock, a vacuum package can also be supplied for waste recovery via a hose. Separating waste (paint) from water avoids pollution build-up on the vessel's deck.
Octopus measures 1.1 m long, 0.56 m wide, and 0.46 m high, and weighs 75 kg. The system incorporates two electric motors that provide a maximum traveling speed in a linear direction of 0.3 m/sec, but it can also be programmed to cover an area, do a U-turn or overlap with a full pass. The computerized control system has been designed by Cybernetix, and the on-board electronics also includes inclinometers. Route programming is computed according to the state of paint or marine growth on the hull.
Although the new version is not yet in use on a live FPSO, discussions have been held with interested contractors that already perform inspections of floater hulls in operation off Africa. The new system has undergone trials this year on the hull of the Renaissance cruise ship in a Marseille dock.
In time, the marinized version will be adapted to inspect the hull for paint and wall thickness at sea, and a special brushing tool will be developed for use in case a high pressure pump is not available. According to Cybernetix's Offshore Services Manager Thierry Copros, the system could also be applied to drillship hulls or for inspecting piles or other underwater components below the splash line.