David Bradfield
Baker Hughes Process Systems
No longer regarded as a novel solution, floating production, storage and offloading vessels (FPSOs) are opening up the development of many small oilfields worldwide, particularly those lying in deep waters and characterized by harsh weather conditions such as the UK and Norwegian North Sea.
For the UK continental shelf, major requirements currently are for monohull-type solutions with less emphasis on the opportunities for upgrading semisubmersible units. To satisfy this market, and indeed underpin confidence in further FPSO developments, the requirements for complex process topsides are being met.
As process train designers, suppliers and installers, Baker Hughes Process Systems (BHPS) in Rugby, UK identified these emerging trends early on. Major R & D investment was undertaken focusing on the prime efficiency obtainable with a robust system limited in weight and footprint size. BHPS' solutions are fast track from order, in order to meet a time frame for FPSOs that can be considerably shorter than for conventional platform package supply.
Each contract has to be treated very much as a `one-off'. The solution must take into account the full layout of the FPSO. Often the lead contractor does not have a free hand in the design - particularly with the significant number of converted vessels currently being employed as opposed to newbuild.
Speculative designs inevitably involve compromise in the process topsides where decisions are needed at an early stage on the separation train, gas handling, water injection and the whole gamut of well fluid characteristics. These factors can limit suitability of the spec design vessel for some applications.
Price gulf lowers
Most conversions to date have been regarded as financially more attractive than newbuilds. Costs seem to stack up, broadly speaking, as $130 million for conversions and $300 million for newbuilds, excluding process equipment. However, with greater standardization and an increasing number of fabricators bringing keener competition to the market, this gulf should narrow soon quite significantly. Also, UK-based shipyards are being put more fully to work in the FPSO sector.
The chosen FPSO can impact substantially the process package. The restrictions of a converted vessel could make for an entirely different solution to those on a newbuild. Deck space is a crucial factor: a turret sited midship will have a greater effect dividing the process and cargo systems in two, fore and aft of the turret, than an internal turret at the bow which will have only a minimal impact.
As elsewhere in the oil industry, the emergence of the lead, single purchase order contractor for FPSOs is becoming increasingly the norm. There is also a strong leaning towards awarding the initial main contract followed by a `bolting on' of further contracts to the same supply company.
With FPSOs, while it is convenient to regard each treatment stage in a system as a self-contained item for purchasing and design reasons, it is vital to recognize that each item must be compatible and complementary with the others. There are interactions, for instance, between the separation train and a number of other processes, and between individual items which are important if the system is to operate smoothly.
In response to these market demands, BHPS has brought in other services offered by the Baker Hughes family to offer a wider process train capability. For example in 1995, BHPS acquired the shareholding and technology related to BFCC, a specialist in environmentally compatible anti-biofoulant technology, based on the synergistic effect of copper-chlorine dosing. This has been combined with BHPS' Sea Cell electrochlorination sell designs to provide a wide range of solutions to biofouling problems, from lift-pump inlet to the provision of a chlorine residual in a water injection system.
This year, hydrocyclones specialist Vortoil Separation Systems was merged with BHPS, adding greater flexibility to the latter's portfolio of oily water separation systems. The compact size and weight of Vortoil's range, combined with their adaptability to flow variations and total indifference to wave motion, are well suited to the rigorous and continuously variable process duty experienced on FPSOs.
Fast-track experience
It is useful here to examine a 1996 case history: a fast-track, 72,000b/d water injection system contract awarded to BHPS by SLP Engineering for the North Sea MacCulloch Field in UK block 15/24b. The field's anticipated reserves of around 50MM bbl are being exploited by North Sea Production Company, a joint venture between Maersk and SLP under a tariff agreement. Three of the wells have been drilled by field operator Conoco (UK) prior to the planned production start next month.
BHPS is part of the first phase team handling life extension and related marine works for converting the 98,000 dwt North Sea Producer tanker into an FPSO vessel. Consideration had to be given at the planning stage to the availability of technically acceptable process solutions within a very tight time frame. BHPS had to deliver the water injection system within 28 weeks of contract award to SLP's Teesside facility in north-east England, where installations of the new topsides on the FPSO have been performed.
The system comprises the following discrete process packages:
* dual media fine filters
* vacuum de-aeration tower and vacuum pump set
* chemical injection - multi-compartment tank and pumps for water injection process chemicals
* seawater feed pumpset
* booster pump system
* water injection pump set.
The system is designed for control through integration with the client's DCS central control system.
The completely assembled PAU (pre-assembled unit) was of BHPS' vendor standard `fit for purpose' design, suitable for installation and operation under the arduous environmental conditions encountered on the exposed deck of an FPSO in the North Sea. Footprint size is in the order of 18 x 8 meters, and the completed PAU weighs around 225 tonnes. The steelwork is designed by BHPS for specified pitch, heave and roll conditions in accordance with SLP's detailed spec, and subject to audit and review by Lloyd's Register.
BHPS has supplied three follow-up orders for this project. The first is for a Sea-Screen coarse filter package comprising two filter vessels. This has also been delivered to a tight schedule, along with an order for the topside process electrochlorination package which is being integrated with the sea water coarse filter on the FPSO deck.
In addition, the existing BFCC anti-biofouling system on the tanker was overhauled and upgraded by BHPS to provide protection from biofouling to the ship's seawater utility system. A third follow-up order is for the process utility PAU comprising flare knock-out drums, a methanol storage vessel and various pumps and controls on another large structural steel PAU.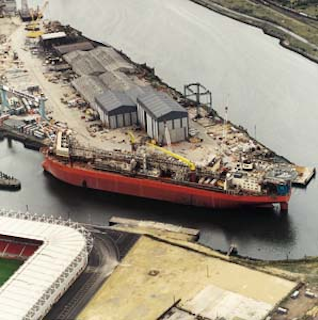 View from the air: PAU mounted water injection system supplied by Baker Hughes Process Systems is installed centrally at the port side of the North Sea Producer. The package is designed to inject 72,000 b/d of de-aerated seawater filtered to an efficiency of 98% at 2 micron.
Copyright 1997 Oil & Gas Journal. All Rights Reserved.