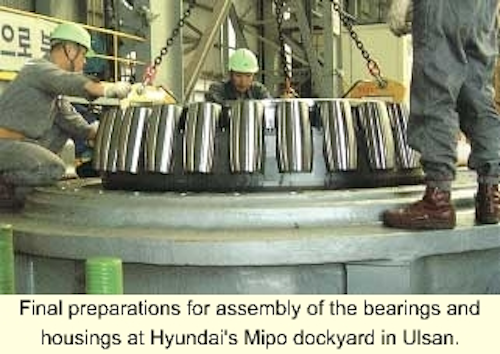 Deep Blue, Coflexip's newest deepwater construction vessel, should be available for duty from mid-2001, once installation of its unique pipelay equipment has been completed. Final outfitting is in progress in The Netherlands - the vessel itself was completed late last year at the Hyundai Mipo Dockyards in Ulsan, Korea.
The pipelay system is designed around a powerful tiltable ramp, equipped with two quad track tensioners capable of sustaining loads of 550 tons. This tensioning capacity (unparalleled, according to Coflexip) can be applied to varying diameters of rigid reeled and flexible lines, rigid (J-lay) pipes, and umbilicals. Its first assignment will be installation of export pipelines in up to 1,100 meters water depth for Kerr-McGee's Nanseng/Boomvang field development in the Gulf of Mexico.
At the hub of Deep Blue's two huge pipe reels are roller bearings in housings, designed and supplied by various European divisions of Gothenburg-based SKF. Last fall, SKF Service (UK) was in Ulsan to supervise assembly of the bearing units on the vessel.
Originally, Deep Blue was planned as a single-reel vessel capable of carrying up to 5,000 tons of pipe. SKF was invited to present a solution for the bearings in this mode. But as the new vessel's design evolved, Coflexip took the view that laying capability would be improved by adopting two 770-ton reels.
Each would be capable of handling up to 2,500 tons of rigid steel pipe up to 400 mm in diameter, wound around a hub 20 meters in diameter. Deep Blue's reels have been designed to lay pre-welded pipe continuously at sea in lengths from up to 12.5 km/400 mm diameter to 333 km/60 mm.
Accordingly, the bearings and their housings must permit rotation of the reels in waves up to 4 meters in height, as well as withstanding extreme static survival load conditions. SKF's solution was based around one spherical roller bearing weighing 9.5 tons, and another weighing 5.5 tons. Following load calculations by Coflexip, bore diameters of 1,320 mm, and outer diameters, respectively, of 2.06 meters and 1.85 meters, were stipulated.
Unusual bearing features
The bearings were designed by SKF's team in Gothenburg, with manufacturing split between the company's manufacturing facilities in Gothenburg and Schweinfurt, Germany. There are some unusual features. The outer ring, for example, is wider than standard in order to accommodate a greater tolerance for misalignment, induced by a combination of the ship's movements, loads, and environmental conditions. Also, the inner ring has been modified by adopting an exaggerated chamfer. This takes into account the significant bending moments experienced by the reel shafts, and thereby limits the stress concentration factor in the shafts where they pass through the bearings.
The bearing housings consist of one pair weighing 34 tons each, and another weighing 26 tons each. These were designed and supplied by SKF (UK) and employed a special cast steel normally adopted for North Sea applications. This steel's properties are achieved by cooling the castings in still air; Coflexip did not want the material to be subjected to aggressive heat treatment. Tests on the raw steel material showed that its tensile strength was comfortably above the required 300M/sq mm.
The geometry developed for the housings also differed from the norm for large bearing designs. As an example, the mounting feet of the housings reach almost to the center of the casting. A traditional flat foot design would have been subjected to severe bending forces in the sea swell and would therefore have been a potential source of weakness.
The bearings' low rotational speed makes it difficult to build up a lubricating film. As a solution, SKF chose a high viscosity lubricating grease, LGEM 2, which contains solid lubricants and which is applicable in temperatures ranging from -20 to +150° C. It is also water and rust-resistant; over 100 kg was applied to the Deep Blue bearings.
For more information contact Goran Lindqvist, SKF: tel :46 31 337 1182, fax +46 31 337 2090, E-mail: goran.lindqvist@skf.com