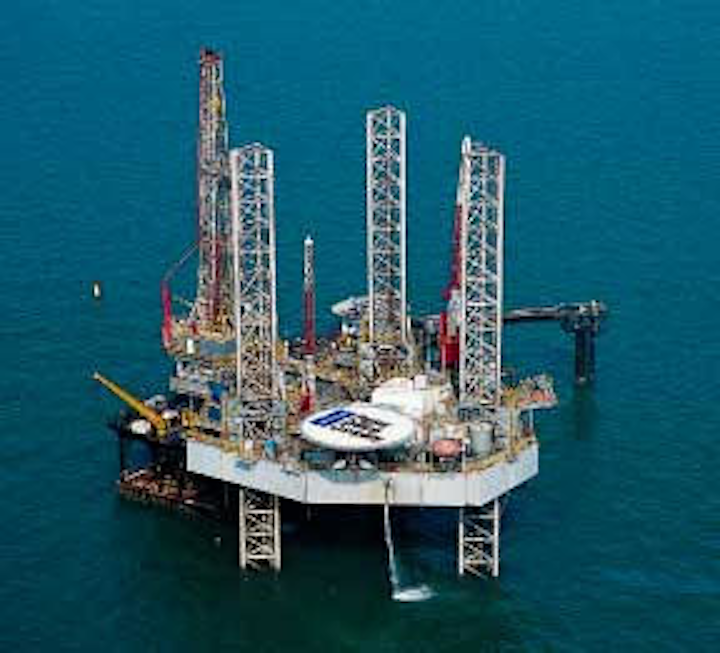 Parker upgrades jackup unit
Parker Drilling Co. has completed a major refurbishment program and the five-year inspection of jackup rig22J. The drilling unit began a 90-day contract in September at South Timbalier block 24 in the Gulf of Mexico.
Rig22J entered the AMFELS shipyard in January for repairs and upgrades. Improve-ments included upgrading the rig's solids control handling system, increasing the load capacity of the cantilever system, overhauling the jacking motors and pinions, renewing the coating system on the legs, and refurbishing the living quarters. All of the major components of the rig were either overhauled or replaced. The unit also underwent US Coast Guard and ABS five-year inspections.
Self-propelled jackup in the works
Specialty Diving and Oases Offshore signed a letter of intent in mid-September to build what is being described as an all-purpose, self-elevating, self-propelled jackup for operation in the Gulf of Mexico. The designers claim the rig will be the largest of its type, with the most technologically advanced capabilities and features.
The Oases/Specialty vessel hull will measure 140 ft by 185 ft. The open deck will be the largest of any self-propelled jackup, with approximately 18,000 sq ft. The vessel can work in 210 ft water depth and can elevate via heavy-duty, two-speed electric jacking systems while carrying 1,000 tons on the deck and fully loaded with consumables.
A unique crane aboard allows for 360-degree unobstructed operation around the vessel's legs with a capacity of 300 tons at a 100-ft radius. The vessel will have two 70-ton service cranes and quarters for 70 personnel and crew. The vessel is designed to accommodate up to 200 personnel with auxiliary quarters and will have an operational endurance of 35 days without re-supply. It will also meet requirements of the US Coast Guard and the ABS for mobile offshore drilling units.
Chiles ultra-premium jackup goes to work off Trinidad
Chiles Offshore has executed a three-year contract with BP Trinidad and Tobago LLC for the use of the ultra-premium jackup drilling rig, theChiles Coronado, (formerly the Tonala), which under went modifications and upgrades before leaving the Gulf of Mexico for Trinidad. The rig was scheduled to arrive last month in Trinidad.
TheChiles Coronado was delivered from the yard and began operations in April of 2000. It is an ultra-premium jackup rig of the LeTourneau Super 116 design, which includes large mud pumping capacity, extended reach cantilever, and large drilling fluid storage capacities.
Willbros refits derrick/work barge
Willbros Group Inc. recently purchased and refitted theWB 82, a 100-ton derrick/work barge, 256 ft in length overall, with an eight-point anchor system and 135-person hotel capacity. The WB 82 joins Wilbros' WB 318 derrick/lay barge and the M/V Eros support vessel in providing construction services to the Nigerian offshore market. The Willbros fleet undertakes marine hookup, rehabilitation, and lift services in that theater.
ExxonMobil to get an FPSO
ExxonMobil Corp. awarded a contract to a three-company consortium led by Hyundai Heavy Industries Co. Ltd. of South Korea to build a floating production, storage, and offloading (FPSO) facility for its Kizomba four-field complex (Hungo, Chocalho, Kissange, and Dikanza fields) in deepwater Block 15 off Angola. Hyundai's partners in this venture are Fluor Corp. and AMEC PLC.
Design work will be done by Fluor's Houston office, while Hyundai Heavy Industries will fabricate the hull and topsides in its Ulsan, South Korea, yard. TheKizomba-A vessel will have a stand-alone weight of 81,000 tons, and it will be 285 meters long, 63 meters wide, and 32 meters high. It will be able to store 2.2 million bbl of crude and process 250,000 b/d of crude. Living quarters will accommodate 100 people. Installation is expected in July 2004.
Smedvig buys interest in semisubmersible
Smedvig notified Keppel Shipyards in Singapore that it will exercise an option to purchase the shipyard's 72% ownership interest in theWest Alliance, which is under construction. Smedvig plans to exercise the option after delivery and after operations begin under the contract with Esso Malaysia. Startup of the drilling operations is scheduled for early November.
Smedvig and Keppel Shipyards agreed to this purchase option as part of the cooperation agreement the two companies entered into last summer. When the process is complete, Smedvig will own 100% of theWest Alliance.
Meanwhile, construction of theWest Alliance is proceeding on budget and according to plan. The unit is based on a design and specification similar to that of Smedvig's newest semisubmersible tender West Menang, but provides for increased deckload capacity, larger accommodation facilities, and off-line drilling activities. Capable of shallow water drilling, the unit is also designed for deepwater drilling operations in combination with floating wellhead platforms in benign waters.
Atwood semi to work off Egypt
Atwood Oceanics' semisubmersibleAtwood Hunter is scheduled to begin drilling in the Mediterranean Sea following the award of an 11-well contract (plus options) from Burullus Gas Co., a joint operating company formed by the Egyptian General Petroleum Corp., BG International Ltd., and Edison International S.p.A.
TheAtwood Hunter underwent refurbishment and upgrades in a Mobile, Alabama, shipyard, including a $50 million water-depth upgrade that gives the rig harsh-environment water depth capability of 4,000 ft and mild environment capability of 5,000 ft. The drawworks were overhauled. Three new mud pumps were put in. Subsea equipment was upgraded. New handling equipment was installed.
The rig is scheduled to be moved via heavy lift vessel to the Mediterranean, where it will begin the drilling program, which is expected to take 280-340 days to complete
Statoil's semi to begin drilling in the fall
The semisubmersibleStena Don, moved from the Kværner shipyard in Warnow, Germany, to the Offshore & Marine yard in Sandnes recently to be fitted with bow propellers and testing in the Gands Fjord near Sandnes, south of Stavanger.
Stena Don is one of the latest generation of rigs. It is equipped with dynamic positioning and has been constructed to operate in winter conditions in northern waters. The semi unit can be used for most operations within exploration and production drilling, including well maintenance. Statoil has entered a five-year contract with Stena Drilling and expects the rig to be delivered sometime in the fall.