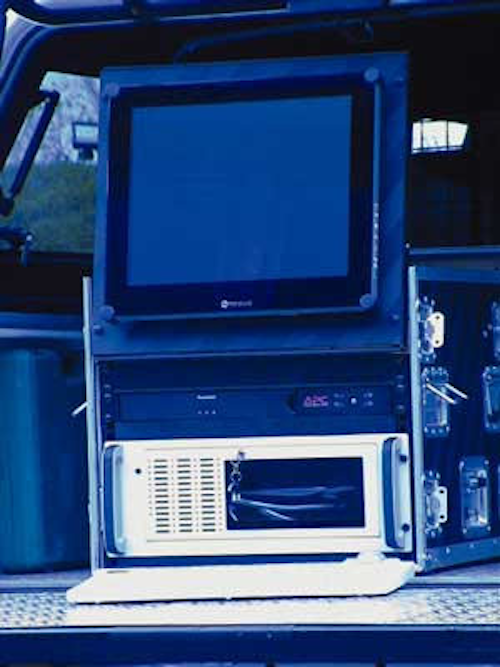 Offshore vessels require routine surveying of hulls. The traditional method is to send a diver under the hull and visually inspect for damage and corrosion, but this may put the vessel at risk. Measuring is done with a long tape and damage is noted by the diver. This is an in-water approach and is preferred to a drydock inspection, which is much more expensive and time consuming. However the traditional method has limitations:
The diver has difficulty being certain where he is located, which means the location of damage is also in doubt.
Water clarity can obscure damage and prevent it from being identified.
There is no way for third parties to confer with the diver and discuss any questionable marks on the hull while he is doing an inspection.
Tapiren Survey System has developed a method of inspecting hulls that overcomes these problems. By using the vessel's architectural hull schematics, a 3D view can be generated. Adding a global positioning system, four transponders under the hull, and one transponder on the diver creates the spatial grid needed to locate the exact position of the diver and any hull damage he might see. Combined with software that links all the pieces into a consistent whole, the system creates an integrated record of each hull inspection.
15-minute report process
The diver moves across the hull one beam-pass at a time, inspecting the hull, noting damage, and making written and audio comments, while he is recording a video image of the hull. This allows specific comments to be tied directly to problem areas on the hull and allows review of the hull by third parties.
The full report is then generated after the diver completes the inspection. An inspection can usually be completed in eight hours, while the report only takes 15 minutes to prepare.
Internet connections are possible so that ship owners can have a real-time view of the inspection process if desired. All of the collected data, video survey, and comments are formatted, cross-referenced, and recorded onto a compact digital video disk (DVD) for viewing by the ship owner, classifier, insurance agent, or other interested parties, and for archiving as part of the vessel's history.
Tapiren has been developing the software design of the system for two years and began providing survey services last November.. The data can be displayed in several formats including C-map, AutoCAD, 3D drafted plans, and .tiff formats.
Routine inspections of vessels provide a record of the vessel's condition, identifying problems before they threaten the vessel's safety. The system also saves significant costs in travel expenses and time, since the vessel owner can see problems and make decisions while the survey is in progress.
The system is compact and can fit into an easily shipped case. Data is stored on dual hard drives for security and redundancy. Each drive can hold 24 hrs of video records. Both drives are removable for security and ease of transport.
The system is suitable for all ship surveying needs. Oil platform inspections can be carried out on station, since these structures can not be moved. Floating production vessels and similar oil production systems can be inspected as well, without disconnecting their turrets.
The system is also suitable for bottom surveys, trenching operations, and remotely operated vehicle tracks. A minimum of three transponders is needed for an open water survey, while four are needed for ship surveys.
For more information, contact Per Harrie, Tapiren Survey System. Tel: +46 31 91 15 10, Fax: +46 31 91 15 23, E-mail: per.harrie@tapiren.se.