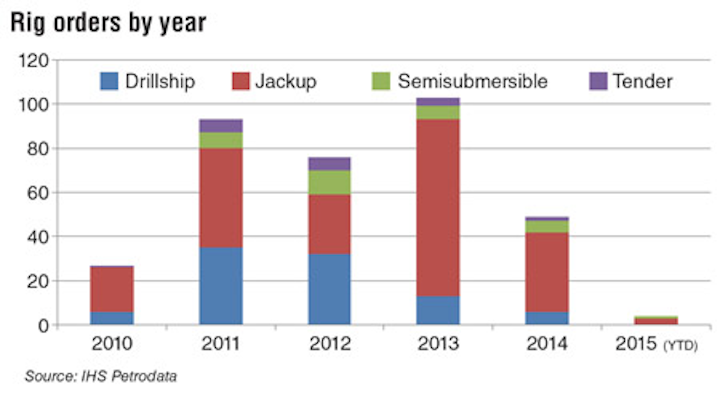 Construction expected to be down in 2015 and 2016
Cinnamon Odell
IHS Petrodata
Drilling contractors have nearly ceased new orders this year, following on the heels of the latest offshore rig-building boom and in the wake of falling oil prices. These trends, in turn, have significantly reduced demand for new rig programs.
As of mid-May, only four orders were placed with shipyards: for three jackups and one semi. No new orders for drillships or tender-assisted rigs have been placed so far this year. The semi and two of the jackups are set to be built at shipyards in China, while the remaining jackup will be built in the United Arab Emirates.
Meanwhile, 187 rigs are currently under various stages of construction. The breakdown by rig type is: 117 jackups, 40 drillships, 21 semis, and nine tender-assisted rigs. China continues to have the bulk of the jackup building work with 65 under construction. However, none of these currently has a contract in hand for work upon delivery, and nearly half have scheduled delivery dates in 2015. While the delivery dates on a number of units have already been pushed out by six months or more, additional agreements concerning shipyard delivery delays are expected as rig owners continue to seek work for their units.
This is true across the board and not just at Chinese yards. For example, in mid-February, Transocean announced that it had amended its construction contracts with Keppel FELS in Singapore to delay delivery on five jackups (Transocean Cassiopeia, Transocean Centaurus, Transocean Cephus, Transocean Cetus, and Transocean Circinus) by about six months each. Then in early May, the rig contractor announced further delays for these same units, this time by about a year-and-a-half each.
Chinese shipyards seek solution
Focusing on jackups, a few orders have been outright canceled. However, it is expected that many owners will simply elect not to take delivery of their rigs, thus avoiding a lump sum payment due upon completion. Most of the rigs being built at Chinese yards received very favorable terms, such as only 10-20% down, with the remainder due at delivery. This was done in order to help establish China as a major jackup-building country. Prior to this boom, most jackups were built in Singapore.
Further, while many of the established rig contractors have indicated their interest in possibly picking up distressed assets, a significant number have voiced their concerns about buying rigs from untested yards. Timing and pricing are also influential factors, as during recent quarterly earnings calls, several rig contractors indicated that the asking price for these assets is still too high, plus with current rig demand so low, many do not want to purchase an asset that they know will sit uncontracted for a significant period of time. In the meantime, shipyards are seeking alternate means of getting the rigs off their hands and are understood to be in discussions with a number of contractors and national oil companies as well, in an attempt to work out some package deals.
Of the other 52 jackups being built at yards other than in China, only nine have contracts for work upon delivery. However, 12 of the 52 are being built for major contractors (i.e. Ensco, Hercules, Noble, Shelf Drilling, and Transocean), and thus, are likely to be delivered, whether as originally scheduled or under a renegotiated delivery schedule. Some existing units are likley to be scrapped, which will create a market space for new entrants.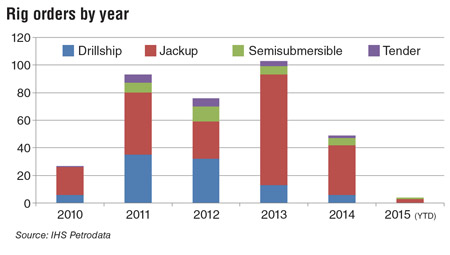 Newbuild floaters face delays
Meanwhile, semis and drillships, collectively known as floaters or floating rigs, are also struggling to find work upon delivery. While the situation may not seem as dire as for jackups because there are 61 floaters under construction versus 117 jackups, the difference in build costs is substantial. For floating rigs currently under construction, the average build cost is around $720 million. Compare this to the average build cost of around $235 million for currently under-construction jackups, and one can understand why floating rig owners are so concerned about finding work for these units.
Out of the 61 under-construction floaters, 32 have commitments upon delivery. These are likely candidates for further delays.
Another hot topic in floating rig construction is the fate of the Sete rigs in Brazil. In February, Estaleiro Atlantico Sul, or EAS, notified Sete Brasil that it intended to cancel its contract due to non-payment. Sete countered that EAS had no legal ground to do so. Sete had hired EAS to build seven drillships in a deal valued at around $6 billion. So far, construction has started on four of the rigs. The fate of all seven has not yet been determined.
Furthermore, in March, media reports indicated that Odfjell Drilling was seeking to end its joint venture with Galvao Engenharia following reports of Galvao's alleged involvement in the corruption scandal in Brazil. The duo was set to manage three drillships, two of which had progressed to the under-construction phase. This situation is also yet to be resolved.
In general, new rig orders are not expected to stop altogether, as rig contractors need to upgrade their fleets with rigs that have the latest technology and high-end specifications operators prefer. These include items such as dual BOPs, increased BOP ram stacks, dual activity drilling, greater hookload capacity, and more deck space. That said, orders are not expected to stay at the level seen over the past few years.
This year will be a quiet year for new rig orders, as will 2016. Rig contractors are understandably more concerned about finding jobs for uncontracted newbuilds with looming delivery dates, and would prefer to have a contract in hand for these units before placing any additional orders, unless they are backed by a contract. •