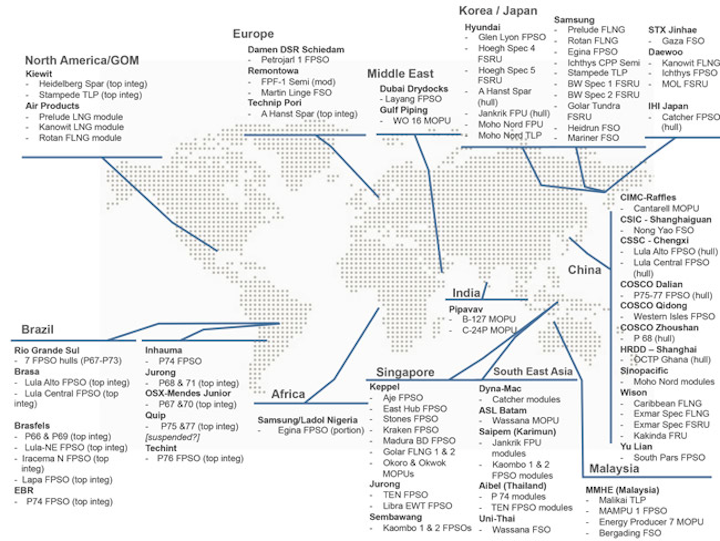 Yards' respective specialties dictate market approaches
David Boggs
Energy Maritime Associates Pte Ltd.
Major hull or topsides fabrication for floating production units is currently under way in 42 facilities worldwide. Asia continues its dominance in production floater fabrication and conversion with almost 60% of the active facilities located in Asia. The busiest yards are Samsung, Hyundai, and Keppel, with more than seven orders each. In China, 10 facilities are building topsides and hulls for projects in all parts of the world including Africa, Brazil, Mexico, Southeast Asia, and the North Sea.
However, a number of floating production facilities are also being built closer to where they will operate. While some of these fabrication decisions are driven by schedule and logistical issues, most are due to local content requirements, as seen by the growth of activity in Brazilian, Nigerian, and Indonesian yards. Nine Brazilian yards have contracts for production floaters, but have faced further delays and complications due to the Petrobras corruption scandal. As a result, it seems likely that some of this existing workload will be shifted overseas. In addition, new projects destined for Petrobras are expected to require far less local content than in the past.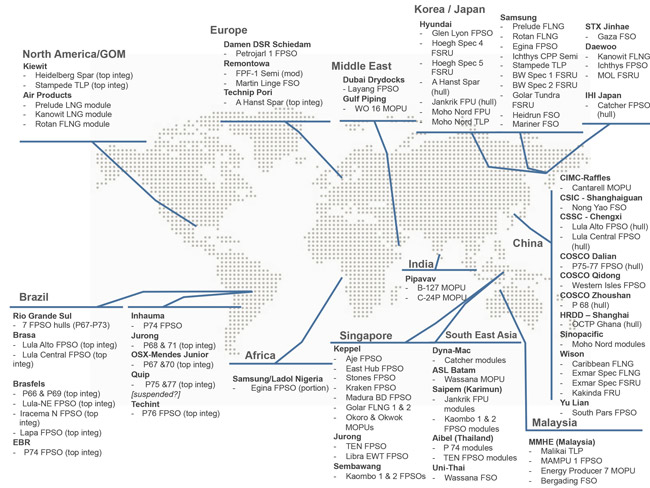 Global map of floating production fabrication activity. (Images courtesy Energy Maritime Associates)
Different ways to compete
While yards in Asia lead the way in floating production, their approach to the market varies by region.
The Korean yards focus exclusively on newbuild units, including FPSOs, FSOs, FLNGs, FSRUs, production semis, spars, and TLPs. The Korean companies with the most experience in offshore production units are Daewoo, Hyundai, and Samsung, each of which has an extensive in-house engineering and financial capability to execute the largest FPS projects in the industry.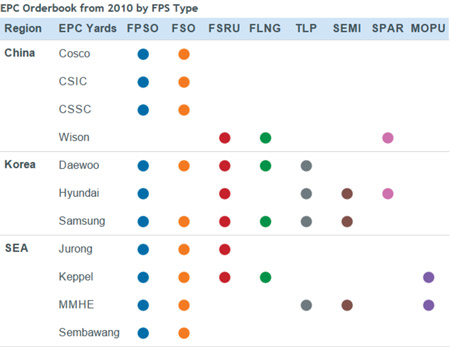 EPC orderbook from 2010 by FPS type.
In Southeast Asia, with Jurong, Keppel, and Sembawang in Singapore as well as MMHE in Malaysia, the primary areas of focus are FPSO and FSO conversions, although MMHE has constructed a newbuilt semi, spar, and TLP for projects offshore Malaysia. In general, most of the orders for the SEA yards are destined for the region; however, some are for locations farther away in West Africa and Brazil.
Chinese shipyards built their first FPSO in 1990. The business base until now has been domestically driven. Since 2001, all hulls for FPSOs placed offshore China have been built in China. But this is changing as the yards look for business internationally. The companies with the most experience in offshore production units are all state-owned: Cosco, China State Shipbuilding Corp. (CSSC), and China Shipbuilding Industry Corp. (CSIC). Each has multiple shipyards in China, with specific yards specializing in newbuilding and others in conversion. A new private company, Wison Offshore & Marine, received its first FPS order in 2011 and has been awarded four additional orders since then.
There are further variations amongst the yards by type of floating production unit. As FPSOs are the leading type of floater; all the yards, except Wison, have delivered FPSOs. Orders for non-ship shape FPS units (semi, spar, and TLP) have been placed only in the Korean yards, Cosco, and MMHE. FSRU orders have been limited to the Korean yards and Wison for new units and Jurong and Keppel for conversions. Two Korean yards have orders for newbuilt turret-moored FLNG units. Keppel has orders for two converted FLNG units, while Wison has two orders for liquefaction-only barges.
Target clients
There are some striking differences between the clients that choose to place orders at these yards. It is not easy to quantify the resources (manhours, capital, equipment) each project requires, so, in this case, time spent in the yard is used as a proxy. Thirty-three percent of Korean FPS orders are from major oil companies compared to 14% for Southeast Asian yards. In the last five years, no oil majors have ordered any production floaters in China. Leasing contractors comprise more than 55% of the orders for Chinese and Southeast Asian yards compared to 35% for Korean yards. National oil companies account for more than 30% of the orders for Chinese yards, but only 10-15% for the Southeast Asian and Korean yards. Independent oil companies comprise around 15% of orders for Korean and Southeast Asian yards, but less than 10% for Chinese yards.
Target markets
In terms of location, units in Chinese yards are predominantly headed to Brazil, with 10 orders by Petrobras, SBM Offshore, Modec, and Omni. For Southeast Asian yards, nearby countries account for 35% of orders. Units in Korean yards are widely disbursed, with 26% going to the North Sea, followed by Africa and Australia. It is interesting to note that while Brazil is the largest market for FPS units with 19 currently on order, none of these are being built in Korea.
Recent trends
There has been a movement by yards in Singapore to accept increasingly larger scopes and take on the prime contractor role rather than that of a subcontractor. In October 2014, Jurong signed a $696-million contract to convert Teekay's 1995-built shuttle tanker into a turret moored FPSO able to process 50,000 b/d of oil and 140 MMcf/d (almost 4 MMcu m/d) of gas for the ultra-deepwater Libra field in Brazil. Jurong's contract encompasses 70% of Teekay's total project cost and includes all major EPC activities, including topsides and mooring. The FPSO conversion and topsides fabrication will take place in Singapore's new "mega-yard," which will eventually house both Jurong and Sembawang shipyards. Earlier in 2014, Sembawang was awarded a $480-million contract by Total to convert two VLCCs into FPSOs for the Kaombo development offshore Angola. Last year, Sembawang completed a $300-million EPCIC contract to convert an FSO for ExxonMobil's Banyu Urip field in Indonesia.
Orderbook and outlook
As of 2Q 2015, there are 20 production floaters on order in Korean yards, 17 in Southeast Asian yards, and 13 in Chinese yards. Without new awards and assuming units are delivered as scheduled, the backlog will decrease to 14 units in Korea, 13 in Southeast Asia, and only six in China by the end of this year. There will be additional orders this year, although lower than in previous years. In 1Q 2015, there were 1.2 orders/month as compared to a long-term average of 1.6 orders/month. Few orders are expected in 2Q and 3Q, while cost expectations continue to decline. However, it is anticipated that new awards will begin once oil companies believe they have achieved maximum cost savings throughout the supply chain. By that time, fabrication yards will certainly have capacity and appetite for new projects. The question is: At what cost? •
The author
David Boggs is managing director of Energy Maritime Associates Pte Ltd., which publishes quarterly research on floating production. He has been a speaker and moderator at various industry conferences. Previously, Boggs was general manager - Commercial at Tanker Pacific Offshore Terminals in Singapore, responsible for business development and commercial activities for a fleet of leased FPSOs and FSOs. He spent many years at Tanker Pacific in various activities including project management, business development, contract negotiation, and contract execution. Boggs has a BA cum laude from Harvard University and an MBA with honors from the University of Texas at Austin, where he was also president of the Energy Finance Group.