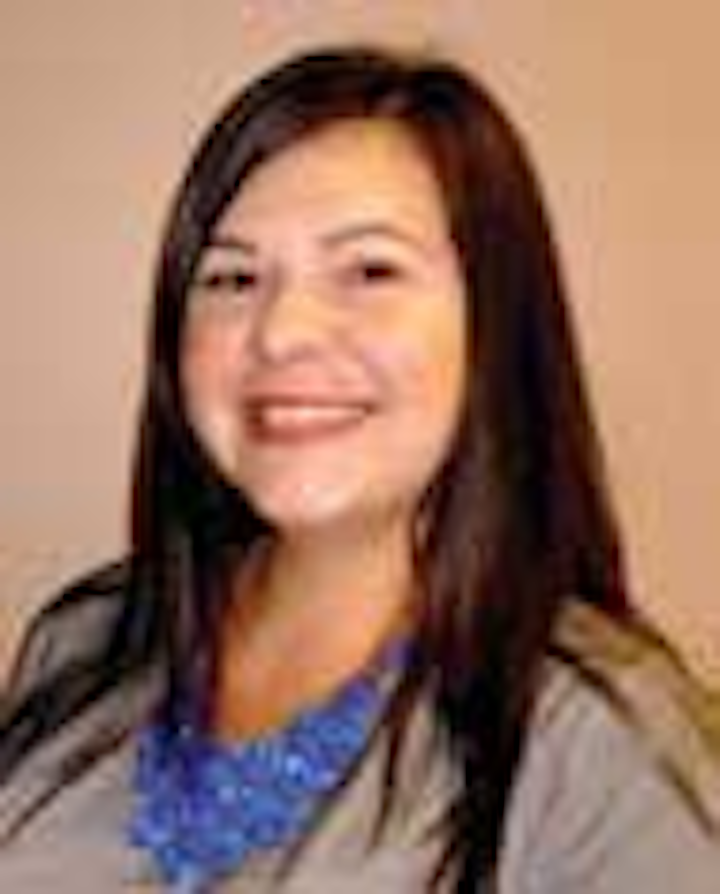 | | | |
| --- | --- | --- |
| | | Robin Dupre • Houston |
Last year's cargo volume increases were seen by most as the start of a trend growth, with this year pointing to better utilization factors across MPV/Project carrier fleets, according to Justin Archard, managing director, Asia Pacific and Oceania at SAL Heavy Lift Singapore.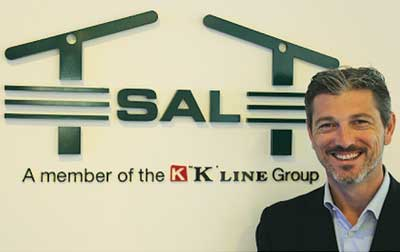 Justin Archard, managing director, Asia Pacific and Oceania at SAL Heavy Lift Singapore. (Photo courtesy Helix Media)
"It is hard to say whether or not the oil price shock will have a sting in its tail. The oil and gas industry is laying off people across the board – staff and contractors alike. Project deferments have started. Downgrading of global growth by the various global financial agencies was a regular feature in 2014; and today, the oil price correction may be the fillip that was needed to ignite growth. Uncertainty remains as the only constant and will, in my view, continue to dampen investment in capital projects and ships in the MPV/Project carrier segment. Oversupply has been a considerable factor in this segment for some time. This year, with its uncertainties, is unlikely to be a catalyst year for significant newbuild orders, which is a good thing."
He stated that a further difficulty that shipowners face will be in freight rates. As cargo volumes trend upward, the fall in the oil price means lower bunker costs for owners, bringing a welcome margin against current market freight rates.
DOF Subsea wins GoM contracts
DOF Subsea has won several contracts for work in the Gulf of Mexico. The contract awards will give a utilization of the chartered-in vesselsRoss Candies by four plus five months and Chloe Candies by about three months. The contracts will start this month, and the scope of work includes subsea installation, IMR, and survey work.
Bibby Subsea charters newbuildBrandon Bordelon
Bibby Subsea has signed a three-year contract with Bordelon Marine for use of the newbuild ultra-light intervention vesselBrandon Bordelon. The vessel is expected to operate primarily in the Gulf of Mexico.
The purpose built, high-specification vessel is designed for a variety of operations, including maintenance and repair, light construction, survey, and inspection work.
Seadrill acquiresWest Polaris drillship
Seadrill has exercised a purchase option for the ultra-deepwater drillshipWest Polaris from Ship Finance International.
The seller acquired the vessel in 2008 and subsequently agreed on a bareboat charter to Seadrill with purchase options starting in 2012. The purchase option price is $456 million and the total consideration payable to Ship Finance is $108 million.
Keppel to convert second vessel for FLNG role
Keppel Shipyard has confirmed a contract from Golar LNG subsidiary Golar Gimi to convert a second Moss LNG carrier, theGIMI, into a floating liquefaction vessel (FLNGV). The value of the order is about $705 million. The work scope is similar to the conversion of the carrier HILLI, awarded six months ago.
Keppel Shipyard will be responsible for the design, detailed engineering and procurement of the marine systems, and all conversion-related construction services. It will re-engage Black & Veatch, its partner in the HILLI conversion, for design, procurement, and commissioning support for the topsides and the liquefaction process, using its established PRICO technology.
Full construction activities on theGIMI will start once Keppel Shipyard receives a notice to proceed, probably by November. The converted Golar Gimi FLNGV is expected to be delivered around 33 months after the notice to proceed.
McDermott vessels to install second Ayatsil platformOffshore Mexico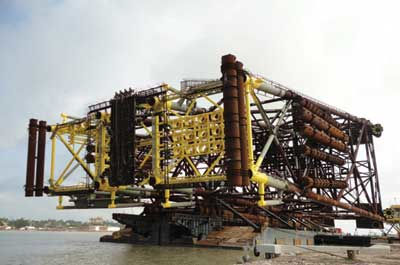 Intermac 600 transportation and launch barge. (Photo courtesy Business Wire)">
The Ayatsil-A jacket on board theIntermac 600 transportation and launch barge. (Photo courtesy Business Wire)
McDermott International will install the jacket, deck, and piles for PEMEX's Ayatsil-A drilling platform in the Ayatsil field in the Bay of Campeche offshore Mexico.
TheIntermac 600 will launch the 8,400-ton (7,620-metric ton) jacket and the heavy-lift Derrick Barge 50 will complete installation of this structure, the 3,400-ton (3,084-metric ton) deck and other platform components in waters 400 ft (122 m) deep. The total weight of the facility is around 15,800 tons (14,333 metric tons).
Ayatsil, PEMEX's largest discovery to date, is expected to boost Mexico's oil production by 150,000 b/d.
Last summer, McDermott delivered the Ayatsil-B eight-legged jacket and deck.
Damen to convertPetrojarl I for Atlanta offshore Brazil
The Petrojarl I LLC consortium has commissioned Damen Shiprepair Rotterdam (DSR) to upgrade the FPSOPetrojarl I.
Owner Teekay Petrojarl plans to re-deploy the vessel, built in 1986, from the North Sea to the postsalt Atlanta heavy-oil field in the Santos basin offshore Brazil.
Queiroz Galvão Exploração e Produção (QGEP) has contracted the floater to serve as an early production system on the field in a water depth of 1,535 m (5,036 ft).
DSR's upgrade scope covers basic engineering, detailed and construction design and engineering, workshop drawings, interface engineering, marine and process equipment procurement, fabrication, construction, corrosion protection/coating, transport and lifting operations, integration, mechanical completion, performance testing, and commissioning activities.
The company will also perform upgrades and modifications related to the marine, hull, and life extension classification program; conversion of the process systems (separation train and produced water topsides) and integration; and Brazilian compliance procedures.
Under a partnership with DSR, Frames in Alphen aan den Rijn, the Netherlands will handle design and fabrication of the new topsides skids, while Alblasserdam-based Nevesbu is responsible for marine and topsides integration engineering.
Petrojarl I is expected to arrive at the shipyard next month and remain there for around one year.