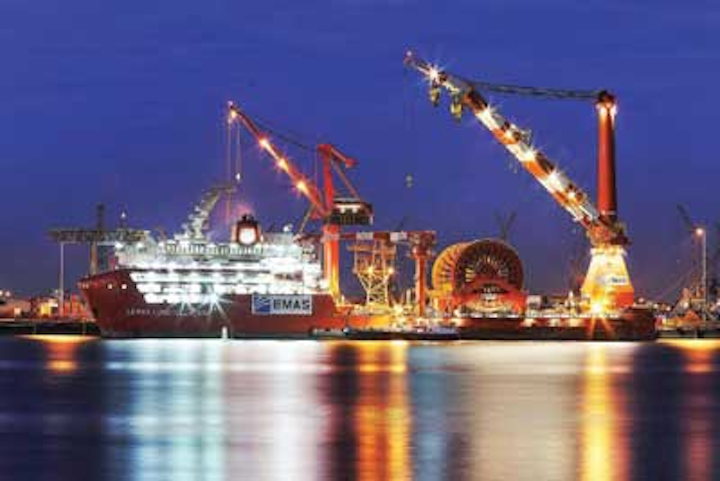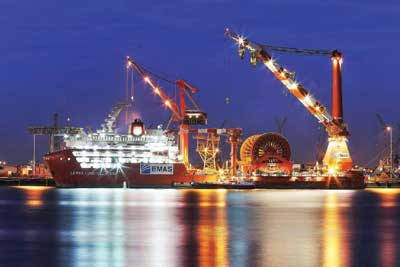 Lewek Constellation during its 800-metric ton Huisman multi-lay system installation at the Huisman Equipment quayside facility. (Photo courtesy Huisman Equipment)
Sarah Parker Musarra
Editor
EMAS AMC has introduced theLewek Constellation, a unique vessel that finds itself in an increasingly unique situation. By the time it hits the waters of the Gulf of Mexico in April, the subsea construction vessel will have a backlog of work worth more than $500 million with a $120-million West African job already completed.
It is literally unique in that it is one of two vessels in its class, according to EMAS AMC, achieving the highest notations in both environmental and comfort classes. At nearly 180 m (591 ft) long,Lewek Constellation is a DP-3 ice-classed, multi-lay offshore construction vessel with ultra-deepwater pipelay and heavy-lift capabilities.
Christened and officially named on March 1 from Huisman Equipment's facility in the Netherlands,Lewek Constellation was conceived in 2009. However, two acquisitions made by EMAS AMC, the subsea unit of Ezra Holdings Ltd., greatly contributed to the design that would become Lewek Constellation by giving the newly-augmented company experience in critical areas, explained Steve Louis, EMAS AMC's vice president of Engineering.
In 2011, the Singapore-based company acquired Aker Marine Contractors (AMC), which was the subsea umbilicals, risers, and flowlines (SURF) and floater installation unit of Aker Solutions. At that time, it also entered into a 50/50 joint venture for the ownership and chartering of AMC Connector (now Lewek Connector), a 2012-built multi-purpose construction vessel valued at approximately $300 million.
"The acquisition of AMC established EMAS as a formidable umbilical installation contractor," Louis said, explaining that the new company's first project was in the Tamar field off Israel for Noble Energy, which also awardedLewek Constellation its second contract.
A few years later in 2013, he continued, the company picked up exclusive charters for the s-lay Caesar (now Lewek Centurion) and the reel-lay Express (now Lewek Express) from Helix Energy Solutions Group, also acquiring Helix's 120-acre marine spoolbase facility in Ingleside, Texas.
"This enabled EMAS AMC to provide onshore rigid pipe construction and offshore pipelay installation services for our clients to complement our umbilical installation capabilities," Louis said. "TheLewek Constellation is the consummation of years of developing a high-spec, full-field development vessel fueled by a best-in-class workforce who possess the knowledge and expertise in SURF construction and heavy-lift operations."
It was important to EMAS AMC that its flagship vessel stay consistent with its company strategy, which was to differentiate itself from its competition through improved technology and high-spec vessels. Louis said he was confident that the vessel achieved this, noting that it was purposefully designed with a good mix of equipment, offering ultra-high top tension equipment, with ultra-high crane capacity, and ultra-deep ROVs.
"We believe that strategy is about choosing the right mix of technology in order to create a unique and valuable position for our clients and theLewek Constellation is the vessel that epitomizes that belief," he said.
Lewek Constellation has taken features from similar vessels and supersized them. For example, the vessel has a 3,000-metric ton (3,306-ton) Huisman Offshore mast crane, compared to the 400-metric ton (441-ton) crane offered by most competitors. It also has a Huisman multi-lay system capable of installing rigid and flexible pipe up to 800 metric tons (882 tons) of top tension and 1,200 metric tons (1,322 tons) of abandonment and recovery system. It also houses two Schilling HD work-class ROVs that are rated for 4,000-m (13,123-ft) for inspection, repair, maintenance, intervention, and construction work. (Incidentally, Lewek Constellation also sports a large 19-m by 8-m (62-ft by 26-ft) moonpool.)
What is immediately apparent upon viewingLewek Constellation sets it apart as unique: a distinct removable reel system, which the company believes makes the vessel ideal for remote fields. It can travel alongside a barge and allow for offshore reel transfer, saving the vessel trips to and from a spoolbase.
In October 2014, the vessel successfully completed its inaugural installation project, a job for VAALCO Gabon (Etame) Inc., offshore Gabon. The work scope included the transportation and installation of two jackets, topsides, flare booms, and living quarters for the Etame and Southeast Etame/North Tchibala platforms. It also installed new living quarters and a gas lift package onto the FPSO Nautipa.
It then headed to Huisman's yard in the Netherlands to be fitted for its multi-lay tower and ancillary equipment.
Having departed the Netherlands on March 13,Lewek Constellation is now headed to the GoM to begin work on a passel of contracts signed with Noble Energy, including the engineering, procurement, construction, and installation of subsea tiebacks for the Big Bend, Dantzler, and Gunflint projects. A total of more than 80 mi (130 km) of pipe-in-pipe flowlines and more than 56 mi (100 km) of umbilicals in water depths up to 7,200 ft (2,200 m) is included in the project scope of Lewek Constellation's first deepwater pipelay.
"They provide us the challenge; we provide the solution," Louis said of EMAS AMC's relationship with the Houston-based operator.
In October 2014, more than $70 million of work was booked in multiple contract awards from "a variety of national oil companies, oil majors, and contractors" in the GoM and Asia/Pacific, EMAS AMC said. Its most recent contract was in January 2015, when it signed a procurement, fabrication, and subsea installations with Apache Energy to work off Australia in 1Q 2016.
Louis said that EMAS AMC being a start-up put the wheels in motion forLewek Constellation's success.
"[Start-ups] have to be different, to raise that bridge between innovation and proven, predictable improvement," he said.