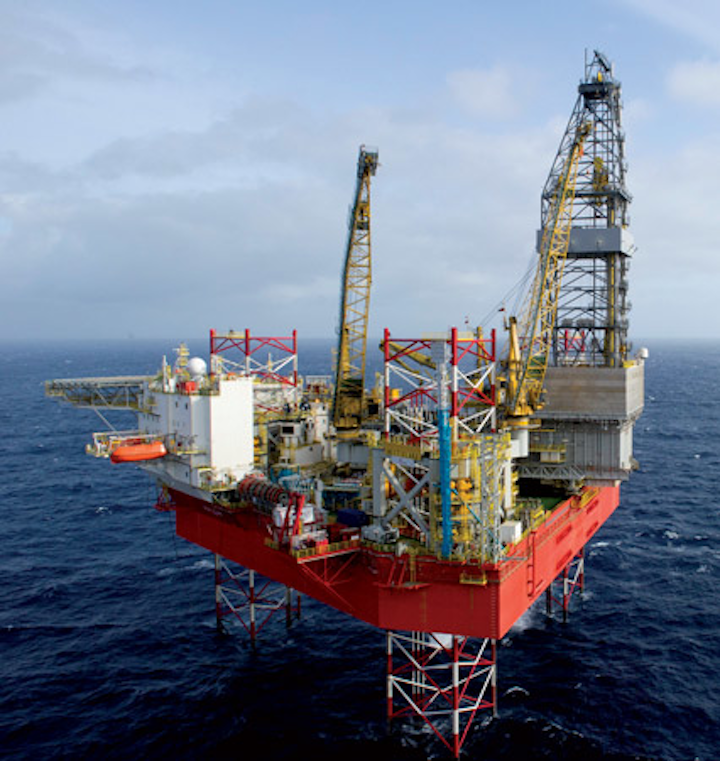 Ted Moon
Special Correspondent
Offshore's 2015 premium jackup rig survey finds a global fleet that has grown considerably, but perhaps too quickly, in the past two years.
Premium jackups included on this survey are rated for water depths of 350 ft (106 m) or greater, drilling depths of at least 25,000 ft (7,600 m), and are currently under contract somewhere in the world. The overall number of working jackups has increased to 165 in this year's survey, a 16% increase from 2013. Some of this increase is attributed to the reintroduction of older, legacy rigs by newer players. Dubai's Shelf Drilling, for example, has drilling contracts for five LeTourneau and Modec class rigs in West Africa, the UAE, and Mediterranean. These rigs were all built in the early 1980s and acquired from Transocean in late 2012.
Paragon Offshore represents another new entrant to the survey. The drilling company, an offshoot of Noble Drilling, has eight rigs under contract in the North Sea and Mexico. The majority of these rigs are more than 30 years old. Only two, theProspector 1 and Prospector 5, have been built in the past two years. These Friede & Goldman JU2000E class rigs are rated for 400-ft waters and 35,000-ft drilling depths and have current contracts in the North Sea running until 3Q 2016 and late 2017, respectively.
A number of new premium jackups have entered the market in the past two years, with 17 premium jackups delivered in 2014 and another 13 scheduled for delivery this year. Of these 30 rigs, only 17 are currently under contract and drilling, thanks largely to the drop in crude oil prices that began roughly 12 months ago.
Activity by region
The greatest demand for premium jackups continues to come from Asia/Pacific, where 47 rigs (roughly 28% of the total) are currently under contract. Many of these are higher-specification rigs, including the Keppel FELS Super B class and Baker Marine Pacific 375 class, which are less than 10 years old and are rated for water depths of 375 ft or more and drilling depths of at least 30,000 ft.
Demand remains strong in the North Sea and Middle East as well. Approximately 36 premium jackups are currently working in the North Sea, an increase of eight since 2013, and Middle East drillers have 23 rigs under contract (also up eight from 2013). Both regions have continued a trend seen in the 2013 survey: a move to younger, higher-specification rigs that can drill deeper and into high-temperature/high-pressure reservoirs.
The shallow waters off the coast of Mexico have experienced increased activity for premium jackups in the past two years. A total of 19 rigs, most of them LeTourneau Super 116-E and 116C, Baker Marine Pacific, and Keppel FELS B class rigs, are currently under contract in Mexico. This is nearly double the number of jackups operating in Mexican waters in the 2013 survey.
The market for jackups in the US Gulf of Mexico continues its decline, with only six rigs currently under contract in that region (a nearly 50% drop from 2013). Traditional GoM drillers Hercules Offshore and Rowan each only have one rig working in the area, with current contracts set to expire by 3Q 2015. Both companies have set their sights on the North Sea, where Rowan currently has six rigs working, many of them under contract into 1Q 2017. Hercules has one rig, theHighlander Triumph, stacked but ready for service in the Netherlands.
Future plans in flux
As with nearly every other sector of the offshore industry, the steep decline in oil prices over the past 12 months has impacted the premium jackup rig market. The industry downturn came at a time when the supply of newbuild rigs was ramping up dramatically. According to estimates by Hercules Offshore earlier this year, approximately 60 new jackups are scheduled for delivery in 2015. An additional 50 newbuild jackups are expected in 2016 and 2017.
This increased supply of rigs will outstrip demand in the near future, forcing many drilling contractors to put their expansion plans on hold. In early May, Transocean announced an amendment to its construction contracts with Keppel FELS to further delay delivery of five newbuild high-specification jackups, which was in addition to the six-month delay already announced in February. Seadrill has also recently announced an across-the-board delay in delivery of all jackup newbuilds by an average of 5.5 months.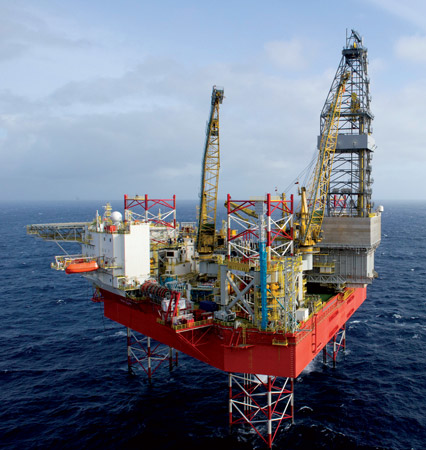 Seadrill'sWest Elara, a Gusto MSC CJ70 X150A-class jackup, is rated for water depths up to 492 ft and a maximum drilling depth of 40,000 ft. The rig is currently under contract in the North Sea until March 2017. (Courtesy Seadrill Ltd.)
Dwindling demand has hit drillers with aging fleets the hardest. Earlier this year, Hercules Offshore was forced to cut 30% of its workforce and cold-stack five GoM rigs as a result of declining service demand. The company also sold four commodity rigs-rated for service in less than 250 ft of water-in May 2015.
Most companies are forced to accept lower day rates to keep their rigs working in this lower demand market. In a recent fleet status report, Rowan Companies stated that itsRowan Gorilla V, a Super Gorilla class rig rated for 400-ft water depths and maximum drilling depth of 35,000 ft, was awarded a one-year, two-well extension with Total in the UK sector of the North Sea. The agreed day rate of $170,000 was a substantial drop from the original $274,000; the day rate will increase to $175,000 on Jan. 1, 2016 and remain there until the end of the extended contract in August 2016.
Construction activities
While offshore drillers are bracing themselves for dwindling day rates and an overabundance of jackup supply, some companies are going ahead with construction plans, with an optimistic eye toward a pickup in drilling demand in 2016.
For example, Ensco is scheduled to add three deepwater jackups to its fleet. TheENSCO 140 and 141 are being built by Lamprell's shipyard in the United Arab Emirates as significantly enhanced versions of the LeTourneau Super 116E design, while the ENSCO 123 (a Keppel Fels MOD V Super A class rig) is being built in Singapore. All three rigs are scheduled for delivery by the second half of 2016.
Additional information on the current state of the premium jackup fleet can be found in the poster contained within this issue ofOffshore. •