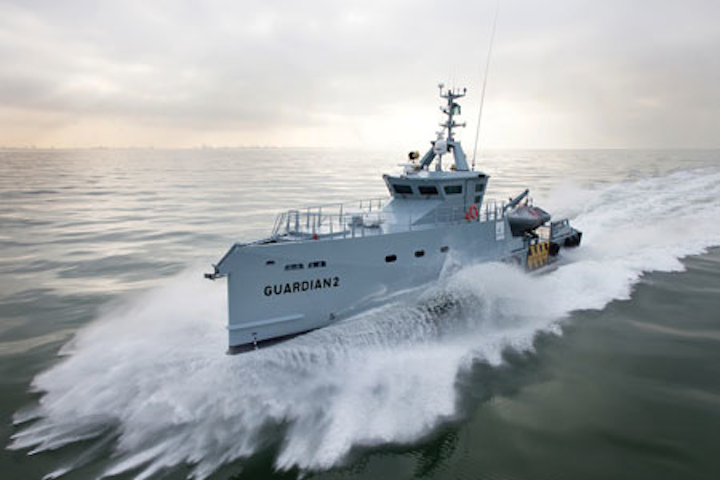 Robin Dupre • Houston
FPS capex to grow by 49%, says DW
Douglas-Westwood's quarterly version of the World Floating Production Market Forecast 2015-2019 report states that between 2015 and 2019 $68 billion will be spent on FPS units - an increase of 49% compared to 2010-2014.
Despite capex growth over the forecast, orders this year have been very weak with only four contract awards so far, the company stated. This is a result of the low oil price impacting project sanctioning activity, compounded by recent history of high-cost FPS projects running late and/or over-budget.
In the near term, Douglas-Westwood expects improvement next year. Operators have worked hard recently to redevelop projects to make them more cost effective and their efforts should see final investment decisions made on a number of projects. One example is Mad Dog Phase 2 in the Gulf of Mexico, which was originally considered 'uneconomic' when oil was priced at $110 a barrel. With the major redesigns BP has undertaken (coupled with lower prices for equipment and services in the downturn) it is likely to be sanctioned next year, despite the current low oil price.
FPSOs will represent by far the largest segment of the market both in terms of numbers (67 installations) and forecast capex (79%) during 2015-2019. FPS units will account for the second largest segment of capex (9.3%), with TLPs third (9.2%).
Statoil cancels rig contract
Statoil has canceled its contract with Songa Offshore for the semisubmersible drilling rigSonga Trym, four months before the expiration of the contract.
Statoil previously notified Songa Offshore that the rig would be suspended for a period, and Statoil has tried to find other assignments for the rig after the suspension period and up to the expiration of contract. "We informed the supplier earlier in October about suspending the contract after the rig has completed the drilling operation on the Tavros well on the Visund field. Statoil has hoped for further activity in the remaining contract period, but we now realize that we must cancel the contract, as we have not succeeded in finding more assignments. We regret that we need to cancel the contract before it expires," says Tore Aarreberg, head of rig procurements in Statoil.
Maersk Drilling focuses on remaining competitive
Claus V. Hemmingsen, CEO of Maersk Drilling and member of the Executive Board in the Maersk Group said: "We deliver a satisfactory third quarter result given the adverse market conditions. We continue to focus on operational performance and a competitive cost level, which are key factors in order to secure contracts for our rigs."
In the third quarter, Maersk Drilling signed two new contracts.Maersk Resilient secured a three-year contract and Mærsk Giant received a contract for 150 days, both for work in the Danish sector of the North Sea. Furthermore, Maersk Drilling signed four contract extensions. A 16-month extension for Mærsk Innovator working in Norway, a five-year extension for Heydar Aliyev working in the Caspian Sea in Azerbaijan, a 250-day extension for Maersk Resolve in the Danish sector of the North Sea, and the latest a three-year extension for Maersk Discoverer working offshore Egypt.
At the end of 3Q 2015, Maersk Drilling's forward contract coverage was 85% for the rest of 2015, 70% for 2016 and 49% for 2017. The total revenue backlog by end 3Q 2015 amounted to $5.8 billion.
Pacific Drilling rescinds construction contract
Pacific Drilling has exercised its right to rescind the construction contract for ultra-deepwater drillshipPacific Zonda due to the failure by Samsung Heavy Industries to timely deliver a vessel that substantially meets the criteria required for completion of the vessel in accordance with the construction contract and its specifications. Pacific Drilling made advance payments totaling approximately $181.1 million under the contract, and will seek a refund of the installment payments.
Homeland takes delivery of second Damen vessel
Homeland Integrated Offshore Services Ltd. will take delivery of its second Damen Fast Crew Supplier 3307 Patrol just 18 months after a sister vessel entered service in the Nigerian offshore market.
HIOSL serves the Nigerian oil and gas industry with a wide range of maritime, security and logistics services. The Lagos-headquartered company has ambitious plans to become the leading marine logistics provider in the Nigerian offshore industry.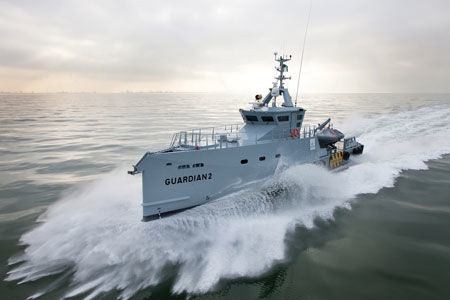 Guardian 2 will sail for Port Harcourt, Nigeria in December. (Photo courtesy Damen Shipyards)
Currently undergoing sea trials in Singapore,Guardian 2 is expected to be directly employed when she arrives in Port Harcourt, Nigeria, in December. HIOSL will then have five patrol vessels in its fleet.
Guardian 1 has largely been carrying out security patrol services for the IOCs, working alongside the Nigerian Navy, as well as transferring crew and supplies. "Guardian 1 is definitely the best vessel in the field in terms of speed and intervention abilities. Furthermore, with her unique Damen Sea Axe hull, she has fantastic seakeeping ability and still provides efficient fuel economy, even in rough terrain."
Transocean delays newbuild deliveries
Transocean has postponed the delivery of ultra-deepwater newbuildsDeepwater Pontus and Deepwater Poseidon for one year each. The Deepwater Pontus was expected to start work with Shell in the Gulf of Mexico in 1Q 2017, while the Deepwater Poseidon was expected to start in the Gulf in 2Q 2017.
Though the counterparties will be compensated for the delay, the 10-year duration and $519,000 day rates of the original contracts remain. The ultra-deepwater newbuildDeepwater Thalassa is currently mobilizing to the Gulf of Mexico to start with Shell in 1Q 2016 at $519,000/d, while the Deepwater Proteusis scheduled for delivery in December 2015 with operations commencing in 2Q 2016.
Golar issues Cameroon FLNG update
Golar LNG Ltd. says its Cameroon FLNG project has received approval and signature of the binding tolling term sheet thereby confirming the commercial terms for the FLNG vessel Golar Hilli.
Cameroon's state owned oil and gas company Societe Nationale des Hydrocarbures, Perenco Cameroon, and Golar are all parties to the executed agreement. Operations are scheduled to begin in 2Q 2017.