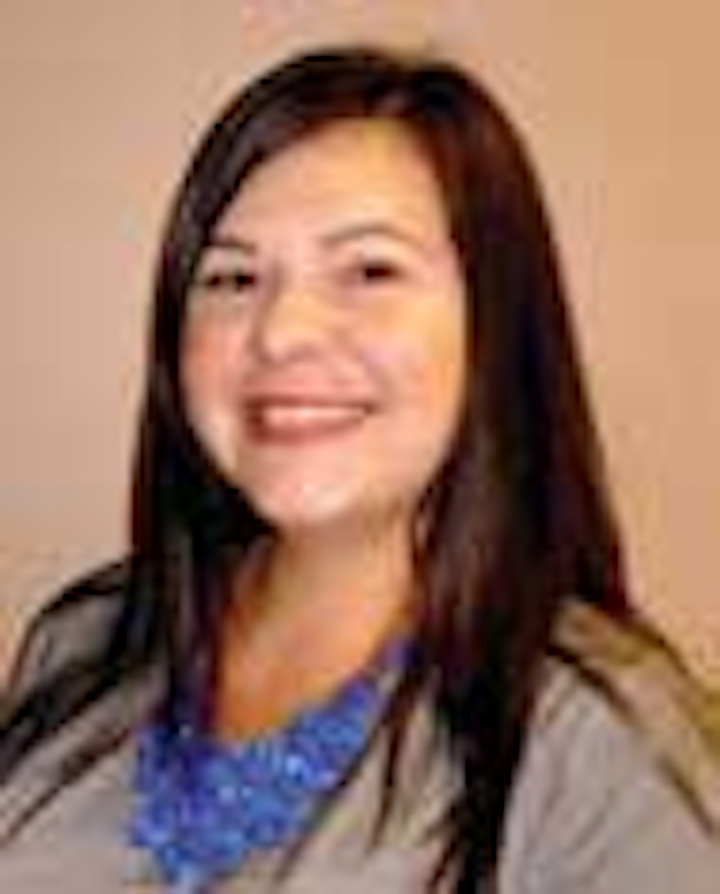 | | | |
| --- | --- | --- |
| | | Robin Dupre • Houston |
Inventory of floating production systems is on the rise, reaching 264 units, according to the Energy Maritime Associates (EMA). FPSOs account for 60% of the existing systems, with the balance compromising production semis, TLPs, production spars and production barges, and floating regasification/storage units. Another 99 floating, storage, and offloading units are in service. There are currently 65 production floaters, eight FSOs, and four MOPUs on order. This is a 5% increase from last quarter and reverses the steady decline that began in 1Q 2013.
Thirteen production floaters and two FPSOs have been ordered so far this year, totaling more than $16 billion in construction contracts. They include three large converted FPSO units for Angola, three newbuild production barges for Indonesia, three floating regas units, two units for UK North Sea, and two FLNG units. The pace of orders has recovered sharply from last year and is 25% above the 16-year average.
Ulstein Verft delivers new vessel to Island Offshore
The Ulstein Verft newbuildIsland Performer is in the hands of ship owner Island Offshore. The riserless light well intervention (RLWI/IMR) vessel will serve her first five years for FTO (a joint venture between FMC Technologies Inc., Edison Chouest Offshore, and Island Offshore) in the Gulf of Mexico.
IslandPerformer has a 250-metric ton (276-ton) active heave compensated (AHC) crane with a below-deck winch, and carries two deepsea work ROVs – one launched through a dedicated moonpool and the other from the starboard side.
IslandPerformer is the next-generation subsea vessel from Ulstein, with large accommodation, storage, and lifting capacities. It meets the highest standards for station keeping, redundancy and dynamic positioning, and it is able to retain system integrity and continue operations uninterruptedly even after a substantial single system failure.
Damen PSV 5000 vessels to work in sub-arctic waters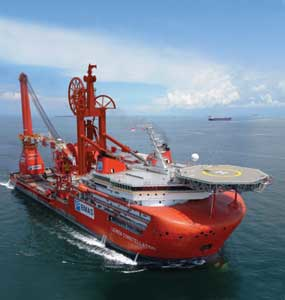 Damen Shipyards Group constructs a PSV 5000 vessel. (Photo courtesy Damen Shipyards Group)
Atlantic Towing Ltd. (USA) has selected newly designed, ice-strengthened PSV 5000 vessels from Damen Shipyards Group to meet its demanding 10-year offshore support contract with ExxonMobil Canada Properties and Hibernia Management and Development Co. Ltd (HMDC). The vessels will operate in the challenging sub-arctic waters of the Hibernia and Hebron oil fields off Newfoundland and Labrador.
ATL will take delivery of four PSV 5000 vessels, one of which will be equipped for inspection, repair, and maintenance duties. All four will share the same PSV design platform, with the first vessel due in service in 2H 2016. The PSV 5000 vessels will include a cost- and emissions-efficient diesel electric power plant.
The combination of the PSV 5000's flare-less bows, slender hull lines, and diesel electric propulsion with azimuth stern drives is designed to minimize fuel consumption and emissions, offer sea-keeping and dynamic positioning, and ensure crew comfort. Under Damen's Clean Design and Environmental Care Protocol, the vessels will also feature fuel-efficient generators and a selective catalytic reduction system, in compliance with upcoming environmental regulations.
Lewek Constellation receives West Africa contract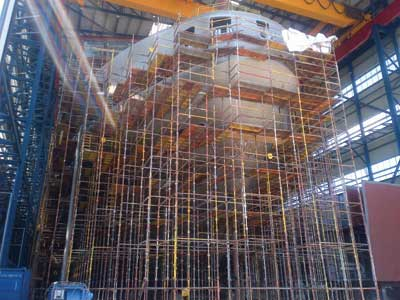 EMAS AMC's newbuild flagship vessel, theLewek Constellation. (Photo courtesy EMAS)
EMAS AMC, the subsea services division of EMAS, has received a contract from Houston-based VAALCO Gabon (Etame) Inc. for the expansion of the Etame Marin field offshore Gabon. The scope of work encompasses engineering, procurement, installation, and commissioning (EPIC) of rigid pipelines, along with the transportation and installation of flexible pipelines and two fixed production platforms.
This contract is worth approximately $120 million and will see EMAS AMC's newbuild flagship vessel, theLewekConstellation, working alongside one of the division's pipelay vessel, the LewekExpress.
Subsea 7 takes action to facilitate use of its vessels in US waters
Subsea 7 SA has moved to facilitate use of its vessels in US waters. The action is designed to enable the company to meet requirements applicable to non-US companies operating vessels in US waters.
Included within these requirements is that the company's board of directors, which has ultimate control over these vessels, cannot be controlled by a majority of US citizens. Consequently, the company is required to reduce the number of US directors from three to one.
Two directors, Robert Long and Allen Stevens, who are both US citizens, have agreed to stand down as directors of the board and have resigned with immediate effect.
Long and Stevens both joined the board of directors in January 2011, and, following their resignations, they will remain members of the company's Compensation Committee. Stevens will also remain a member of the company's Corporate Governance and Nominations Committee, and Long will continue as a member of the company's Audit Committee.
WorleyParsons signs MOU with Wilson to jointly pursue projects
WorleyParsons Services Pty Ltd. has signed a memorandum of understanding (MOU) with Wilson Offshore & Marine to jointly pursue the execution and delivery of ship-shaped floating LNG, FPSO, and other similar offshore oil and gas projects.
Under the agreement, the companies will deliver projects on an engineering, procurement, construction, and installation (EPCI) basis. The two companies will initially focus on the Australasia region, including Australia, New Zealand, Papua New Guinea, and other Southeast Asia countries.