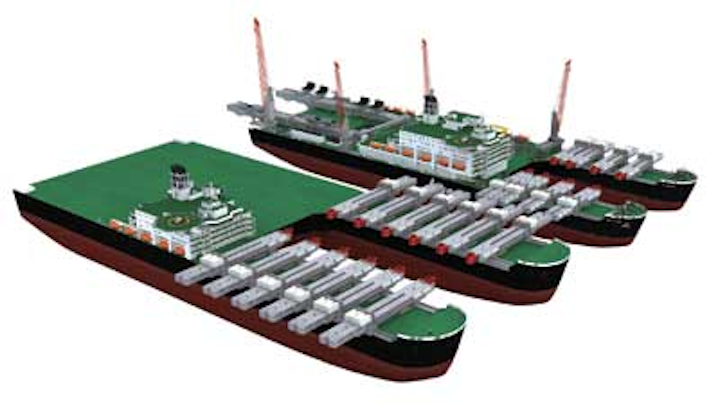 Nick Terdre
Contributing Editor
Jeremy Beckman
Editor, Europe
Offshore construction contractors continue to invest heavily in next-generation vessels in anticipation of future market needs. Among the established players looking ahead areAllseas and Subsea 7, while Petrofac is also looking to compete in deepwater SURF installations.
Allseas, which is due to take delivery of thePieter Schelte single-lift vessel late this year, has committed to build an even larger vessel based on a similar catamaran design. The new vessel, planned to become available to the market in 2020, will be capable of removing the 13 topsides on North Sea platforms that are too heavy, too wide or too long for Pieter Schelte. There are also some very large platforms off West Africa and Western Australia which will be natural targets for the new vessel, although their decommissioning lies many years off.
The investment decision, announced last October, had been some two years in the making according to Allseas president Edward Heerema. "We have worked it out conceptually to a large extent, and we know what capacities we require, though the details still have to be sorted out," he said.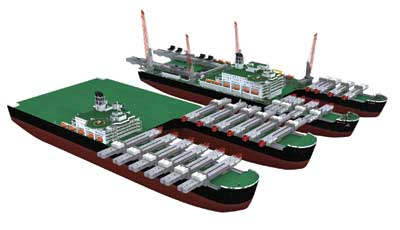 How Allseas' new single-lift vessel will look alongside newbuildPieter Schelte, which is due for delivery late this year.
Essentially the design principle is the same as forPieter Schelte, which with its two very large catamaran hulls will provide a lifting capacity in a different league to the semi-submersible crane-barges that currently dominate the offshore heavy-lift market. While Pieter Schelte is 382 m (1,253 ft) long and 124 m (407 ft) wide, the new vessel will be about 400 m (1,312 ft) long and 160 m (525 ft) wide. It will have a topsides lift capacity of 72,000 metric tons (79,366 tons), half as much again as Pieter Schelte's 48,000 mt (52,911 t). And due to its vast size, the new vessel will be able to operate in rougher sea states than Pieter Schelte – significant wave heights of around 2.75-3 m (9-9.8 ft) as against around 8.2 ft (2.5 m).
The investment required for the new vessel is currently estimated at €2.5 billion, compared with €2.2 billion forPieter Schelte. After finalizing the basic design and writing a specification for the shipyard, Allseas plans to tender construction in late 2015 and award the contract in 2016/17.
This schedule will give it the opportunity to incorporate learning fromPieter Schelte's first operations before the design of the new vessel is finalized. Pieter Schelte, which is due to be delivered late this year and enter service in spring 2015, has been contracted by Shell to remove four decks and a jacket on the Brent field in the UK northern North Sea and by Talisman to lift the deck from the unused Yme jackup production platform in the Norwegian North Sea.
Much of the design has already been decided, Heerema says. There will be 16 thrusters, againstPieter Schelte's 12, and the installed power will be of the order of 120 MW, compared with 95 MW. The new vessel will have 12 lifting beams arranged in six sets of two, compared with Pieter Schelte's eight. But there is scope for optimization of, for example, the size of the lifting beams and how they will be operated.
LikePieter Schelte, the new vessel will be a newbuild. Pieter Schelte, first conceived 25 years ago, was originally to be based on two converted VLCC hulls. However, as the design became more sophisticated, incorporating more advanced functions, a newbuild seemed more practical. "If you've got a vessel that's rather complex on the inside, you shouldn't convert," Heerema said.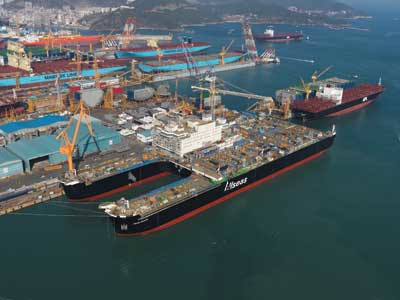 Construction of Allseas' single-lift vesselPieter Schelte is in the final stages at the Daewoo yard in Korea.
The new vessel is intended to perform both installation and removal tasks – the operations are virtually reversible. UnlikePieter Schelte, however, Allseas does not plan to outfit it for either jacket lifting or pipelay. As nearly all jackets fall within Pieter Schelte's 25,000-mt (27,558-t) jacket lifting capacity, it makes more sense for that vessel to tackle such assignments. Also, adding to available pipelay capacity could help to unbalance the market, Allseas believes.
As the new vessel will be restricted to installing and removing topsides, crew capacity will be limited to around 250, compared with roughly 570 forPieter Schelte, which needs the extra manpower for pipelay operations.
The single-lift method offers an inherently safer decommissioning operation than alternatives such as cutting up topsides offshore and removing them in multiple lifts. The method to be used by bothPieter Schelte and the new vessel involves maneuvering the vessel so that the topsides are within the slot formed by the two bows on which the lifting beams are deployed.
Friction clamps mounted on the lifting beams are then closed around the platform legs, which have already been cut. In the case of the new vessel, with its 12 clamps, some will be attached to other parts of the jacket. An active heave compensation system ensures that all motion of the clamps relative to the platform is eliminated prior to the clamps being closed. The lift system is then engaged to transfer the weight of the topsides from the legs to the vessel.
Once the load has been transferred, the vessel can move away from the jacket and sail to a suitable location for transferring the load to a cargo barge. The topsides of platforms with gravity-based substructures can also be removed, as on the Brent field, as long as the leg spacing fits the vessel's slot.
•••
ThePetrofac JSD 6000 monohull derrick and lay vessel is intended to spearhead Petrofac's drive to win deepwater EPIC contracts with a core SURF (subsea, umbilical, riser and flowline) content.
This will be the company's first owned offshore construction vessel, but it does not intend to build a fleet according to Yves Inbona, managing director of the Offshore Capital Projects business area that handles Petrofac's EPCI business. Instead the company sees the vessel as an enabler, allowing EPC content to be created around its SURF capability.
Petrofac is well established as an EPC contractor for the offshore and onshore oil and gas sector, but wants to position itself to respond to emerging trends. "We expect offshore to account for 40% of global oil and gas production by 2025, and the value of the SURF market is going to double between 2012 and 2020," Inbona said. Much of the growth will come in deep waters rather than the shallower waters in which Petrofac has to date mainly been active. Two key acquisitions have already strengthened the company's deepwater pipeline engineering capability: Malaysian offshore engineering company RNZ and UK-based KW Subsea.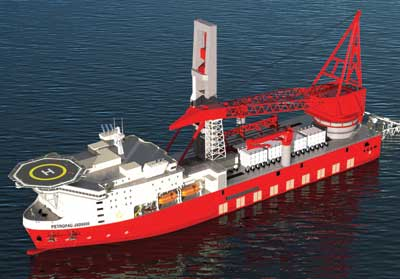 ThePetrofac JSD 6000 derrick and lay vessel will add SURF capability to the contractor's deepwater EPC operations.
Chinese shipyard ZPMC is constructing the vessel which should be available to undertake contracts from early 2017.Petrofac JSD 6000 is based on the Ulstein SOC 5000 design, customized by Petrofac. It will be 216 m (708 ft) long and 49 m (161 ft) wide, with accommodation for 399 personnel. The company has undertaken detailed in-house planning, Inbona says, to deliver an innovative and unique vessel,and has already applied already for two patents with two further applications pending.
The main equipment comprises:
A revolving crane of 5,000 metric tons (5,511 tons) capacity, to be supplied by National Oilwell Varco
A 2,000-mt (2,204-t) J-Lay tower (IHC Engineering Business)
600-mt (661-t) S-Lay tensioners and pipe-handling equipment (Remacut).
Other ships provide the same capability for one or other of these functions, but no other vessel combines the three functions atPetrofac JSD 6000's level of performance, Inbona claims. It will also be equipped with two deepwater 750-mt (827-t) winches from Remazel Engineering, which will enable it to perform subsea lowerings of up to 1,500 mt (1,653 t). Kongsberg Maritime will supply the electrical and control systems with Lloyds Register performing classification.
One unique feature, according to Inbona, is that both the crane A-frame and the J-lay tower can be lowered. This will make it possible for the vessel to transit the Suez Canal rather than take the Cape of Good Hope route to eastern destinations, and also to pass under the bridges of the Bosphorus to access the Black Sea, scene of recent deepwater discoveries. And it will have Ice class designation, allowing it to operate in Arctic waters.
The design incorporates a double deck. Despite the presence of the main crane, four deck cranes, J-lay tower and other permanently installed topsides equipment, spare space on the upper deck will allow 20,000 mt of loose equipment to be carried. This provides an advantage in terms of logistics, with offshore projects increasingly in areas remote from developed support bases, such as East Africa.
Another feature that could prove to be a time and cost-saver in deep waters is that the crane can be used to pick up the end of a pipeline steel catenary riser that the vessel has just installed, facilitating the tie-in to an FPSO – such an operation usually requires an additional tool. It will also be possible to tie back the crane so that the usual 40-m (131-ft) radius for the revolving lifting of 5,000 mt (5,511 t) is extended to 45 m (147 ft) when the crane is fixed over the stern instead of rotating. This is relevant to some shallow-water projects that Petrofac is currently bidding, Inbona says.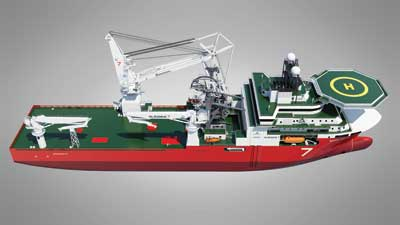 Subsea 7 hopes to take delivery ofSeven Arctic in 2016.
The vessel has a robust DP3 dynamic positioning system, with five 3.7-MW azimuthing thrusters (three forward and two aft, all retractable), and two 2.5-MW tunnel thrusters. This will enable it to keep station reliably in areas with very strong currents such as the Shetlands. With two 6.5-MW propulsion azimuthing thrusters, the vessel can move between locations at 12 knots. Total installed power capacity is 52 MW.Petrofac JSD 6000 will also be equipped with an eight-point mooring system and will be able to pull itself along with anchors so that S-Lay pipeline installation can be extended to land approaches.
Petrofac reported recently that it had pre-qualified for Shell's Bonga South-West FPSO project off Nigeria, which will feature an extensive SURF development tied into a large FPSO - the kind of project the company is targeting with thePetrofac JSD 6000. It expects to focus its initial tenders for the vessel on deepwater projects in Africa and the Gulf of Mexico, as well as shallower water operations in the North Sea and other areas on an opportunistic basis.
•••
Subsea 7 describesSeven Arctic as a "direct response to demand for larger vessels with higher capabilities to execute complex projects more quickly and cost-effectively." Among the stand-out features of this deepwater flexlay/subsea construction ship are its under-deck carousel, capable of storing 7,000 mt (7,716 t) of flexible pipes or umbilicals; a large knuckle-boom crane configured to install subsea structures of up to 900 mt (992 t) in water depths up to 3,000 m (9,842 ft); a 3,000-sq m (32,292-sq ft) deck area, and a 4,500-mt (4,960-t) deckload capability.
According to David Mair, Global Business Development Director, "we expect continued global growth in subsea production. Some reports suggest that by 2030, the market for subsea developments could be on a par with traditional platform-based solutions. If so, that opens tremendous opportunities for companies like ours."
Mair added that "we see demand staying strong for subsea tiebacks to infrastructure in maturing basins such as Norway, the UK northern North Sea, Australia, Indonesia, and parts of West Africa. We also expect steady or increaseddeepwater development activity off Brazil and in the Gulf of Mexico, while emerging ultra-deepwater plays such as on the east side of Africa will bring more sophisticated development requirements."
Subsea 7 performed the preliminary design forSeven Arctic jointly with Wärtsilä Ship Design. Hyundai Heavy Industries (HHI), which will start cutting first steel for the vessel later this year in South Korea, is also responsible for the detailed design, including optimization of the hull and modifications to the proposed power plant. Construction will be completed some time in 2016.
Dr Stuart Smith, VP Technology and Asset Development Manager at Subsea 7, points out that the newbuild's 160-m (525-ft) length and 32-m (105-ft) beam, combined with its large deck area and deckload, "are all somewhat larger than our existing deepwater construction vessels. This will allow us to respond to coming requirements to install heavier subsea manifolds, templates and caissons, larger and more complex subsea pipe spools, and deeper water flexible pipes. The extra beam, which compares with 29 m (95 ft) for theSeven Seas and 27 m (88.6 ft) for the Skandi Acergy, is what gives us the capability to support a larger crane."
Cranes on other vessels in the company's fleet typically provide a 400-mt (441-t) lift capability. OnSeven Arctic, the Huisman-designed, active heave compensated rope-luffing knuckle-boom crane is designed to perform lifts in four different modes - 900 mt at a radius of 21 m (992 t/69 ft); 600 mt @ 29 m (661 t/95 ft); 300 mt @49 m (331 t/161 ft); and 270 mt @ 58 m (297 t/190 ft). The longer radii allow the crane to move equipment from each corner of the deck without having to deploy skidding systems.
"The 600-mt mode could be most attractive for the next-generation manifolds and six-slot templates and seabed processing modules weighing 450-600 mt," Smith said. "But often this capacity would not be needed, and that's where the 300-mt configuration comes in – in this mode, the crane can operate fastest and most efficiently. The 900-mt mode is for denser types of modules in lesser water depths, with a more limited radius."
The knuckling system on the main boom is actuated using wire ropes rather than the hydraulic cylinders employed in conventional knuckle boom designs. "There are no hydraulics above the crane's slewing ring," Smith explains, "which results in a simpler design with reduced maintenance needs. Also, the geometry of our crane means that the boom is lighter and where loads are transferred to the boom, they are lower. This helps with the payload on the deck."
Other factors affecting the speed and efficiency of the equipment to be installed are water depth and the size of the wire ropes. "We can do a lot of our lifts faster with smaller-diameter wire. In twin-fall mode, 109-mm wire rope allows heavy lifts of loads of up to 600 mt. When paying out 1,000 m of wire there is a tendency for the hook to twist – we have resolved this by having a large separation of up to 50 m between the two wires going down. So, rather than lowering the wires in parallel, we do it in 'triangular' mode. The crane's deepwater lowering block also helps prevent the wire from twisting."
In high-lift mode (suited to long spools or tall objects such as suction piles), the crane can be configured with a hook height that provides just over 50 m (164 ft) clearance. This is a major advance over existing offshore knuckle-boom cranes, Smith claims.
Huisman designedSeven Arctic's 325-mt (358-t) vertical lay system, which can install flexible pipes, umbilicals and power cables in diameters from 2-24-in., and the associated 360-mt (397-t) A&R winch. Pipes are stored on the MAATS-designed 7,000-mt (7,716 t) carousel located amidships underneath the main deck. This is a big step up from the two 1,250-mt (1,378-t) deck carousels on the Seven Seas, Smith says, and necessitates a large amount of steel reinforcement to allow the vessel to withstand the load. "We have also looked carefully at the unloading and loading procedures. The hatches are much larger than on our other systems in order to accommodate the larger end fittings." The high cable-carrying capacity could suit the proposed multi-field subsea power-from-shore project in the central Norwegian Sea, the company hopes.
Seven Arctic will have accommodation for up to 132 personnel. The vessel's winterization features should allow it to withstand the harsh conditions it could encounter in Arctic regions such as northern Norway, where numerous offshore development projects could go forward over the next few years. Precautionary measures include ice strengthening of the hull; heating in the fresh water tanks; space heating in general, storage and underdeck compartments; heated handrails; and trace heating on the vessel's helicopter deck and around lifeboat stations. Two work ROVs will be deployed from rails on the side of the ship, which should ease operation in harsh weather.
In transit, the DP3 Class, 14,000-dwt vessel with its bulbous bow will be able to reach speeds of up to 15 knots, with 25.3 MW of engine power and six retractable/tunnel thrusters fore and aft. Lines on the vessel's sides and the relatively short fixed shaft-driven propellers should respectively improve thruster and propulsion efficiency through use of large-diameter propellers.
"Our investment in this vessel will help us grow our capabilities," Smith concludes. "It will help us to engage better with our clients concerning the changing shape of their subsea infrastructure, allowing them to install larger structures with heavier weights and to generally change the way they want their fields to be developed."