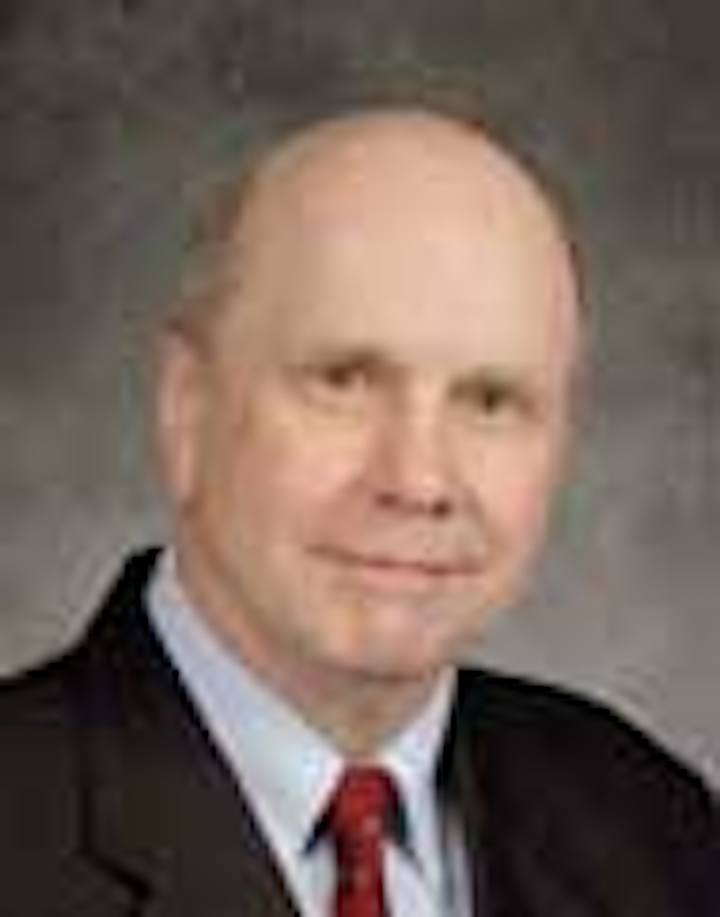 | | | |
| --- | --- | --- |
| | | Gene Kliewer • Houston |
Harkand has signed a charter agreement for theSurf Ranger. The multi-purpose ROV, survey and air diving vessel, owned by Go Offshore, will go to work on a pipeline and structural inspection campaign for TAQA.
The project includes structural inspection at Harding, Cormorant Alpha, North Cormorant, Tern, and Eider, as well as inspection of various pipelines, dredging works and mattress installation, and the associated project management and engineering support.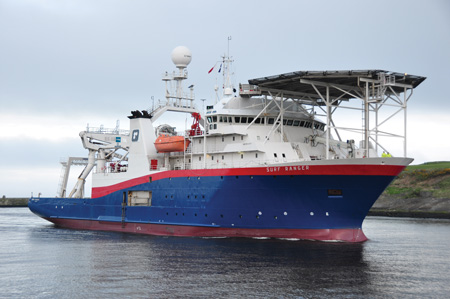 Surf Ranger. Photo by David Dodds.
The 85.4-m (277-ft)SurfRanger is a DP-2 multi-purpose ROV, survey and air diving vessel featuring a helideck, 60-ton TTS Energy AS active heave compensated knuckle boom crane, and can accommodate 69 personnel. It is permanently equipped with a Triton XLS work class ROV.
Floatel Triumph gets Wärtsilä systems
A new semisubmersible accommodation and construction vessel being built for Floatel International AB will feature two Wärtsilä AQUARIUS UV ballast water management systems (BWMSs) and other Wärtsilä equipment.
TheFloatelTriumph is under construction at Keppel FELS. It is scheduled to be delivered in 4Q 2015. The complete Wärtsilä scope of supply includes, in addition to the two AQUARIUS BWMS units, a series of Wärtsilä engine room pumps, and a pre-engineered integrated auxiliary equipment module.
The AQUARIUS UV BWMS is a modular system using a two-stage approach involving filtration and medium-pressure UV disinfection. The Wärtsilä AQUARIUS UV ballast water management system meets the International Maritime Organization's D2 discharge standard, and received type approval in December 2012.
Ratification of the IMO's Ballast Water Management Convention, which will require the owners of up to 40,000 vessels worldwide to install a BWMS, is anticipated within the next 12 months. The US Coast Guard (USCG), however, has implemented its own legislation saying all ships will have to be in compliance with the regulations when sailing in US coastal waters. Enforcement of the US requirement began in December 2013, when ships were required to comply with the 2013 Vessel General Permit (VGP) regulating discharges. As a consequence, ship owners have to evaluate, as a matter of some urgency, the ballast water treatment technology best suited to both their existing and new ships.
The intention of the legislation is to address the issue of invasive aquatic species being carried in the ballast water of ships and then discharged to the sea where they can harm local species.
Drillship contract signed for Nigeria
Total Upstream Nigeria has contracted Seadrill's new ultra-deepwater drillshipWestJupiter to work on the Egina project offshore Nigeria. The contract carries a firm period of five years and could be worth $1.1 billion including mobilization costs.
WestJupiter is one of eight sixth-generation drillships under construction for Seadrill and is expected to be delivered this August from the Samsung Heavy Industries shipyard in Geoje, South Korea.
It will be outfitted to work in up to 10,000 ft (3,048 m) of water (although it is capable of operating in up to 12,000 ft/3,657 m), and to drill to subsurface depths up to 37,500 ft (11,430 m).
Atlantic Offshore to support Shell UK operations
Atlantic Offshore Rescue has secured a five-year charter with five, one-year extension options with Shell UK for operations in the Gannet, Annasuria, and the Dana Petroleum Triton Asset in the central North Sea.
OceanOsprey, a new Class A tanker assist, rescue, and standby ship will provide emergency recovery, rescue cover, tanker assistance, and general field support. The vessel is the first of a new H820 design from Havyard Ship Design developed in collaboration with Atlantic Offshore.
The 66.9-m (219-ft) long vessel was built in Passai, Spain, by Zamakona shipbuilders over a 15-month period to replaceOceanSearcher.
Two more sistervessels are also under construction as part of the company's £300-million ($509-million) fleet modernization.
Pipelay vessels order diesel sets
DBR will supply emergency/harbour diesel generator sets for six new pipelay vessels under construction at IHC Merwede in the Netherlands for Subsea 7 and SapuraKencana.
Each of the six generator sets will feature Mitsubishi diesel engines and either 800 kVA Leroy Somer or 1,875 kVA AvK generators. The delivery includes cooler and control panels, and the units can operate in up to 50ºC (122ºF) air on temperature. DBR will engineer the equipment to Lloyd's Register and IMO-2 specifications. The first of the six new generator sets was FAT tested at DBR's test bench and already delivered earlier in 2014. Delivery of the units will continue into 2015.
CalDive sells GoM shallow-water fleet
Cal Dive International has sold its US Gulf of Mexico shallow-water surface diving fleet to a privately held company for $18.5 million and a 19.9% interest in the entity acquiring the assets. The assets sold are comprised of eight surface diving vessels and miscellaneous inventory and equipment.
CalDive also entered into a multi-year alliance agreement with the buyer under which the buyer will have the exclusive right to provide any surface diving services required by the company in theUS Gulf of Mexico to support pipelay, decommissioning, platform installation, and other integrated services.