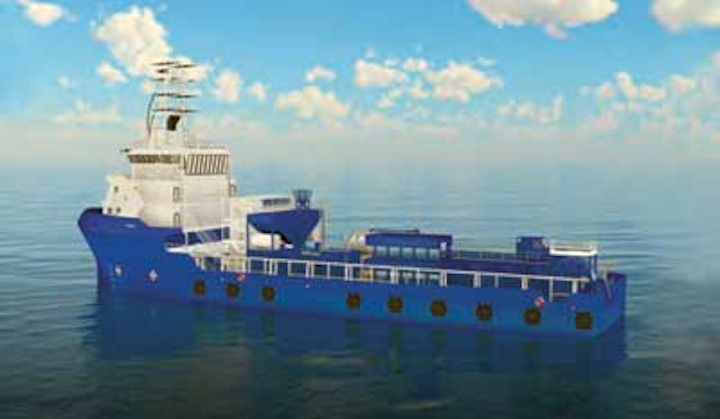 Advances provide more efficiency, production
Don Francis
Special Correspondent
AsOffshore magazine's World Survey of Stimulation Vessels made clear, the global fleet of vessels available to the industry for this critical process is the largest in its history. And, the technologies onboard are certainly the most advanced to date. Deepwater stimulation vessels may be the technology superstars, but offshore intervention, while perhaps not as glamorous as big-league pressure pumping operations, also has an essential role to play and a similar set of difficult challenges.
The FlexSTIM Pronto modular design allows equipment installation in seven days on a standard Bourbon GPA 670 vessel. (Image courtesy Schlumberger)
Modular stimulation packages
Augmenting the fleet of today's highly capable, conventional stimulation vessels are supply boats that serve "ad hoc" as stimulation vessels when the situation demands it. This is made possible by the introduction of modularity, which gives new capability to the existing conventional supply vessel fleet. This approach has proven effective in helping operators meet technical, logistical, and operational challenges in remote offshore locations. These modular designs are said to offer the same level of operational quality as a dedicated stimulation vessel.
Schlumberger says its FlexSTIM Pronto system can be rigged up or rigged down in just seven days, while reducing health, safety, and environmental exposure. The design offers process control of all equipment by remote control systems from the control cabin, and the stimulation package can be placed on an offshore supply vessel. The lightweight equipment package was designed for offshore use and installation on the back deck of a conventional supply vessel or a platform supply vessel.
The Baker Hughes StimFORCE modular stimulation system is an operationally flexible pumping package composed of skid-based pumping equipment, which can be shipped to a location and reassembled on a platform supply vessel, barge, or offshore rig. A grid framework secures the pumping equipment to the vessel or barge, to ensure safety. The system is DNV 2.7-1 certified and CE marked. The equipment, which meets ISO dimensional standards, is secured using twist-lock connections.
An operator working offshoreWest Africa had a delay that forced the cancellation of a reserved stimulation vessel, which moved on to another project. The system was deployed to the well site instead and enabled the pumping of 38 well treatments on 27 wells, saving the operator $9 million in idle rig time.
Modularity versus specialization
While modularity has its advantages, the highest level of offshore stimulation capability is gained from vessels designed for the requirements of a specific operating area.
Engineered forNorth Sea conditions, Baker Hughes recently launched the Blue Orca stimulation vessel. It houses five pump units, each capable of delivering 2,750 hydraulic hp. The two fluid-end sizes can be reconfigured for flexibility. The vessel can carry 2.5 million lbm (1,134 metric tons) of sand or equivalent proppant, which allows multiple fracturing treatments without returning to port to resupply.
New systems permit blending of high-quality fracturing fluids and eliminate the need for oil-based slurried polymer concentrates. A three-mode acid-blending system enables mixing a range of organic or inorganic acid systems. Eight lined tanks hold a total of 180,000 gal of organic and inorganic acids and solvents.
Built for dedicated use by Saudi Aramco, Halliburton's newest stimulation vessel, theStim Star Arabian Gulf, is designed to meet the stimulation requirements of Arabian Gulf wells. It is working for the Manifa field stimulation campaign.
The vessel meets or exceeds SOLAS, IMO, IEC, and MARPOL regulations. Although developed primarily for acidizing treatments on both producing and injection wells in the Manifa field, the vessel can handle all phases of production stimulation, including fracturing, sand control, and conformance solutions for the Middle East offshore market.
TheStim Star Arabian Gulf is 234 ft (71.32 m) long, 56 ft (17.07 m) wide, and 18 ft (5.49 m) deep. It can provide up to 14,000 hydraulic hp for stimulation treatments. The vessel has acid-on-the-fly (AOF) capability and the ability to reconfigure using the company's vessel modular solution system. The AOF system provides real-time control of the acid blend.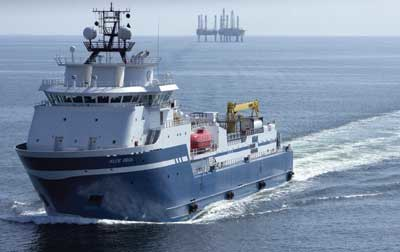 TheBlue Orca is engineered for North Sea conditions and can perform a series of well stimulations and sand control operations without the need to return to port and resupply. (Photo courtesy Baker Hughes)
Displaying 1/3 Page 1,2, 3Next>
View Article as Single page