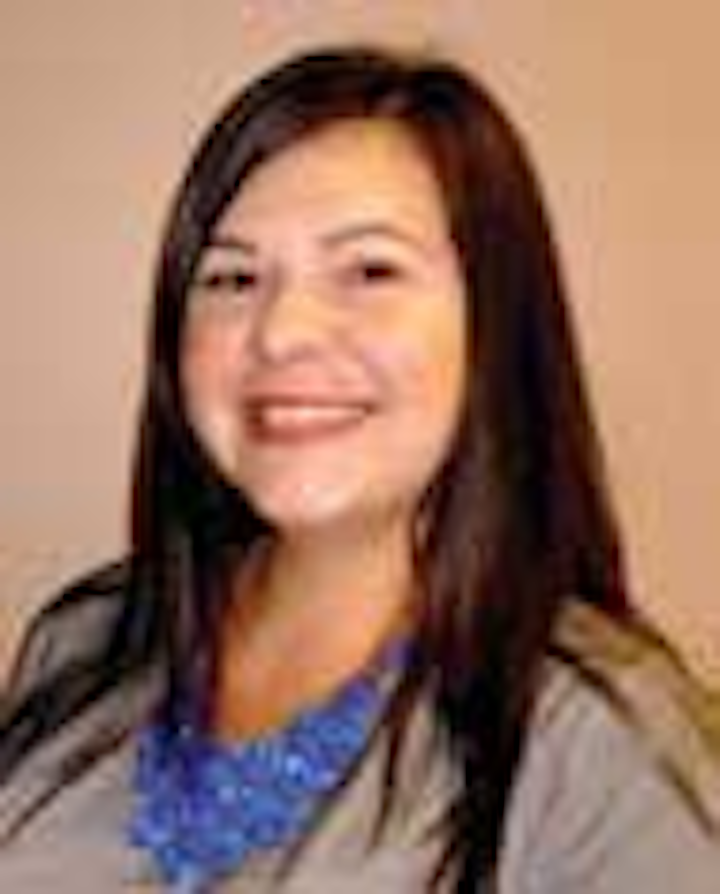 | | | |
| --- | --- | --- |
| | | Robin Dupre • Houston |
Well Ops Inc., a subsidiary of Helix Energy Solutions Group Inc., reports that its well intervention vessel,Skandi Constructor, will be available for operation in the Gulf of Mexico in 1Q 2015.
TheSkandi Constructor is a dedicated light intervention mono-hull equipped with the Helix 73⁄8-in., 10,000-psi subsea intervention lubricator (SIL) package. The vessel is purpose-built, and permanently equipped and crewed for light well intervention (LWI) work.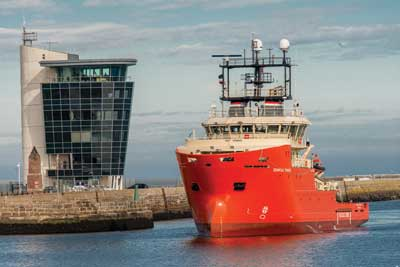 Grampian Dynamic, a D-class IMT 950 emergency response and rescue vessel.
The planned campaign in the Gulf of Mexico follows three campaigns in West Africa, the UK North Sea, and eastern Canada.
Craig Group launches two new vessels
Shipping and energy services firm Craig Group has launched two new D-class IMT 950 emergency response and rescue vessels (ERRVs). Part of a £70-million ($112-million) investment plan for North Star Shipping, which will see a total of six vessels delivered between 2014 and 2016, these two vessels are named theGrampian Dynamic and the Grampian Dynasty.
Built at the Balenciaga Shipyard, Spain, the vessels have contracts with North Sea operators immediately following delivery from the shipyard. The vessels, which are 50 m (164 ft) in length, will be outfitted as a minimum with one daughter craft, one fast rescue craft, and survival facilities.
An additional two D-class vessels, theGrampian Deliverance and the Grampian Devotion, will be launched by North Star Shipping in 2015, followed by two 58-m (190-ft) F-class IMT 958 multi-role ERRVs in early 2016, completing the investment plan.
LADOL, Samsung start work on Nigerian vessel yard
LADOL and Samsung Heavy Industries will mark the ground-breaking of what is scheduled to become West Africa's largest vessel fabrication and integration yard. Total Upstream Nigeria is the first customer, finalizing the integration of its Egina field FPSO, which is expected to come onstream in 2017. This will be the first-ever FPSO partially built onshore Nigeria. The new yard will be in the LADOL Free Zone on a peninsula at the point of entry to Lagos harbor.
COSCO secures offshore and shipbuilding contracts
Two COSCO Shipyard Group Co. Ltd. shipyards have secured contracts valued collectively at $230 million to build one floating accommodation unit (FAU) and one module carrier. COSCO (Qidong) Offshore Co. Ltd. will build the FAU for a Singapore entity. The unit is scheduled for delivery in 1Q 2017. The buyer has also secured options for five additional FAUs.
COSCO (Dalian) Shipyard Co. Ltd. will provide one 21,000-dwt module carrier for a European company. The vessel is scheduled for delivery in 2Q 2016.
SINOPACIFIC to build first E169 offshore vessel
Sinopacific Shipbuilding Group (SINOPACIFIC) has signed a contract with Van Oord for the construction of one E169 fall-pipe rock installation vessel. The vessel will be built at SINOPACIFIC's Zhejiang Shipyard and is expected to be delivered in 2016.
This order marks SINOPACIFIC's entrance into the field of specialized offshore vessels.
Customized according to Van Oord's requirements, the E169 rock installation vessel is designed for optimal personnel safety and environment protection. It avoids manual handling of equipment with a mechanized configuration, and logistics and maintenance philosophy. Moreover, the E169 vessel also complies with the COMF NOISE 1 and COMF VIB 1 classifications.
FPSO Petrojarl Knarr arrives in Norway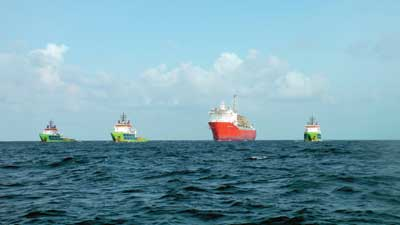 Petrojarl Knarr FPSO towed by three tugs from South Korea to Haugesund, Norway.
The FPSOPetrojarl Knarr left South Korea and has successfully arrived in Norway.
For the last leg of the voyage the convoy sailed west of Ireland via Fair Isle (just south of the Shetland Isles) toward Norway. Offshore the port of Haugesund, thePetrojarl Knar was delivered ahead of schedule.
Considered one of the world's largest harsh environment FPSOs, thePetrojarl Knarr measures 840 ft (256.4 m) long, 157 ft (48 m) wide and has a dwt of 135,000 tons (122,470 metric tons). The vessel is owned by Teekay Corp. and was built by Samsung Heavy Industries in Geoje, South Korea.
She is slated for the Knarr oil and gas field located offshore Norway.
Delta SubSea secures MPSV for deepwater GoM operations
Delta SubSea LLC has entered into an agreement with a subsidiary of Hornbeck Offshore Services Inc. for theHOS Bayou, one of Hornbeck's recently constructed 300 class HOSMAX DP-2 multi-purpose service vessels (MPSVs).
Equipped with two Delta SubSea Schilling HD 150-hp work-class ROVs, theHOS Bayou is designed to perform inspection, maintenance, and repair (IMR) of subsea oil installations and construction support in the Gulf of Mexico. In addition, the vessel can perform a variety of deepwater services, such as subsea umbilical, riser, and flowline installation; decommissioning activities; drilling support; and deepwater well intervention projects.
TheHOS Bayou has a maximum speed of 12 to 14 knots, with fuel consumption of 208 gallons per hour. It is equipped with a 150-ton (136-metric ton) MacGregor knuckle-boom crane with active heave compensation and a maximum lifting capacity of 48 tons (44 metric tons) at water depths of 10,000 ft (3,048 m). The vessel also has a 73-ft-diameter (22-m-diameter) helideck.