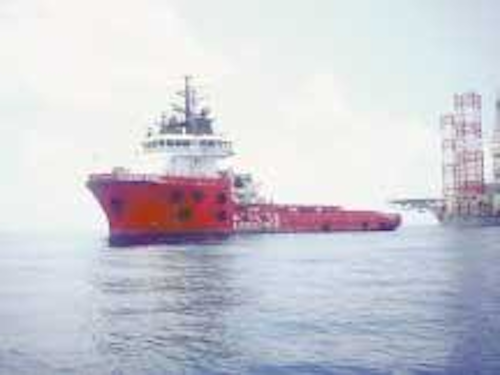 Judy Maksoud • Houston
Anglo-Eastern Group adds new niche market
The Anglo-Eastern Group has added another niche market. Anglo-Eastern Crew Management has opened an office in Singa-pore and is providing specialized crew management for offshore vessel operators of drillships, cable layers, rigs, FPSOs, dive support vessel, and research vessels.
As of October, the Singapore office had four Asia-based clients from the offshore sector. That same month, the company added its first offshore vessel, MV Ocean King, to Anglo-Eastern's fully managed fleet.
null
The Ocean King is a multi-purpose anchor-handling tug, built in Jurong shipyards in 2000. As a relatively new ship, it is one of the latest of its kind. The vessel is equipped with dynamic positioning equipment, an oil spill control system, and extra multi-purpose cargo capacity. The vessel will be fitted out with a workclass ROV speed, survey positioning equipment, and a custom engineered flowline lowering system.
The Ocean King began a charter in mid October involving riser removal operations and mooring chains inspection work at the Dai Hung-01 floating production unit and catenary anchor leg mooring buoy on the Dai Hung oil field off Vietnam. Anglo-Eastern is responsible for all technical and crew management on the vessel.
BG buys new LNG carriers
Continued investment in LNG carriers is a bellwether that shows the direction the global gas business is taking. BG Group has entered into an agreement with Korea's Samsung Heavy Industries Co. Ltd. to purchase three newbuild LNG carriers. The three 145,000-cu-m ships are expected to be delivered in the second half of 2006. BG has also secured options with Samsung for up to four additional newbuilds for delivery in 2007.
"This is a great deal for BG," said Martin Houston, BG's executive vice president and managing director for North America, Caribbean, and global LNG. "It reflects the successful development of our long-term Atlantic LNG strategy and secures shipping capacity in 2006 and beyond. There is significant potential within the whole Atlantic basin region to accelerate further our LNG business, and these new ships will help BG build its position as a leading player in LNG."
Samsung will build, equip, launch, and deliver the vessels using the GTT MKIII membrane cargo containment system.
BG Asia Pacific owns two LNG ships, Methane Arctic and Methane Polar, which are on long-term charters in the Atlantic Ocean and Mediterranean Sea
LNG is one of BG Group's core business segments. The company is developing LNG projects in Trinidad & Tobago, Egypt, Italy, India, Indonesia, Bolivia, and Iran.
New LNG carriers for Qatar
RasLaffan Liquefied Natural Gas Co. Ltd. (II) (RasGas II) has exercised a time charter agreement for two 145,000-cu-m LNG vessels to be built at Samsung Heavy Industries for delivery in 2005.
A joint venture company comprising a consortium made up of Mitsui OSK Line, Q-Ship NYK, and K-Line will own the vessels.
Under the time charters, RasGas will charter the vessels for 25 years to deliver LNG from facilities at Ras Laffan Industrial City in Qatar to its growing portfolio of customers and to deliver cargoes into both the spot and dedicated trade markets.
The first two of the five, the138,000-cu-m Technigaz MKIII containment system vessels, were to be delivered this month.
RasGas II is a joint venture between Qatar Petroleum and ExxonMobil Corp. affiliate ExxonMobil RasGas Inc.
AMFELS busy with modification, newbuilds
Keppel Offshore & Marine Ltd.'s AMFELS Inc. has landed a $73-million firm-fixed-price contract from The Boeing Co. for platform modification.
The SBX Platform is a self-propelled semisubmersible modified oil-drilling platform developed for the US government's Sea-Based Test X-Band Radar (SBX) in support of its ground-based midcourse missile defense system.
The scope of work covers outfitting the platform's bare hull and building and assembling the living quarters, as well as electrical, networking, and mechanical work and vessel commissioning.
The vessel is expected to be delivered in 1Q 2005.
AMFELS is also building a jackup for a Mexican owner and a platform drilling rig for an American firm.
Northern Canyon
Canyon Offshore's Northern Canyon, delivered in June 2002, arrived in Galveston, Texas, late last year. The vessel went to work providing ROV support on Kerr-McGee's Gunnison project in the Gulf of Mexico.
Two Diamond semis out of commission
At the end of last year, Diamond Offshore retired two second-generation semisubmerisibles, the Ocean Century and Ocean Prospector. The rigs had been cold-stacked in the Gulf of Mexico since 1998.
According to Larry Dickerson, Diamond's president and COO, "The company has been successful over the past few years in modernizing its fleet, and we recognize that the Century and Prospector are not future upgrade candidates in any likely market scenario."
Seamap installs system for Veritas
Seamap has installed and commissioned a new GunLink 2000 hydrophone acquisition and gun control system on the SR/V Veritas Vantage for Veritas DGC.
The GunLink 2000 is the first phase of Seamap's new generation hydro-phone acquisition and gun control systems providing high-resolution monitoring of up to 512 hydro- phones and enhanced timing control of up to 256 seismic guns. The system incorporates a dual screen display and Seamap's voice alert technology, which announces detected timing variances and status messages.