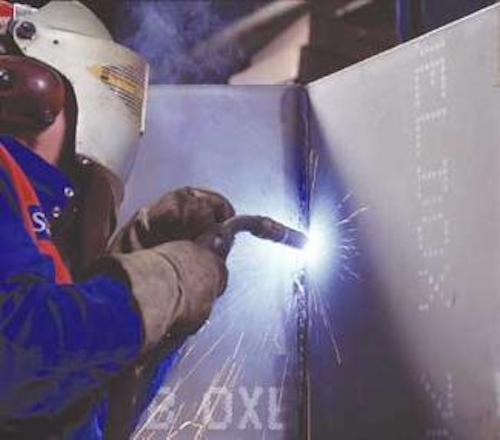 Nick Terdre
Contributing Editor
Quenched and tempered high-strength steels from SSAB Oxelösund are beg-inning to make an impact on offshore customers. The company, which is the world's largest producer of high-strength steels, last year delivered such material for use in the construction of two anchor-handling vessels.
The Lady Caroline and Lady Astrid, which were built last year at the Simek yard in Norway, incorporate SSAB's Weldox 700 high-strength steel in the deck. Use of this steel brings two major benefits, according to Weldox product manager Johan Anderson. It provides increased wear resistance to the abrasion caused as anchors and chain are pulled over the deck, and increased protection against plastic deformation caused by the impact of anchors and chain falling on the deck. A total of 150 tonnes of 40-mm steel was supplied for the two vessels.
In this case, the customer wanted to take full advantage of the higher strength offered by Weldox, and specified the same thickness of plate as would be used with normal 355 steel. The alternative way of realizing the benefit is to use a lesser thickness of Weldox to achieve the same strength as the conventional steel, in which case a weight saving of 30-60% can be made, Anderson says. This in turn improves the vessel's maneuverability while reducing fuel consumption.
SSAB technical staff were involved in the vessel design from an early stage, thus making it possible to optimize the benefits of Weldox 700. By participating in the design, the company can make a valuable contribution through its familiarity with the performance of the steel," Anderson says.
30-40% weight saving
Weldox is an extra high-strength structural steel, the properties of which include excellent weldability, toughness, bendability and machinability. It is produced in a range of yield strengths from 420-1,100 N/mm2. Weldox 700, which has a yield strength of 700 N/sq mm, has so far proved most applicable in an offshore context. But this is partly due to customers' reluctance to make the leap to higher grades, Anderson says. The next grade up is currently Weldox 900, but SSAB has announced that it will introduce Weldox 800 later this year.
null
Last year also saw another breakthrough for Weldox 700, with the use of the steel in the construction of ship's winches through a delivery made to another customer in Norway. The winches are installed on a fishing vessel, but the application is relevant to the offshore sector given the use of winches on many types of offshore vessel.
In this case a total of 60 tonnes of 25-mm Weldox 700 were delivered, replacing steel grades St 37 and St 52 grades in 45-mm thickness. The weight saving in the winches is 30-40%, equivalent to some 25 tonnes. In addi- tion, every kilo saved on deck reduces the ballast requirement by three-four kilos, or 75 tonnes or more in this case. Since the vessel is lighter and sits higher in the water, other benefits follow, such as fuel savings and the ability of the vessel to operate in shallower waters.
There are many potential applications for high-strength steel in the offshore sector. In some cases such as ships' hulls, there are stringent design rules which are based on conventional steels. There is more design freedom related to deck equipment, which may make the steel more viable for use in deck machinery, cranes, and helidecks. The company has made many deliveries of Weldox 700 for use in the manufacture of cranes. It has also supplied this grade for manufacture of a pipe-reel and for rackers on a jackup rig.
In the case of helidecks, SSAB's high-strength steels would be competing with aluminum. Material such as Weldox 700 or Weldox 1100 make it possible to construct a helideck with the same weight as aluminum but a greater safety margin due to Weldox' higher yield strength. An important advantage in using these steels comes when repairs have to be made, as they are easy to weld outdoors while aluminum is not. The company has submitted a bid to supply Weldox 700 for use in a helideck.
Another possible use is in risers. Here the weight saving is the key attraction, especially in view of the offshore industry's growing activities in deep waters. As depth increases, the weight of the riser eventually becomes too great for the rig or vessel to support, and this has prompted the development of alternative, lighter materials. One of these could be high-strength steels, which would extend the depth in which a steel riser could practically be deployed. SSAB has offered Weldox 700 for a riser application.
Alternative to forging, casting
High-strength steels have other properties of interest to the offshore sector. Weldox 900, for example, can be milled to form products such as pipe couplings, lifting eyes, stop-rings, towing lugs, and connecting plate. The process has the benefit that it is easy to achieve the exact shape required, and a very even and smooth surface can be obtained. It provides an alternative to products made from weaker steels by forging or casting, and costs about two thirds as much as the corresponding forged product. In contrast to Weldox, ordinary steels are also more vulnerable to the risk of cold cracking during the welding process.
Last year the company supplied 50 tonnes of Weldox 900 with a thickness of 50-75 mm through its agent in Singapore for the manufacture of various items for use on offshore platforms and in the defense industry. The material previously used by the manufacturer was 40CrMo4 (AISI 4140).
For more information, contact Johan Anderson, SSAB Oxelösund. Tel: +46 155 25 46 10, fax: +46 155 25 55 40. johan.anderson@ssabox.com, www.ssabox.com