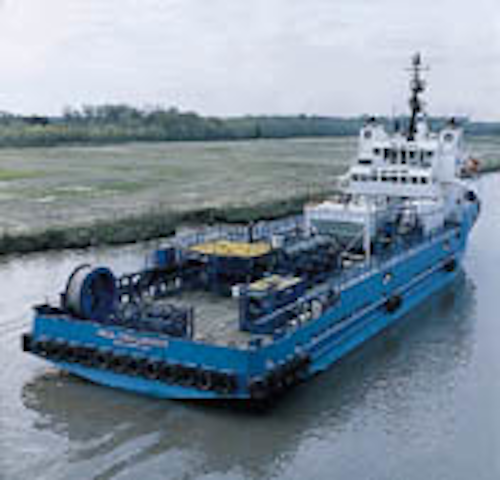 Marshall DeLuca
Houston
OSCA Challenger
Dedicated service vessel for deepwater
OSCA has christened the world's newest dedicated well service vessel - the OSCA Challenger, designed by Edison Chouest. The Challenger is a 240 ft by 56 ft new generation, fit-for-purpose
vessel designed to provide frac-packing, stimulation, and conventional sand control services.
The vessel is designed to meet the standards set by oil companies operating in the deepwater Gulf of Mexico, but also capable of working in the shallow shelf area. The full dynamically positioned vessel is equipped with 8,400 pumping hp, advanced blending capabilities, large capacity dry bulk storage, and large completion fluid transport capacity. It also features accommodations for 32 personnel, 4,170 bbl liquid capacity, and a 2,000 hp bow thruster.
The vessel utilizes 360! azimuthing z-drives to provide "true" dynamic positioning, allowing for the vessel to safely operate near deepwater facilities. With four 2,000-hp frac pumps, one 400-hp acid pump, and a 55 bbl/minute pumping rate, the Challenger can provide sand control, stimulation, and completion fluid services for 5-10 wells at a time. OSCA will also be receiving a sister vessel to the Challenger from Edison Chouest on May 10th. The sister vessel will be identical to the Challenger and will also operate in the Gulf of Mexico.
Second drillship contract, third optioned
Global Marine has received its second deepwater drilling commitment in less than a month for a Glomar 456-class dynamically positioned ultra-deepwater drillship from Exxon Exploration and has arranged for an option for a third.
The drillship will originally be outfitted for work in water depths up to 8,000 ft. The ship can, however, be equipped to operate in up to 12,000 ft of water. The drillship will incorporate a horizontal/vertical pipe-handling system that allows for simultaneous makeup of casing strings or bottom-hole assemblies. The 456 will also be equipped with a storage capacity of 13,000 bbl, dual subsea tree handling capability, independent mud and brine systems, and ample space to install well-testing equipment.
Global Marine has an option to build the drillship at the Harland & Wolff shipyard in Belfast, Northern Ireland, where the company's first 456 is currently under construction. Delivery is set for the first quarter of 2000.
This commitment will increase Global Marine's deepwater fleet to ten rigs with a contract backlog of over $1.2 billion. It is the third addition to the company's deepwater fleet so far in 1998. The contract with Exxon is expected to generate revenues of about $208 million over a three-year term, however, Exxon could elect to reduce the contract term to two years.
Global has until June 15 to exercise the option for the third drillship, which would be built at the Harland & Wolff yard. If the option is exercised, it will be available for the second quarter of 2000.
Turret FPSO with drilling capabilites
Maritime Tentech, a division of Aker Martitime, has developed a light weight and cost efficient drillship. The vessel is a Tentech FPSO with a RamRig drilling concept installed either above or on the vessel's turret. This creates a floating production, drilling, storage, and offloading (FPDSO) vessel, with all of the properties of an FPSO with drilling capabilities.
The Tentech design features a hull contour design innovation which optimizes seakeeping capabilities. This gives motion characteristics equal or better than a semisubmersible, allowing for optimal drilling capabilities. With the production capabilities already installed on the vessel, early production can also be carried out while on location. It also features a greater load carrying capacity than that of a semisubmersible, allowing for deepwater drilling.
The Tentech FPSO design is already in use on the Gryphon, Captain, Norne, and Varg fields in the North Sea. However, no FPDSO's have been ordered as of yet.
Second Angola drillship
Elf Exploration Angola has given Pride International a letter of intent for the construction and operation of a second ultra-deepwater drillship to operate off Angola. The drillship, to be named the Pride Europe, will measure 204 ft by 30 ft meters and have the capability to drill to a depth of 1,500 meters. The vessel will be owned, constructed, and operated by a joint venture company established between Pride and Sonangol.
It will be built at South Korea's Hyundai Mipo Dock Yard, a unit of Hyundai Group, for an investment cost of approximately $235 million. Delivery is set for the second quarter of 1999. Elf will contract the vessel for three years with two one-year extension options. Revenues are expected to exceed $200 million over the initial three-year term.
The first drillship, the Pride Africa, also awarded by Elf for work offshore Angola and jointly owned by Pride and Sonangol, is currently under construction in South Korea. Elf will begin an initial five year contract for this drillship upon delivery in mid-1999.
Vessel briefs:
CGG has ordered the building of a fourth seismic vessel to add to their fleet. This will be the first custom-built vessel for the company.
Navion and Smedvig have named two multipurpose shuttle tankers set to work as drillships - West Navion I, and West Navion II. The West Navion I was formerly named the MST Odin and is currently on its way to the ?sgard Field in the North Sea. The West Navion II, currently under construction at the Astano yard in Spain, will work for Shell in the Gulf of Mexico upon completion in 1999.
Keppel FELS has completed the water depth upgrade of the Stena Clyde semisubmersible and has begun work on the Stena Tay, which is undergoing a conversion from an accommodation unit to a full DP semisubmersible.
Correction:
In the March, 1998 Worldwide Survey of Seismic Vessels, listings for the CGG vessels Mistral, Harmattan, and Fohn were printed with incorrect information. The corrected information follows:
For CGG MARINE, 1 Rue Leon, BP 91301 Massy CEDEX, France Mistral: Streamer configuration - 6 x 360 channels Harmattan: 1997 average streamer length - 4,000 meters. Fohn: 1997 average streamer length - 4,000 meters.
Copyright 1998 Oil & Gas Journal. All Rights Reserved.