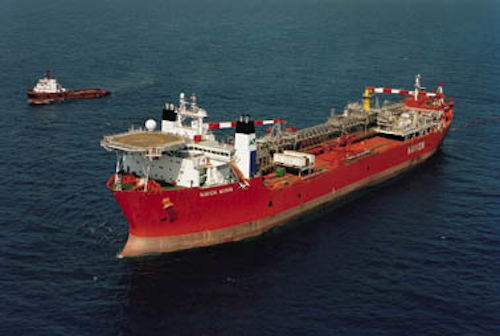 Nick Terdre
Contributing Editor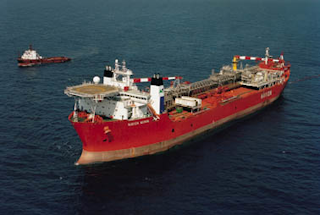 Statoil brought the Lufeng 22-1 Field in China onstream late last year using a production ship leased from Navion - a double coup for Norway's oil and gas industry export campaign.
Norway's thriving offshore sector is too dynamic for the good of the economy - at least, that seems to be the message from the government's decision to impose a year's delay on field development projects seeking approval this year.
While the oil price has been tumbling, near-term investments in the offshore sector have been rising - the 1998 forecast is up by NKr 13 bn to almost NKr 67 bn, causing concern in governing circles that the economy could overheat.
The government has moved to take the heat out of the situation. Altogether, 12 development projects will be held back, reducing investment levels by about NKr 5 bn this year, and a further NKr 12 bn in 1999, according to the petroleum and energy ministry.
Plans for four of the projects are already with the ministry - Saga's Snorre B, Statoil's Gullfaks Satellites Phase II and Huldra, and BP's Ula Triassic project. Snorre B and Gullfaks Satellites II both have budgets of more than NKr 5 bn, and therefore have
to be approved by the Storting, Norway's parliament. Since the government is a minority coalition, it is possible that the Storting may refuse to endorse the delay, though observers say that this is unlikely.
Plans have yet to be submitted for the other eight projects - Norsk Hydro's Fram and Grane, Statoil's Heidrun North and Yme Beta West/Epsilon, Saga's H-Central and STUJ project, Saga/Statoil's Sygna, and Amoco's Valhall water injection project. Fram and Grane will also have to be discussed by the Storting.
The change of timing could in some cases have unintended adverse effects. Saga, for instance, has expressed concern that the delay will lead to a reduction in ultimate recovery from the Snorre field.
Contractors are likely to feel the pinch as the expected flow of work from this year's projects dries up. Some may be able to turn to the world market, but others, especially smaller fabricators, look set for a lean period.
Meanwhile, environmental matters are riding high on the offshore agenda. While the sector waits to hear what its share of the Kyoto burden will be, a number of companies have already moved pro-actively to improve their performance, particularly with respect to carbon dioxide emissions. Next year sees the installation of the first combined cycle plants on offshore platforms, a significant step towards cleaner offshore production.
---
Navion gears up for deepwater drilling off Norway and in US Gulf
Navion, the shipping company spun off from Statoil last year, will take delivery of its first deepwater drillship, West Navion I, later this year. The hull of the vessel left the Samsung yard in South Korea in February enroute for the Offshore & Marine yard outside Stavanger, where the drilling equipment, including a dual RamRig drilling rig, will be fitted.
O&M is partly owned by Smedvig, Navion's equal partner in this venture, which is responsible for drilling equipment and operations.
West Navion I has an assured start in life in the shape of a five-year charter with Statoil, which plans to use it for deepwater drilling on the Norwegian shelf. It will first deploy its bit, however, in the more conventional depths - around 350 meters - of the Åsgard fields off mid Norway.
Next year, a sistership will follow, West Navion II. This vessel, another 50/50 joint venture with Smedvig, is under construction at Astilleros Espanoles' Puerto Real yard. The drilling equipment will be fitted at the Dragados yard. In spring 1999, the vessel starts a five-year contract for Shell in the Gulf of Mexico.
Both these vessels are based on the multipurpose shuttle tanker (MST) concept developed by Navion in its early days as Statoil's Shipping & Maritime Technology division. The functions originally conceived for MSTs were as shuttle tankers, storage vessels and production ships. But when demand for newbuild deepwater drillships began to boom a couple of years ago, the company, which was usefully positioned with a number of hulls under construction, moved quickly to take up the new market opportunity.
The hull is well suited for deep-water drilling, and meets all the operational requirements, not least with its very good motion characteristics, according to Kaare Breivik, Navion's senior vice president for technical maritime services.
West Navion I and II have been upgraded for their new role, Breivik says. A large moonpool has been installed in each, the upper structure has been strengthened to take the 15,000 tons of topside equipment, and the accommodation has been upgraded. A powerful DP class 3 dynamic positioning system has been installed, including two extra thrusters. West Navion I will be capable of drilling in up to 2,500 meters water depth and II in up to 3,000 meters.
The company is now looking to expand its range of drilling services, Breivik says. New ventures could include units such as well intervention vessels, and semisubmersible designs as well as monohulls. But it sees a long-term contract as a prerequisite to building.
Copyright 1998 Oil & Gas Journal. All Rights Reserved.