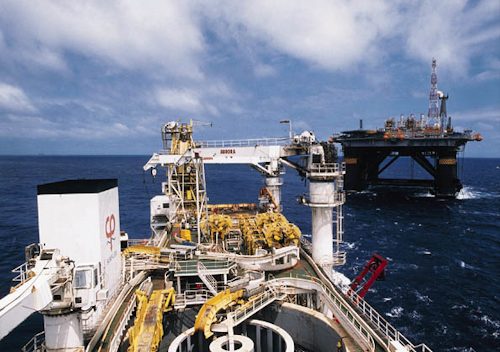 Many technical needs for deepwater
Jeremy Beckman
Editor, Europe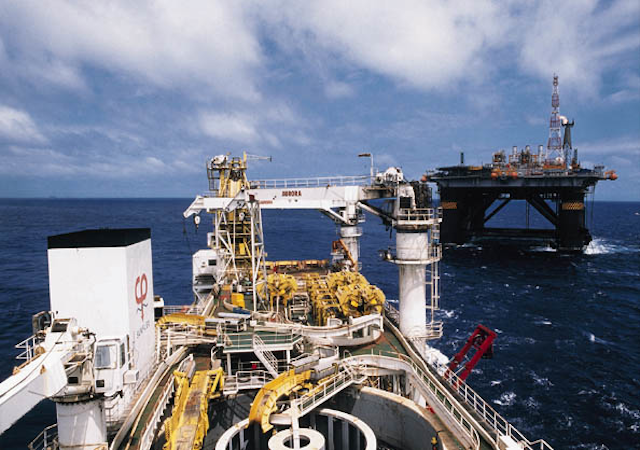 The Flexconnect pull-in and connection system.
By using new materials to lighten the product, we can reach deeper with flexible risers. For much deeper applications, the best solution will be a hybrid system.
Brazil's decision to open its fields to operators other than Petrobras should have positive repercussions for underwater engineering contractors. The increased activity generated by the new players should compensate for Petrobras' scaled-down production plans, in response to the government's new exploration and production taxes.
At the same time, Petrobras will have to convince the country's National Petroleum Agency (ANP) that in the longer term, it has the resources to develop new fields. According to Coflexip Stena Offshore's senior executive VP for Brazil, Jean-Pierre Veslot, "for that it will need more installation vessels to cover long-term contracts and specific vessels available on a spot basis."
Petrobras probably has enough backup to handle all its planned developments over the next two to three years, he adds, but after that it will need an additional laying vessel or DSV. Several contractors new to Brazil are already looking to fill that void - DSND's Lochnagar, built recently in Croatia, will mobilize to the Campos Basin shortly. ETPM may also be in the frame, once it completes the planned upgrade of DLB Polaris to a DP pipelayer suitable for 2,000-meters water depth operations.
Help coming
As for Coflexip Stena Offshore (CSO), "we will get authorization from our board for another vessel," says Veslot, "as we want to remain the leader in this region. That new vessel could be split between deepwater and ultra-deepwater activities off West Africa and Brazil."
CSO's working relationship with Petrobras stretches back two decades. While rival contractors have scratched their heads over its continued dominance in the southwest Atlantic, the answer is that CSO has been more prepared to make long-term commitments. Two of its top-end vessels are virtual fixtures in the Campos Basin, continually undergoing re-fits to handle more demanding deepwater duties.
Another key investment was CSO's Flexibras facility in Vitoria, which manufactures flexible pipes and umbilicals, mainly for the local market. This plant can supply pipes up to 10 in. diameter for 800-meter water depths, up to 8 in. for 1,000 meters, and up to 6 in. for 2,000-meter depth installations.
Last year, production at Vitoria totalled 237 km of pipe. To meet Petrobras' demands, CSO has launched a $15 million investment in new profiling and armoring machines which will allow Vitoria to increase its production of flexible pipes and umbilicals by more than 50%. In addition, the plant will be able to manufacture hybrid umbilicals incorporating thermoplastic components shipped over by Duco in Newcastle, UK and steel tubes made by Duco in Houston.
Since 1977
CSO's longest-serving Campos Basin vessel is the Flexservice 1, which has worked off Brazil since end-1977. "It arrived for a short contract and ended up staying for 18 months," says Veslot. Then followed a series of installations in increasingly deeper water for Petrobras, until 1996. At that time, the vessel was signed up for a five-year tour of duty, with an optional one-year extension. In readiness for this, the vessel was upgraded to lay three lines in parallel in water depths of up to 1,000 meters.
Of late, Flexservice 1 has worked in tandem with CSO's Sunrise 2000, which has been on a long-term contract for Petrobras since 1995, recently extended until March 2003. This is a former heavy lift vessel upgraded to a dynamically positioned unit, capable of laying flexible lines in waters up to 2,000 meters deep. It also features CSO's vertical lay system, and can set down three lines in parallel.
Last year, Sunrise 2000 set a new world depth record for a subsea well when it installed flexible flowlines at 1,709 meters underwater for Marlim Sul. These were connected to flexible risers in 1,400 meters water depth (a record). One of the main challenges was at the riser top, where pipe stiffeners had to be designed to cope not only with the pressures at this depth, but also the behavior of the associated monobuoy.
Currently, Sunrise 2000 is occupied full time with a large program coming up related to new FPSOs on the Albacora, Barracuda, and Marlim fields. According to Veslot, this vessel is reserved by Petrobras for its deepest jobs, "as other vessels available in Brazil cannot lay flexibles beyond 1,000 meters." However, early in 1999, it will have to be taken out of service for a month while its tensioning capacity is increased in a Brazilian shipyard, in order to handle 20 km long, three-line bundled installations to wellheads located up to 2,000 meters underwater.
Reel lay operations
CSO Apache also set a new record this March when it installed a rigid reeled 10-in. gas export pipeline 1,373 meters across the Roncador Field's Itapemerim Canyon. This eclipsed the CSO Apache's own record of 1,035 meters set a year earlier on Marlim.
In general, the vessel is laying increasing quantities of rigid pipe for Petrobras, which explains CSO's decision to build a dedicated spool base at Barra do Riacho, 60 km north of Vitoria. The vessel is currently being tendered for future Campos Basin projects.
Petrobras is known to have a large program lined up for 1999, with EPIC contracts due to be issued for Bijupira Salema and Barracuda. Financing has been negotiated for both these projects - $500 million for Bijupira Salema and $1.5 billion for Barracuda. However, in light of Brazil's new taxes, Barracuda has been scaled down from four to two platforms.
Water depths in both cases are 800 meters to 1,000 meters. Work on Bijupira Salema centers around a tanker-FPSO conversion, with around 120 km of associated flowlines. For Barracuda, the central facility will be a small TLP or Spar connected to an FSO housing separation, process and water injection facilities. The intention is to have dry completions with diphasic oil sent to the FSO for processing, with flexible lines tied back from the FSO to the water injector wells.
Another big job currently out to tender is an EPIC contract involving 100-150 km of 6-in. and 10-in. rigid lines between facilities on Roncador and Marlim. Bids are also expected to be invited soon for Albacora East and Frade, the first non-Petrobras operated offshore developments.
Earlier this year, CSO presented several new CSO technical solutions for deepwater fields. Among these were Flexconnect, an ROV-operated pull-in and connection system for flexible/rigid flowlines (up to 19-in.), multi-bore bundles and umbilicals.
Typical subsea connections using this technique include jumper installations, first and second end tie-ins and mid-line tie-ins, in water depths of up to 2,500 meters. Intervention tools comprise a service skid, deployed with the work-class ROV, and a pull-in module, deployed separately to the seabed in a basket. Both pieces of kit will wet mate subsea. Pull-ins are configurable according to soil conditions, product characteristics and so on.
"This is a lightweight system which can be mobilized using any DSV," says Veslot. "Petrobras realizes it may be cheaper than deploying a big vertical connection. If the CSO Apache is successful in its current tender, Flexconnect could be applied in that project." The two parties are currently finalizing plans for a commercial trial.
New ROV needs
CSO operates a fleet of seven ROVs offshore Brazil, two capable of working in 2,000-meter depths. Recently, Petrobras issued a tender for a 3,000-meter depth ROV - CSO participated, proposing its US-based Perry Tritech products. "When you go that deep, you really need to increase the weight of all the tooling equipment," Veslot says.
"It's not easy to optimize the system to go deeper with lighter equipment. But we are working on this at Perry Tritech." The latter's 2,500 MSW Triton XL, featuring a through-frame lift of 3,000 kg and a 300 kg wet payload, has already been tested by Global Industries in the Gulf of Mexico.
Also presented earlier this year was MJ-Lay, CSO's new modular J-lay system for rigid pipes of 4-14 in. for water depths up to 1,500 meters. CSO Constructor is the first DP construction vessel to be equipped, but according to Veslot, MJ-Lay, being lightweight, could also be deployed from a large DSV with a large moonpool. The system could be used on a spot basis, allowing the DSV to easily break off and subsequently return to its long-term contractual duties elsewhere.
"We think Petrobras is interested in this system for two reasons - first, it is suitable for short-duration contracts, which will help Petrobras' aim of maximizing its resources. We also want to show them that MJ-Lay is suited for installing steel catenary risers. We are proposing such solutions currently to Petrobras, and will probably go to Brazil to do demonstrations." At present, steel catenary risers involve a huge, cost-intensive installation equipment spread, but this would not be the case if a modular package such as MJ-Lay could be adapted.
Lighter risers
As for deepwater flexible risers, Veslot considers 10-in. versions for 1,500 meters, and 6-in. version for 2,000 meters water depth as routine these days off Brazil. "We think, however, that by using new materials to lighten the product, we can reach deeper with flexible risers. For much deeper applications, the best solution will be a hybrid system. This could comprise either two flexible lines - one for the top and one for the lower part of the riser, with different characteristics - or a combination of flexible and rigid sections with different configurations."
Copyright 1998 Oil & Gas Journal. All Rights Reserved.