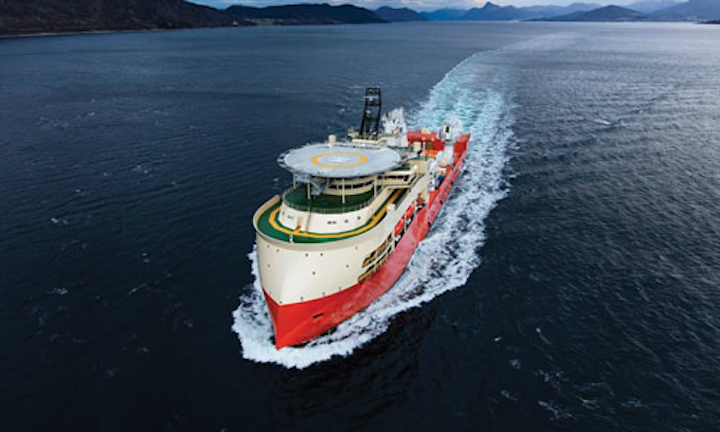 | | | |
| --- | --- | --- |
| | | Jessica Tippee • Houston |
Global Maritime Consultancy & Engineering recently completed a suitability survey for theXin Guang Hua, claimed to be the world's second largest semisubmersible, ahead of its first voyage. The consultancy performed an independent assessment of all aspects of the vessel's condition.
TheXin Guang Hua, built by Guangzhou Shipyard International Co. and owned by Cosco Shipping, is 255 m (821 ft) long, 68 m (223 ft) wide and has a lift/transportation capacity of 98,000 tons.
It will serve the Upper Zakum 750 project offshore Abu Dhabi, where Global Maritime is also the field's marine warranty surveyor. In addition to the suitability survey, Global Maritime oversaw the vessel's first float-on operation in Tianjin, China.
TheXin Guang Hua has a length between perpendiculars of 250.2 m (821 ft), a loaded draft of 10 m (33 ft), and a hull depth of 14.5 m (47.6 ft). Its large open deck is 208.4 m (684 ft) long and 68 m (223 ft) broad.
The vessel, said to be designed with enhanced internal strength, can handle both stern and side loading and will have a deck submerging capacity of 16 m (52 ft), allowing it to carry large floating structures. Its diesel-electric propulsion system provides a power output of 10.5 MW.
Upper Zakum is the second largest offshore oil field and fourth largest oil field in the world. Owner Zakum Development Co. is a joint venture between ADNOC, ExxonMobil, and Japan Oil Development Co.
Later this year the vessel will transport Shell's Appomattox hull from South Korea to Ingleside, Texas.
Sovcomflot christens Sakhalin icebreaker
PAO Sovcomflot (SCF Group) has held a naming ceremony for a new icebreaking platform supply vessel (IBSV) at Arctech Helsinki Shipyard. TheGennadiy Nevelskoy was named after a famous explorer of the Russian Far East.
The new 3,000-dwt IBSV will have Saint Petersburg as her home port and will be registered under the Russian flag.
She is the first of four vessels commissioned by SCF Group. The other three are icebreaking standby vessels (IBSBVs) that have a smaller deadweight (2,000 metric tons), but offer enhanced functionality and a higher accommodation capacity. All four vessels are being built at Arctech Helsinki Shipyard. Arctech has overall responsibility of the design, hull assembly, outfitting, testing, and commissioning of the ships. Building of the vessels brings about 3,500 man-years of work to Helsinki Shipyard.
The agreement between Sovcomflot and Sakhalin Energy, signed in 2014, involves the operation of these vessels for 20 years under the Sakhalin-2 project. These will be used for the year-round delivery of supplies and consumables to Sakhalin Energy's three offshore platforms in the Sea of Okhotsk, and for performing standby duty near the platforms. The vessels will also be used for integrated environmental protection and rescue operations.
The Russian Maritime Register of Shipping, which is providing technical supervision during the construction of all the four vessels, has assigned the ice class of Icebreaker 6 to the new IBSV.
Ulstein delivers offshore construction vessel
Ulstein Verft has delivered the offshore construction vesselIsland Venture to Island Ventures 5 LLC, a joint venture between Edison Chouest Offshore and Island Offshore. Designed by Ulstein Design & Solutions AS, the vessel is 159.8 m (524.3 ft) long and 30 m (98 ft) wide. It features a 400-metric ton crane for operations at 4,000-m (13,123-ft) depth as well as a 140-metric ton crane with 3,000-m (9,842-ft) wire. The vessel has three moonpools - two for work ROVs and one construction moonpool of 12 x 11.2 m (39 x 36.7 ft). It has accommodation for 239 people, a deck area of 2,250 sq m (24,219 sq ft), and three separate engine rooms.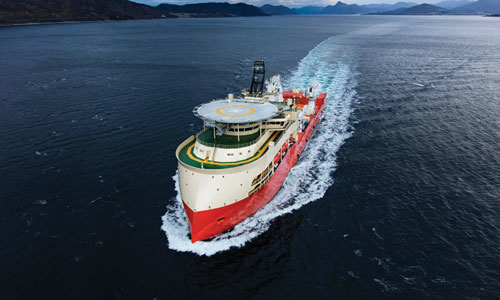 TheIsland Venture will be used for operations such as IMR, ROV services, well intervention, and drilling. (Courtesy Ulstein)
The SX165 design offshore construction vessel will be used for operations such as IMR, ROV services, well intervention, and drilling.
Subsea 7 increases fleet
Subsea 7 has taken delivery of theSeven Arctic and Seven Kestrel, successfully completing a substantial and targeted fleet investment program that has added six newbuild vessels to its fleet since 2014.
TheSeven Arctic is a DP-3 heavy construction flex-lay vessel designed to meet the demands of deepwater and harsh environments. Capable of working at depths of 3,000 m (9,842 ft), it features a 1,000-ton offshore crane and a 600-ton top tension (tiltable) lay system.
TheSeven Kestrel is a modern dive support vessel, certified by DNV GL, encompassing an 18-man twin-bell saturation diving system rated to 300 m (984 ft) water depth.
These vessels were built to a high specification, designed by Subsea 7 engineers in collaboration with Hyundai Heavy Industries Shipyard in Ulsan, South Korea, and Wärtsilä Ship Design, Norway, to maximize their efficiency, capacity, and economy. Both vessels will transit to the North Sea for further crew familiarization before commencing operations in the spring.
Topsides in place at Chinese-built FSRU
The world's first barge-based floating storage and regasification unit (FSRU) has undocked from Wison Offshore & Marine's drydock in Nantong. Topsides installation has since been completed, allowing the vessel to be delivered to contractor Exmar. Both parties previously cooperated on theCaribbean FLNG vessel.
This was the first FSRU built in China and according to Wison, the world's first with small-scale storage capacity. The non-propelled barge has a regasification capacity of 600 MMcf/d. Two LNG storage tanks are inside the hull, each with a capacity of 12,500 cu m (441,433 cu ft).
The world's first barge FSRU undocked from Wison Offshore & Marine's drydock in Nantong, China. (Courtesy Wison Offshore & Marine)
A modularization strategy allowed the hull and topsides modules of the FSRU to be fabricated simultaneously, which according to Wison reduced the safety risks, improved construction quality, and helped to shorten the delivery schedule.
In addition, Wison developed its own cargo containment system and cargo handling system for the storage tanks.