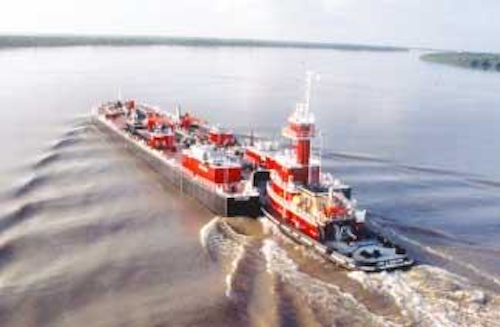 Judy Maksoud • Houston
Vik-Sandvik introduces new supply vessel design
Vik-Sandvik has designed a new platform supply vessel. The VS 493 Avant features a superstructure aft, which has resulted in a number of benefits, including reduced movement, reduced noise, better hull lines, a simplified cargo area, safer loading and discharge and a safer bridge layout, and lower building cost, the company says.
The vessel is 92.7 m long, with a 20.4-m beam and dwt of 6,200 metric tons.
The VS 493 Avant is under construction at the Aker Langsten yard in Oslo, Norway.
Bouchard adds to ATB fleet
Bollinger Shipyards Inc. has delivered a double-hull articulated ocean-going tug/barge (ATB) to Bouchard Coastwise Management Co.
The Jane A. Bouchard and the 430-ft, 110,000-bbl class double-hull oil barge B. No. 225 meet the Oil Pollution Act of 1990, which mandates that by 2005, vessels in certain categories must have double hulls to help prevent the release of oil or other cargo should the hull be pierced. Barge B. No. 225 is the 10th OPA '90 barge in the Bouchard fleet.
The Jane A. Bouchard and barge B. No. 225 comprise the first of a two-ATB contract between Bouchard and Bollinger. The second ATB, the Morton S. Bouchard IV and the slightly larger 487-ft barge B. No. 242 will be delivered in May 2004.
The Jane A. Bouchard was built at Bollinger's Lockport, Louisiana, shipyard. Barge B. No. 225 was built at Bollinger Gretna in Harvey, Louisiana. Joined together by an Intercon coupler system, they form a 520-ft ATB unit capable of carrying several types of petroleum products.
The Jane A. Bouchard is 130 ft long with a 38-ft beam and normal operating draft of 19 ft. Maximum draft is 22 ft. The tug's deck is outfitted with an Intercon single-drum hydraulic tow winch, forward and aft vertical electric capstans, and a rescue boat and davit.
Barge B. No. 225 is 430 ft long, with a 79-ft beam and 34-ft depth. The deck is equipped with an anchor handling winch, four mooring winches, two capstans, and two hose handling cranes.
The Intercon coupler system has two electric rams that lock into a rack or ladder at the notched stern section of the barge that keeps the tug and barge rigidly in place when the units are locked together. The system provides a single degree of freedom allowing the tug to pitch about a transverse connection between the tug and barge. All other motions are restrained so that tug motions match barge motions in roll and heave.
null
Guarino & Cox designed both the tug and barge.
EBI adds a liftboat
Elevating Boats Llc. (EBI) has added a 200-ft. class liftboat to its Gulf of Mexico fleet. The Mammoth Elevator, designed and built by EBI, has 200 ft of leg and can operate in water depths ranging from 8 to 160 ft. The boat's unique deck and living quarters arrangement provide 5,800 sq ft of open deck area. A streamlined hull form, recessed propellers, and a conservative 1,080 hp for the main engines provide a forward speed of 7 knots.
The Mammoth Elevator has two EBI LC400 cranes capable of API 2C static lifts of nearly 200 tons each. One of the cranes is equipped with a 150 ft-long boom for extended reach lifts. The cranes can be used in tandem to make API 2C dynamic lifts exceeding 500,000 lbs.
Yantai to build a self-propelled jackup
Yantai-Raffles Shipyard has signed a contract with Oases Offshore Nigeria Ltd. to build a new generation self-propelled jackup.
Zentech carried out detailed design work on the rig, which can work in 210 ft water depth. The jackup is a workover and drilling unit. An added feature is that the rig can be removed so the vessel can be used for other tasks, including construction, diving support, tender assisting, and pipe laying.
The rig will have 18,000 sq ft of open deck space. It has three cranes, the largest of which has a capacity of 300 tons. The deck load capacity exceeds 2 million lb. Auxiliary quarters can be added to the vessel, which will provide housing for an additional 130 personnel beyond the vessel's current 70-person quarters. The vessel will be equipped with a total of 6,000 hp for propulsion.
Unity begins production
Elf Petroleum Nigeria Ltd.'s new Unity FPSO began producing crude oil from Nigeria's Odudu field in late 2Q 2003. The Unity replaces the Domy FPSO.
The Unity, with a storage capacity of 2.4 MMbbl, will be linked to all of Elf's fields on OML 100. These will include Amenam/Kpono, Ofon, and Odudu. Production from the field increased to nearly 40,000 b/d with the addition of the Amenam/Kpono field last month (July). Maximum production is expected to reach 125,000 b/d.