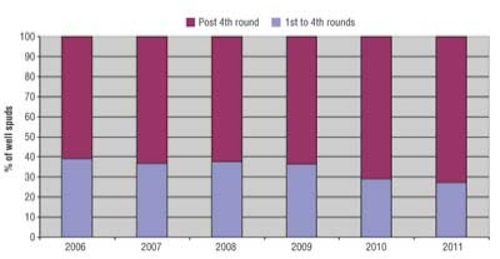 Bruce Beaubouef • Houston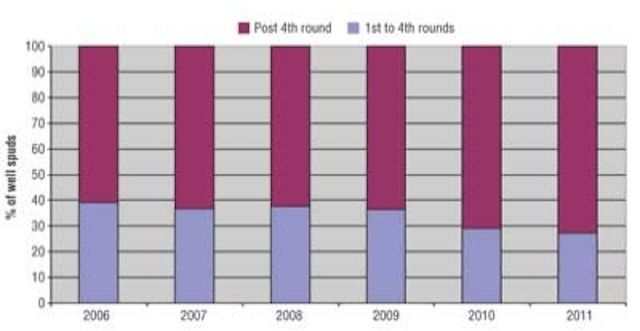 Dockwise's new heavy lift vessel, theDockwise Vanguard, will be able to lift and transport units of up to 110,000 m tons (121,254 tons) weight.
DNV reports theDockwise Vanguard heavy-lift vessel will be the first such semisubmersible vessel built under DNV's new class rules for this type of ship.
TheVanguard has no forecastle and therefore can carry longer cargo. The deckhouse is positioned mostly outside the hull, giving the vessel the capacity to carry 70-m (230-ft) wide cargo. The vessel is about 80 m (264 ft) in total width, and is 275 m (902 ft) in length.
The vessel is to be built by Hyundai Heavy Industries in Korea. Its keel will be laid in December and the vessel is due to be delivered in October 2012.
Subsea 7 gets Petrobras contract, orders newbuild pipelay vessel
Petrobras has awarded Subsea 7 SA a five-year contract to provide a dedicated deepwater flexible pipelay vessel for use offshore Brazil.
The $500-million contract means Subsea 7 will construct a newbuild vessel for $350-million. The vessel will be 146 m (479 ft) long, 30 m (98 ft) of beam, and a Class 2 dynamic positioning system.
Further, it will be equipped to transport and install flexible flowlines and umbilicals in 3,000 m (9,842 ft) water depths. Equipment is to include a tiltable lay system with top-tension to 550 metric tons (606 tons), two under-deck storage carousels, deck crane, and two ROVs. Delivery is scheduled for the second half of 2014.
Hornbeck contracts 16 newbuild OSVs
Hornbeck Offshore Services Inc. has signed contracts for construction of 16 high-specification offshore supply vessels following the recent announcement of its $720-million newbuild program.
VT Halter Marine Inc. of Pascagoula, Mississippi, and with Eastern Shipbuilding Group Inc. of Panama City, Florida, each have separate contracts to construct eight 300 class vessels with options to build additional such vessels.
VT Halter will construct eight vessels based on the Super 320 design it developed for Hornbeck Offshore. These DP-2 OSVs are designed to have 6,200 long tons of deadweight capacity, approximately 20,900 bbls of liquid mud carrying capability, 11,863 sq ft (1,102 sq m) of deck area and a fire-fighting class notation. The Super 320 design has a double-hull that eliminates any fuel storage adjacent to the sideshell, and propulsion machinery that meets the requirements of EPA Tier 3 for stack emissions.
The eight OSVs to be constructed by Eastern Shipbuilding will be DP-2 classed and consist of four vessels based on the STX Marine SV 300 design and four vessels based on the STX Marine SV 310 design. Features include more than 20,000 bbls of liquid mud carrying capacity and a fire-fighting class notation. The SV 300 design calls for 5,500 long tons of deadweight capacity and 10,976 sq ft (1,020 sq m) of deck space, while the SV 310 design calls for 6,144 long tons of deadweight capacity and 11,536 sq ft of deck space. The STX designs meet the same environmental standards as the Super 320 design and will also carry the ENVIRO class notation by the American Bureau of Shipping.
Buccaneer completes jackup rig purchase for Cook Inlet project
Buccaneer Energy Ltd. says its Kenai Offshore Ventures organization has completed acquiring from Transocean Offshore Resources Ltd. the GSF Adriatic XI jackup drilling rig for $68.5 million. The rig has been renamedEndeavour–Spirit of Independence.
The Marathon LeTourneau 116-C jackup is in Singapore for modifications to winterize it and to return it to duty following a cold stack. The first well for the Endeavour is expected to be at Buccaneer's Southern Cross project offshore Alaska. Drilling is expected to begin 2Q 2012 on the Cook Inlet site.
Aseng FPSO reaches first production offshore Equatorial Guinea
The FPSOAseng has started first production offshore Equatorial Guinea in block I with 1,000 m (3,280 ft) water depth, reports SBM Offshore N.V.
This marks the hand-over of the FPSO to Noble Energy EG Ltd. two months ahead of schedule. Noble has contracted the FPSO for 15 years with provisions for extensions to five more years.
The FPSO serves not only Aseng field, but also will be a liquids hub for Noble Energy's future developments in the area with processing capacity for 120,000 b/d of liquids including 80,000 b/d of oil and an injection capacity of up to 150,000 b/d of water, as well as handling 170 MMcf/d of gas. The unit can store 1.6 MMbbl of oil including up to 500,000 bbl of condensate.
SBM Offshore has a joint venture with Compania Nacional de Petroleo de Guinea Ecuatorial (GEPetrol), the state oil company of Equatorial Guinea, for the ownership and operation of the Aseng unit. Under this agreement, SBM Offshore owns a 60% share with GEPetrol holding the remaining 40%.
TSC secures second Super m2 jackup rig package
TSC Group Holdings Ltd. says it has secured the second Super m2 jackup rig (300 ft) package from CIMC Raffles Shipyard, following closely after the first package that was signed in October this year. Combined with the previous order, the two jackup rig orders worth a total of approximately $68 million. Both rigs are expected to be delivered by 4Q 2013.
The Friede & Goldman-designed Super m2 is a self-elevating drilling unit operating in water depths of up to 300 feet, with a drilling depth of 30,000 ft. TSC Group will design, manufacture, install, and commission the integrated drilling rig package for the rig which will be delivered to CIMC Raffles Shipyard in Yantai, Shandong Province, China.
Hamworthy to supply gas generator for BP FPSO
Hamworthy says it has won a contract from South Korea's Hyundai Heavy Industries to supply its inert gas generator (IGG) package for theQUAD 204 FPSO project. The BP-operated FPSO is to be deployed some 110 mi to the west of the Shetland Isles in the North Atlantic as a replacement for the Schiehallion FPSO.
Hamworthy will supply two sets of inert gas generator units, including two deck water seals, two control systems, two inert gas cleaners and two pressure vacuum breakers. The IGG system together with the control system will be placed inside a dedicated inert gas room to protect it from the harsh operating environment. The new FPSO, measuring 270 m by 52 m, will be able to produce 130,000 bbl of oil and 2.2 MM cu m of gas per day and will have a storage capacity of 1.06 MMbbl of oil.
More Offshore Issue Articles
Offshore Articles Archives
View Oil and Gas Articles on PennEnergy.com