Bruce Beaubouef • Houston
EMAS say that itsLewek EMAS FPSO has received first oil from the Chim Sáo project offshore Vietnam.

Chim Sáo field installation: theLewek Crusader installs flexible risers and mooring system on the Lewek EMAS FPSO; with towing and station keeping provided by the Lewek Fulmer and the Lewek Lark. Photo courtesy EMAS.
TheLewek is EMAS' most recent and largest FPSO and first oil at Chim Sáo begins its $1-billion charter with Premier Oil Vietnam Offshore BV. The contract has a primary term of six years and six one-year extension options.
EMAS converted the former Suezmax oil tanker in Singapore's Keppel Shipyard. The vessel has storage for 660,000 bbl of oil and can produce 50,000 b/d of oil. Operations are by PV Trans EMAS Co. Ltd., a joint venture by PetroVietnam Transportation Corp. and EOC Ltd.
"The (EMAS) Group was able to provide an integrated solution from the provision of the FPSO through EMAS Production and the fabrication of modules at TRIYARDS in Vietnam, to the installation and commissioning of the vessel," said Lionel Lee, EMAS managing director.
Seadrill contracts two ultra-deepwater drilling rigs still under construction
Seadrill says it has found work for two new ultra-deepwater newbuild semisubmersible drilling rigs.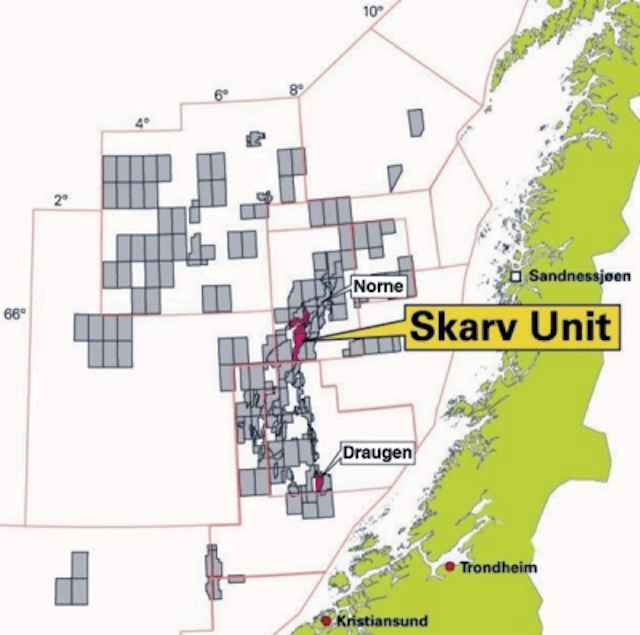 The semisubmersible drilling rigWest Leo, scheduled for delivery in January 2012, has a one-year contract with Tullow Oil Ghana Ltd. Photo courtesy Seadrill.
TheWest Capricorn has a firm five-year contract to work in North America with a potential value of $919 million. The unnamed oil company can extend the agreement for two added one-year periods. The rig is under construction at Jurong Shipyard, Singapore, and scheduled for delivery late this year. West Capricorn is a Friede & Goldman ExD Millenium design. Seadrill says the rig will be the first ultra-deepwater unit in the industry outfitted with a seven-ram blowout preventer.
TheWest Leo semisubmersible drilling rig, also under construction at Jurong and scheduled for delivery in January 2012, has a one-year contract with Tullow Oil Ghana Ltd. West Leo is a Moss Maritime CS50 Mk II design.
Atwood Condor to drill in GoM for Hess
Atwood Oceanics Inc. reports the award of a contract from Hess Corp. for theAtwood Condor to drill in the Gulf of Mexico. The commitment is expected to run from rig arrival in the Gulf until June 2014.
TheCondor is a Friede & Goldman ExD Millennium semisubmersible design currently under construction at Jurong Shipyard Ptd Ltd. in Singapore. Delivery is scheduled for June 2012 with arrival in the Gulf in September. The agreement has two one-year extension options.
FPSO OSX-1 arrives in Rio de Janeiro
The FPSOOSX-1, the first floating production, storage and offloading unit in OSX's fleet, has arrived in Rio de Janeiro, successfully completing its 45-day journey from Singapore to Brazil. Chartered for OGX for a period of 20 years, the OSX-1 will sail to the Waimea accumulation, located in the Campos basin, where the unit will start production of OGX's first oil. The vessel was built in Korea and customized in Singapore, at Keppel's shipyard.
Apache sanctions Balnaves oil/gas project offshore Australia
Apache Julimar will proceed with the $438-million development of the Balnaves field offshore Western Australia. The company discovered the field in Production License WA-49-L in 2009 during exploration/appraisal drilling on the Julimar-Brunello complex.
Balnaves is a light, sweet oil accumulation in a separate reservoir in the Triassic Mungaroo formation, adjacent to the large gas reservoirs of the Brunello field. Apache is targeting first production in 2014, peaking at around 30,000 b/d of oil, with an estimated recoverable resource of 17 MMbbl of oil and 30 bcf of gas.
Development will involve two horizontal production wells connected to an FPSO via subsea tiebacks. One water injector will be used to maintain reservoir pressure. Gas will be reinjected into another reservoir for production at a later date as part of the Wheatstone LNG project.
Bumi Armada will provide the FPSOArmada Claire on a lease basis. The vessel has production capacity of 80,000 b/d of oil and 50 MMcf/d of gas, and 750,000 bbl storage capacity.
Wärtsilä to equip first U.S.-flagged LNG offshore supply vessel
Wärtsilä has announced that it will deliver an integrated propulsion system based on the use of LNG for two offshore support vessels for operation in the Gulf of Mexico. The company says that this is the first time US-flagged offshore supply vessels will run on LNG, which offers operational savings and environmental benefits.
The contract, awarded in October, calls for Wärtsilä to supply LNG propulsion equipment for two advanced offshore supply vessels owned by Harvey Gulf International Marine.
Wärtsilä will deliver an integrated system that includes the dual-fuel machinery, electrical and automation package, complete propulsion, and also LNG fuel storage and handling components.
The STX Marine Inc. SV310DF offshore support vessels will be powered by Wärtsilä six-cylinder 34DF dual-fuel engines. The LNG storage capacity of 290 cu m enables more than a week of vessel operational time. In addition, the vessels will carry 5520 tons of deadweight at load line and have a transit speed of 13 knots. The vessels are scheduled for delivery in two years and will operate in the Gulf of Mexico.
Shane Guidry, Harvey Gulf International Marine's chairman and CEO, commented that the stringent governmental demands for reduced emissions, together with predictions that availability of ultra low sulphur diesel fuel will be restricted, caused the company to consider the use of gas as fuel.
More Offshore Issue Articles
Offshore Articles Archives
View Oil and Gas Articles on PennEnergy.com