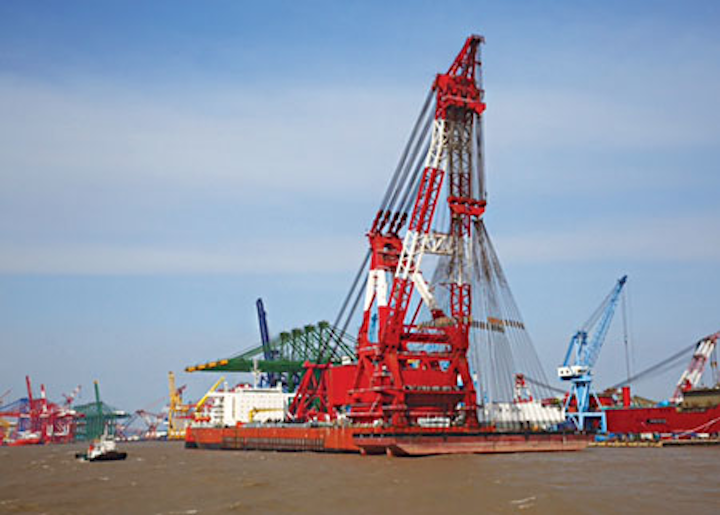 Jessica Tippee • Houston
Heavy-lift vessel sets world record during testing
ZPMC-OTL Marine Contractor Ltd. (ZOMC) saysZhen Hua 30, the world's largest self-propelled single boom crane vessel, has set a world record by lifting 13,200 metric tons (14,551 tons) during testing.
After completing integration of the 12 DP-II thrusters, final commissioning began at ZPMC's Chanxiang base in December. In January, the vessel completed a series of lifting tests and verified the as-built capacity of the main hook with a 7,700-ton (6,985-metric ton) lift in revolving mode and a 13,200-metric ton lift in tieback mode.
Zhen Hua 30 performed the record lift on Jan. 26, 2016. (Photo courtesy ZPMC-OTL Marine Contractor Ltd.)">
Zhen Hua 30 performed the record lift on Jan. 26, 2016. (Photo courtesy ZPMC-OTL Marine Contractor Ltd.)
In addition to ABS, the testing was witnessed by several domestic and international clients as well as Chinese and Korean government officials to confirm completion of the lifting testing.
TheZhen Hua 30 has an overall length of 297.6 m (976.4 ft), a breadth of 58 m (190 ft), and a depth of 28.8 m (94.5 ft). It can accommodate 380 people.
ZOMC is a strategic joint venture between ZPMC Offshore Services Group and OffshoreTech LLC.
Analyst forecasts low activity for floating production industry
In its 2016-2020Floating Production Systems Outlook Report, Energy Maritime Associates (EMA) accounts for 17 contract awards in 2015 and predicts 82-157 FPS units will be built over the next five years.
The 17 contracts are valued at more than $7 billion and consisted of four FPSOs, six FSOs, three FSRUs, one FLNG, two MOPUs, and one production semi. This is down 45% from the 30 units awarded in 2014. The four FPSO orders is the lowest level going back more than 20 years, according to EMA. All awards were made in 1Q, before oil prices fell even further.
Six orders were placed for LNG-related units: three FSRUs, two LNG FSOs, and one FLNG. This is the first time that more LNG-related units have been ordered than FPSOs.
Twenty-six units are idle without contracts: 16 FPSOs, six production semis, three FSOs, and one MOPU. Many of these units will eventually be scrapped, while a few may be redeployed as early production systems, or on short- to medium-term contracts on marginal fields.
Looking ahead, EMA predicts as many as 157 orders could be placed in the next five years at a capex of $134.7 billion. The most likely forecast is 115 orders costing $92.9 billion. Due to the expectations of continued lower oil prices, the analyst adjusted its forecast scenarios downward, with last year's low case becoming this year's most likely case.
However, given the continued demand for LNG related projects, EMA increased the number of FLNG and FSRU orders, which are expected to account for one-third of the capex over the next five years. FPSOs will still be the largest category with almost 40% of the expected orders and more than 50% of the capex. $20 billion worth of units are expected for both Africa and Australia. Brazil falls to the third spot ($17.5 billion), following spending cuts by Petrobras. Projects in Southeast Asia should receive $11 billion worth of orders for FPSOs, FSOs, FLNGs, and TLPs. Major new awards are expected toward the end of the decade on both sides of the Gulf of Mexico as well as the North Sea.
EMA's Managing Director David Boggs said: "2015 was the worst year for the floating production industry since 2009. 2016 will likely be just as bad, with final investment decisions continuing to be delayed…Fundamental reforms including standardized designs and closer collaboration will reduce the costs for offshore hydrocarbon developments and result in new orders for floating production systems. We are currently tracking 241 projects in the planning pipeline. Awards for LNG-related units should continue to grow and this will only increase once the first FLNG unit begins operation later this year."
CSSC to construct two Zentech mobile offshore units
Zentech Inc. has signed contracts with CSSC Huangpu Wenchong Shipbuilding Co. Ltd. for the construction of two Z-210 mobile offshore units. The Z-210 is a self-propelled, self-elevating, DP-2 capable, ABS Class, high-temperature (55°C/ 131°F) rated, four-legged mobile offshore unit capable of operating in water depths of up to 280 ft (85 m).
Ramesh Maini, president and founder of Zentech said: "These builds are very timely and will address the growing needs for lift-boats in the Middle East and Far East markets especially given the E&P expenditure trend towards shallow waters and well intervention activities.
"In addition, this will further strengthen the relationship of Zentech with CSSC, where three Zentech design R-550D jackup drilling units, capable of drilling in up to 400 ft [122 m] water depth, are already being built."
Damen delivers cable installation vessel to Maersk Supply Service
Maersk Supply Service has taken delivery of the DP-2 cable installation vesselMaersk Connector. Built at Damen Shipyards Galati in Romania, Maersk Connector is the second of a new generation of cable-laying vessels based on the Damen Offshore Carrier 8500 platform. The vessel is 138 m (453 ft) in length, has a beam of 27.5 m (90.2 ft), features a seven-point mooring system and dual 7,000-metric ton (7,716-ton) carousel system able to load and lay two cables simultaneously. The vessel is now on a long-term charter for subsea services provider DeepOcean.
Maersk Connector is on a long-term charter for subsea services provider DeepOcean. (Photo courtesy Damen Shipyards Group)">
TheMaersk Connector is on a long-term charter for subsea services provider DeepOcean. (Photo courtesy Damen Shipyards Group)