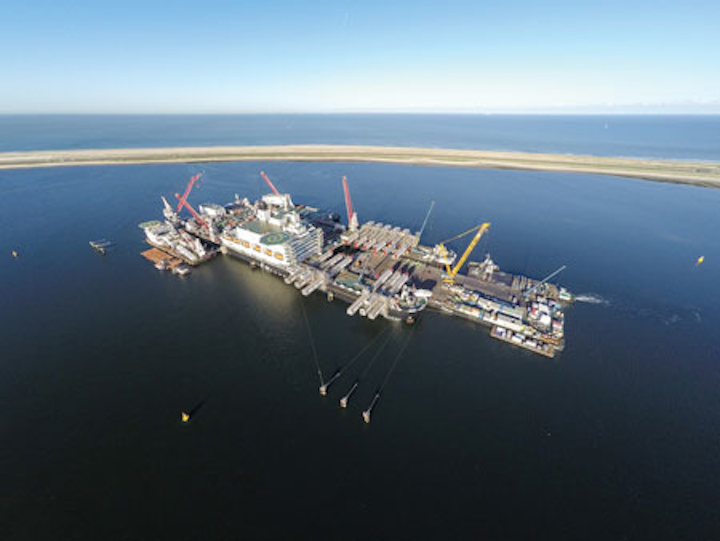 Jessica Tippee
Assistant Editor
As operators aim to lower deepwater project costs, heavy-lift contractors are advancing technologies to meet the demands of the complex operations. Over the past year, the industry has seen record lifts and the commissioning and completion of some of the largest, most versatile construction vessels. The following highlights some of recent technology developments and activities from the construction yard to the field.
Fleet update
Shipbuilders and heavy-lift vessel contractors have responded to the industry's need for larger, multi-purpose vessels to handle complex projects faster and cost effectively.
In early 2015, Hyundai Samho Heavy Industries completed the 10,000-ton heavy-lift vessel,Hyundai-10000, at its shipyard in Yeongam, South Korea. The vessel measures 182 m (597 ft) in length, 70 m (230 ft) in width, and 11 m (36 ft) in depth. According to Hyundai Heavy Industries Co. Ltd. (HHI), it is the world's largest shear-leg type floating crane in terms of the lifting capacity. It is equipped with two 180-m (590-ft) long crane booms and two sets of 70 m high back stay. The crane is operable with the control of 16 sets of main hoisting winches, eight sets of jib hoisting winches, and 72-mm (2.8-in.) and 54-mm (2.1-in.) wire ropes which are each 5,700 m (18,700 ft) long. The main hook is made of eight sets of 1,250-ton hooks.
On April 14, 2015, theHyundai-10000 lifted a 6,500-ton topsides module for the Moho Nord tension leg platform. According to HHI, the floating crane will be used at its yard in Ulsan, South Korea, on projects including the Quad 204 FPSO, Aasta Hansteen spar platform, Jangkrik FPU, and Bergading central processing and wellhead platform. The shipbuilder pointed out that as the global offshore industry continues to increase the size of its facilities, the addition of the mega-sized floating crane can help the company reduce construction time for a variety of offshore structures.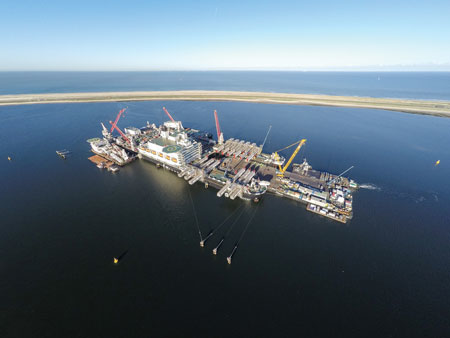 Pioneering Spirit was built by Daewoo Shipbuilding and Marine Engineering in South Korea. (Photo courtesy Allseas)">
ThePioneering Spirit was built by Daewoo Shipbuilding and Marine Engineering in South Korea. (Photo courtesy Allseas)
In Rotterdam, the Netherlands, final preparations continue on thePioneering Spirit, Allsea's dynamically positioned single-lift installation/decommissioning and pipelay vessel. Measuring 382-m (1,254-ft) long and 124-m (407-ft) wide, the vessel will have a topsides lift capacity of 48,000 tons and a jacket lift capacity of 25,000 tons.
This summer Allseas expects the vessel to begin removal of the redundant jackup platform at the Yme field in the Norwegian North Sea. It is also contracted to remove Shell's Brent platforms in the UK northern North Sea. Most recently, Statoil commissioned thePioneering Spirit to install the topsides for the drilling, processing, and living quarter platforms on the Johan Sverdrup field in the central Norwegian North Sea. The heaviest lift will be carried out during installation of the processing platform topsides that weighs around 26,000 tons. Installations are expected to begin in 2018.
The company is also in the design phase of theAmazing Grace, an even larger installation/decommissioning vessel that will be able to lift up to 72,000 tons.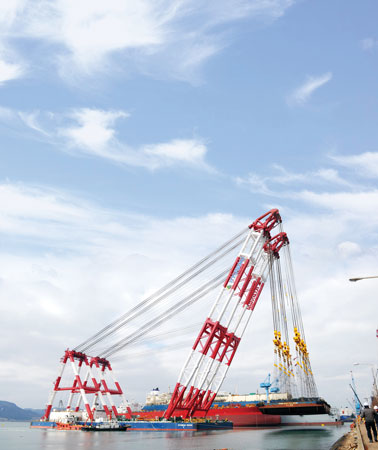 Hyundai-10000 is the world's largest shear-leg type floating crane in the world. (Photo courtesy HHI)">
TheHyundai-10000 is the world's largest shear-leg type floating crane in the world. (Photo courtesy HHI)
According to a recent Douglas-Westwood report, with the UK expected to dominate the decommissioning market, the pressure is on specialist lift vessels such as thePioneering Spirit to prove itself and be embraced by the industry before more are commissioned.
McDermott International expects to debut its new flagship derrick lay vessel, theDLV 2000, in 2Q 2016 when it sails to Western Australia for subsea installation work at the INPEX Ichthys LNG project. Built at Keppel's Singmarine Shipyard in Singapore, the DP-3 vessel combines a 2,200-ton revolving crane with a deepwater S-lay pipelay system configured to install pipelines with diameters ranging from 4.5 to 60 in. in water depths up to 3,048 m (10,000 ft).
In February 2016, Heerema Marine Contractors' deepwater construction vesselAegircompleted the infield flowlines installation scope for the Ichthys LNG project. According to CEO Jan Pieter Klaver, the scope of subsea work was unprecedented for the company. He said: "It involves marshalling, transporting, and lowering almost 120,000 metric tons [132,277 tons] of project materials to the seabed in water depths up to 275 m [902 ft] in a remote area of the Indian Ocean unprotected against swells and cyclonic summer conditions."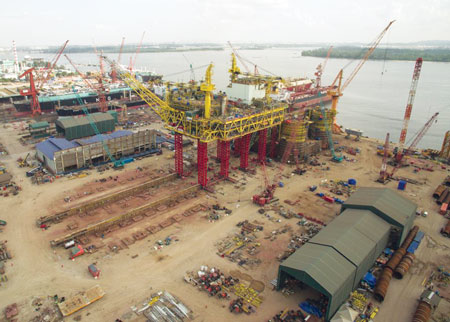 The 13,800-ton topsides for Shell's Malikai TLP was jacked-up and skidded 40 m high. (Photo courtesy ALE)
Heerema Offshore Services awa-rded Sembcorp Marine a $1-billion engineering and construction contract to build a new DP-3 semisubmersible crane vessel,Sleipnir. Named after the Norse god Odin's eight-legged stallion that was known for his strength and speed, the vessel is under construction at the Sembcorp Marine Tuas Boulevard yard in Singapore. Delivery is expected in 4Q 2018. It will feature two Huisman heavy-lift offshore cranes, each with 10,000-metric ton (11,023-ton) lifting capacity, and a large reinforced work deck area. Dimensions include an overall length of 220 m (722 ft), width of 102 m (334 ft) and a displacement of 273,700 metric tons (301,703 tons), making this the world's largest dual-fuel semisubmersible crane vessel, the shipbuilder claims. It is designed for installation and decommissioning of large offshore facilities worldwide.
Record operations
At the Malaysia Marine and Heavy Engineering (MMHE) West yard in Johor Darul Takzim, ALE took jack-up and skidding operations to new heights. The company jacked-up and skidded the topsides for Shell's Malikai tension leg platform. Working on behalf of the Technip/MMHE joint venture, the contractor's scope consisted of weighing and transporting four unit hull blocks, living quarters, and mega beams for the lifting program; weighing of the topsides and subsequent skidding and jacking up; and finally skidding at height of the topsides over the hull and mating of the two structures.
Equipment for the lift campaign included the company's computer-controlled skidding system, ALE mast system, Mega Jack system, weighing cells, and strand jacks. In July 2015, the 13,800-ton topsides was skidded 85 m (279 ft) onto the Mega Jack system, which jacked the topsides up to a height of 40 m (131 ft). The company claims this is the world's highest ever jack-up operation on this scale. ALE then skidded the topsides 90 m (295 ft) at elevation until it was above the hull, followed by mating.
DLV 2000 is a combination heavy-lift and pipelay vessel. (Photo courtesy McDermott)">
TheDLV 2000 is a combination heavy-lift and pipelay vessel. (Photo courtesy McDermott)
The Malikai TLP, which weighs about 28,660 tons, will be installed 110 km (68 mi) offshore Sabah, Malaysia, at a water depth of about 500 m (1,640 ft).
In August 2015, Seaway Heavy Lifting's crane vesselOleg Strashnov installed the process unit platform topsides for GDF Suez E&P UK's (part of the ENGIE Group) Cygnus field in the southern North Sea. In the process, the vessel set a new lift record for Seaway Heavy Lifting involving a hook load of 4,700 metric tons (5,181 tons).
ZPMC-OTL Marine Contractor Ltd. saysZhen Hua 30, the world's largest self-propelled single boom crane vessel, recently set a world record by lifting 13,200 metric tons (14,551 tons) during testing. In January 2016, the vessel verified the as-built capacity of the main hook with a 6,985-metric ton (7,700-ton) lift in revolving mode and a 13,200-metric ton lift in tieback mode. TheZhen Hua 30 has an overall length of 297.6 m (976.4 ft), a breadth of 58 m (190 ft), and a depth of 28.8 m (94.5 ft).