VESSELS, RIGS, & SURFACE SYSTEMS
As a result of improving oil prices, cheaper shipyard/module fabrication costs and re-engineered projects, the FPS market should see improvement in the second half of 2016, according to analyst Douglas-Westwood (DW).
Jul 7th, 2016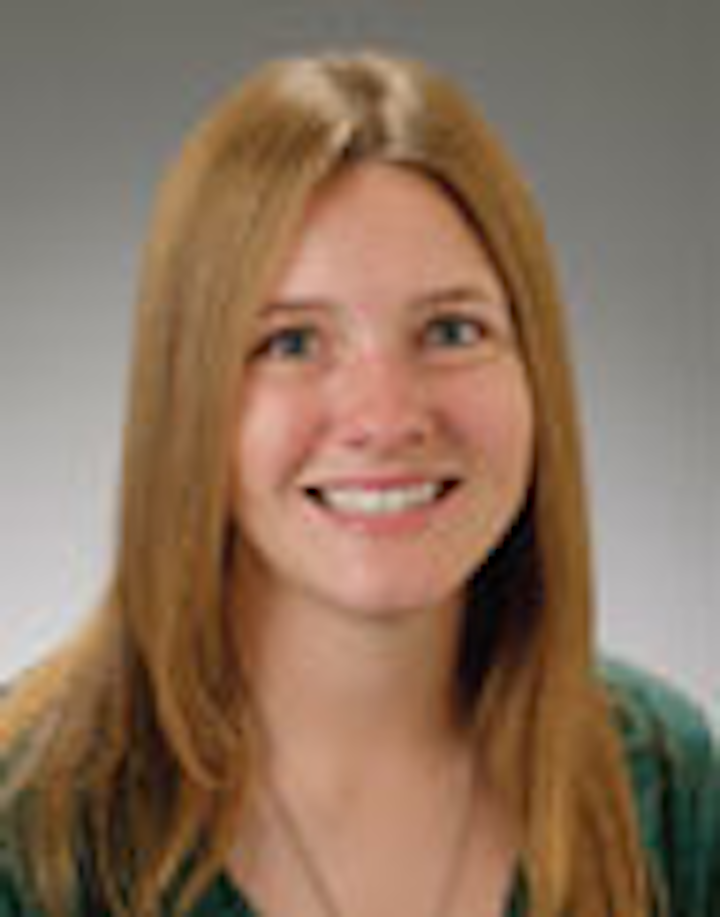 | | | |
| --- | --- | --- |
| | | Jessica Tippee • Houston |
Analyst finds signs of turnaround in FPS market
As a result of improving oil prices, cheaper shipyard/module fabrication costs and re-engineered projects, the FPS market should see improvement in the second half of 2016, according to analyst Douglas-Westwood (DW).
While no FPS units have been ordered so far this year and many projects such as theVette FPSO have been canceled, this year DW expects an FPSS to be ordered for Mad Dog Phase 2 in the US Gulf of Mexico and an FPSO for the Madura MDA/MBH project offshore Indonesia.
Expenditure on installations in the sector is expected to remain high and the analyst forecasts spend of $58 billion on FPS units between 2016 and 2020 - a 32% increase over the hindcast. Much of this capex is for units ordered before the oil price collapse with sustained high oil prices leading to the sanctioning of high capex FPS units. The majority of spend will be in traditional high-capex regions of Latin America and Africa which account for 33% and 22%, respectively. However, beyond these regions, the analyst says spend will be diverse with Western Europe, North America, Asia, and Australasia each seeing more than 8% of total capex.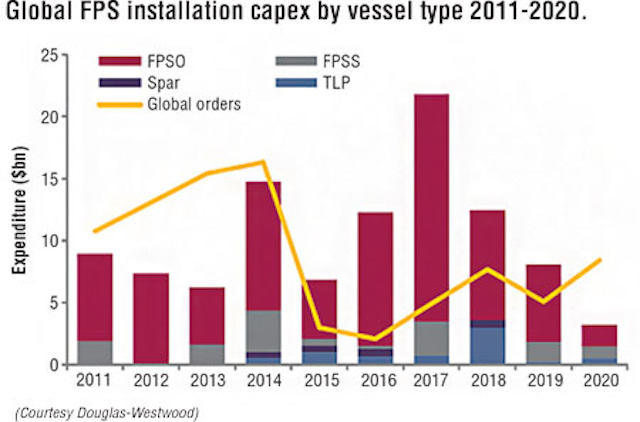 FPSOs will continue to represent the largest segment of the market with 79% of capex, TLPs and FPSSs will account for 9% and 10% of capex, respectively, and spars will account for 2%.
Despite the current lack of orders, there are still near-record backlogs to be worked through, ensuring shipyards remain active. The speed with which new orders arrive will be important and the analyst anticipates that the first order will likely lead to a spurt of other orders, as many operators wait for costs to bottom-out before ordering.
Consequently, the next few years represent a major opportunity for operators to capitalize on lower costs, DW says, while also providing manufacturers with the opportunity to move toward standardization as the industry focuses on cutting costs. What will be vital is ensuring that the lessons learned are not forgotten should there be an unexpected increase in the oil price.
Offshore logistics hub cuts Aramco's rig costs
Tanajib Port, which services offshore rigs and acts as a hub for Saudi Aramco's drilling operations, has transformed the way it operates. It has constructed a Marine Offshore Floating Hub, a remodeled oil tanker namedRawabi Integrity, stationed 70 nautical miles (130 km) offshore. According to Aramco, this represents a paradigm shift in the way offshore rig logistics are managed.
Functioning as a mini-Tanajib Pier, its decks are stocked with all the supplies and equipment needed to keep the company's offshore rigs operating as planned, saving time and costly round trips to port for vessels. The new facility has also led to the existing onshore pier being de-clogged and deployment of boats to rigs optimized, generating major savings for the company. Aramco claims this is a world-first concept, developed after a three-year collaboration between the company's Marine and Drilling departments.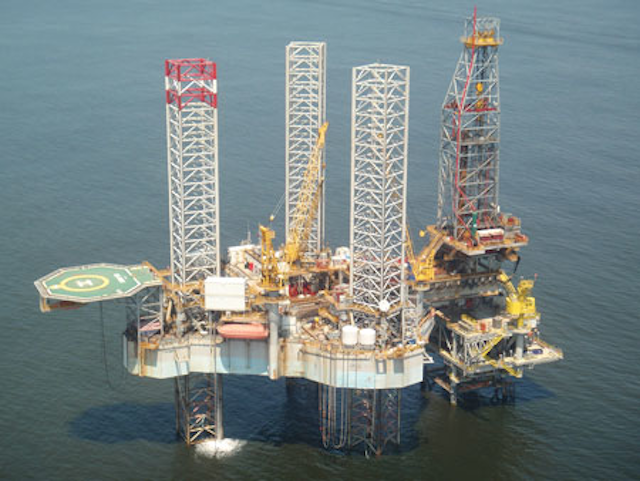 Ben Rinnes is an ABS-classed Marathon Le Tourneau MLT 53-S enhanced jackup drilling rig. (Photo courtesy KCA Deutag)
Sultan S. Al Ghamdi is a planner responsible for preparing boats that are loading the cargo for rigs. "Some rigs need a deep boat," he said. "That means that the boat can hold position by itself without dropping anchor. We assign the boats, depending on the weather, depending on the location of the rigs, the deck space of the boats, and the requirement quantities.
"Things are managed better with the hub and we can also deliver over a short time frame [within 90 minutes as opposed to the previous eight to 10 hours]."
The associated new sea bus service is responsible for transportation related to more than 50% of rig crew changes at the offshore Marjan, Zuluf, and Safaniyah oil fields. Aramco operates two taxi boats to escort crews to the station.
KCA Deutag sells 1970s-built jackup drilling rig
KCA Deutag has sold its jackup drilling rigBen Rinnes to an undisclosed energy and services company. The ABS-classed Marathon Le Tourneau MLT 53-S enhanced rig was built in Clydebank, western Scotland, in 1973 and acquired by KCA Deutag in 2005.
It had operated under contract offshore Angola until February 2016, and has since been stacked in Gabon.
CEO Norrie McKay said: "Whilst the sale of theBen Rinnes is an important milestone for KCA Deutag as it is our last asset in our mobile offshore drilling fleet, we continue to maintain the competence and experience required to support offshore drilling unit operations."
The company is currently supporting construction and start-up of two Category J jackups that will begin operations offshore Norway next year.
Sembcorp completes Culzean jackup
Sembcorp Marine has delivered the jackupMaersk Highlander (formerly known as Hercules Highlander) to Maersk Highlander UK. The newbuild rig, based on the Friede & Goldman JU 2000E design, will drill development wells for Maersk's Culzean field in the UK central North Sea.
Maersk Highlandercan operate in water depths of up to 400 ft (122 m) and drill to depths of 30,000 ft (9,144 m). Construction started in September 2014 and was completed on schedule.