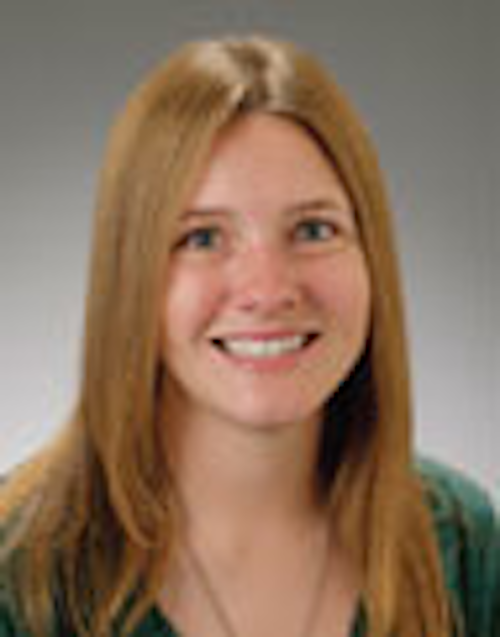 | | | |
| --- | --- | --- |
| | | Jessica Tippee • Houston |
Damen, GustoMSC to collaborate on new jackup
Damen Shipyards Group and GustoMSC have formed a collaboration to produce a range of self-propelled and non-self-propelled jackups called DG JACK. The collaboration will be based on GustoMSC's experience in designing jackups and provision of jacking systems, combined with Damen's background in shipbuilding and vessel optimization, financing, and worldwide after-sales services.
The collaborators said that the arrangement provides the market with "a total solution," offering them total control over the entire process, "from design, through construction, to after-sales care - anywhere in the world." The new jackups will operate across the offshore spectrum, in both renewable and non-renewable sectors.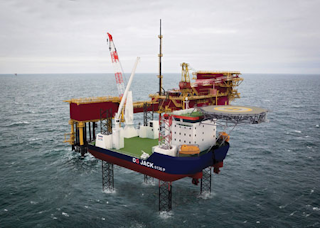 A rendering of the DG JACK was unveiled at OTC 2016. (Courtesy Damen Shipyards Group)
Peter Robert, head of business development at Damen, said: "In the oil and gas markets, the demand for self-elevating service vessels such as the DG JACK range is driven largely by operation and maintenance requirements. Age significantly increases the amount of topsides repair, maintenance, and refurbishment the operator must undertake for the platform to remain serviceable and compliant. In such circumstances the DG JACK represents an extremely cost-effective solution.
"At the same time, shallow-water offshore fields remain a major source of production. With enhanced technology and recovery, combined with the relatively low cost of production compared to deep and ultra-deepwater locations, such sites will ensure a continuing demand for the DG JACK range, particularly at this time of low oil prices."
Floating production set for slow revival, report claims
Douglas-Westwood (DW) expects capex for floating production systems (FPS) to total $58 billion between 2016 and 2020. While this is lower than the analyst's previous forecast, the value of the order book remains near record levels. A series of projects are yet to progress to installation, with on-schedule and on-budget delivery still an issue for the industry. The challenge for the supply chain and shipyards will be attracting new orders once the current units are onstream.
Last year DW identified only four new FPS vessel contracts with a combined value of $3 billion. There have been no orders so far in 2016, but now that operators are adjusting to the low oil price they should begin to order again during the second half of the year. DW expects a low order value of $2.6 billion this year, although from a higher number of orders than in 2015, with operators pushing cost reduction measures and re-engineering of projects. Two examples are the FPSS for the Mad Dog Phase 2 project in the Gulf of Mexico, which BP is expected to order this year, and Statoil's Johan Castberg FPSO in the Norwegian Barents Sea. Both fields had development plans that were uneconomic even when the oil price hit $110. Following subsequent cost decreases and revised development plans both appear to be economic at a low price, showing that operators are willing to adjust and work at the new price norm, the analyst says.
Shell deploys third LNG-powered OSV in the Gulf of Mexico
Shell Offshore Inc. has taken delivery of its third LNG-powered offshore supply vessel in Port Fourchon, Louisiana. TheHarvey Liberty, chartered from Harvey Gulf International Marine, will join her sister ships, the Harvey Energy and Harvey Power, and support Shell's deepwater operations in the Gulf of Mexico by transporting supplies, equipment, and drilling fluids.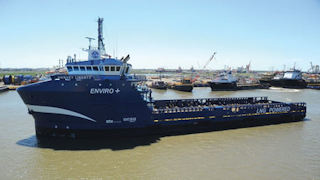 Harvey Liberty runs on 99% LNG fuel. (Courtesy Shell)">
TheHarvey Liberty runs on 99% LNG fuel. (Courtesy Shell)
The 302-ft (92-m) long vessel operates on three dual-fuel Wärtsilä engines, runs on 99% LNG fuel, and can operate for up to 15 days before refueling. It will load from Harvey Gulf's new LNG bunkering facility in Port Fourchon, Louisiana.
Tahir Faruqui, Shell's general manager LNG North America, said: "This is an important milestone for Shell and Harvey Gulf. TheHarvey Libertyhighlights our efforts to grow LNG as a fuel in the transport sector, and is a welcome addition to our portfolio."
Keppel acquires LeTourneau jackup design range
Keppel Offshore & Marine USA has completed the acquisition of Cameron International Corp.'s offshore product division, comprising the LeTourneau jackup rig designs, rig kit business, aftersales and aftermarket services. The acquired company will operate as Keppel LeTourneau with offices in the US, UAE, and Singapore.
LeTourneau's jackup rig designs include the Super 116E, Workhorse, Super Gorilla XL, and Jaguar. The acquisition will swell Keppel's range for jackups to more than 26 designs covering almost every requirement and condition in the market, the company claims.
The company will have the flexibility to customize and build the LeTourneau rigs from its yards worldwide or to license the design to any client or shipyard through the sale of rig kits. The rig kits include jackup leg components, elevating units/jacking systems and cantilever/skidding systems, with options for marine equipment such as cranes and anchor winches.
The aftersales and aftermarket services includes the sale of spare parts, field service (troubleshooting, inspection, installation, and commissioning), operator training, repair and refurbishment of equipment and bespoke engineering services.
Around 260 (40%) of jackups currently in service are of the LeTourneau or Keppel designs. Of these, more than 100 are more than 15 years old and need regular servicing. Besides repairs, upgrades and modifications, jackups must undergo five-year class recertification special periodic surveys.