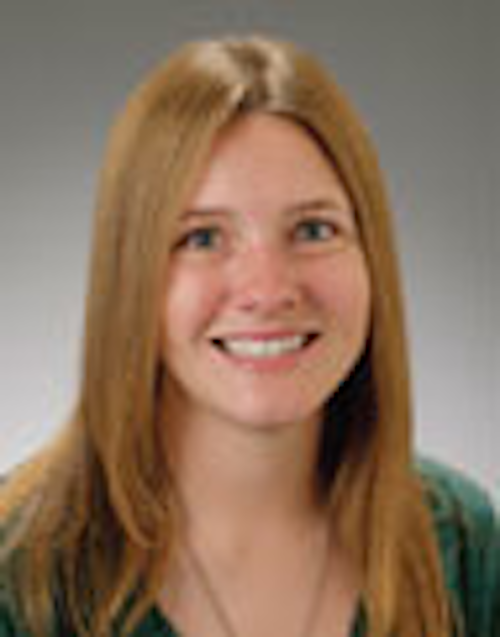 | | | |
| --- | --- | --- |
| | | Jessica Tippee • Houston |
Damen Shipyards Group has released a new concept design called the Damen Decommissioning Series which will specialize in three core areas of the oil and gas decommissioning industry: topsides decommissioning, offshore platform removal, and subsea cleaning and removal.
The design is based on in-house research carried out by one of the company's undergraduate interns.
Justin Rietveld, who is studying Maritime Technology at the Rotterdam Mainport University of Applied Sciences, was offered an internship at the company. His brief was to investigate the potential niche markets for new vessel designs in the oil and gas decommissioning industry.
"This research started off with the idea of developing a decommissioning vessel based on Damen's existing portfolio," Rietveld said. "However, we soon found out that this market needs more.
"For example, there are many different activities within the decommissioning sector. This vessel can support a vast number of those. We have developed a concept to cover the bigger part of this new and exciting market."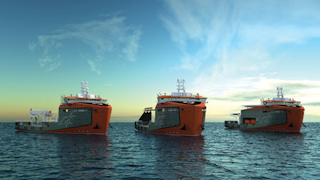 The Damen Decommissioning Series will specialize in topsides decommissioning, offshore platform removal, and subsea cleaning and removal. (Image courtesy Damen Shipyards Group)
The vessel's monohull design has a split stern; a characteristic that will come into play during platform removal operations, explained Rietveld: "This ship will be able to reverse up to a jacket, where it will be ballasted to sink below the platform. Upon deballasting, the vessel will rise up to pick up the platform."
The preliminary estimations of the vessel's capabilities show that it will be able to perform decommissioning of fixed platforms of up to 1,600 metric tons (1,763 tons) in weight.
The concept design also includes modular add-ons which the company said will address the possibility that the vessel will not be solely active in the decommissioning market. This versatility will ensure that owners can optimize productivity: bridging the potential gap between decommissioning contracts with other roles.
These modular additions to the existing design include the temporary installation of a crane or a helideck. Functionality can be further boosted with the addition of accommodation modules to increase personnel capacity.
Another option will be the addition of a temporary platform to create a solid stern. The subsequent increase in deck capacity could be used for transporting and installing monopiles and foundations for the offshore wind industry.
More time needed for floating production market recovery, says analyst
In its "3Q 2016 Floating Production Systems Report," Energy Maritime Associates (EMA) reviewed and analyzed the market for floating production systems, including FPSOs, FLNGs, FSRUs, TLPs, spars, semis, FSOs, and MOPUs.
In June 2016, Dynagas ordered two speculative FSRUs from CSSC-Hudong. These will be the first large FSRUs built in China and will add a new FSRU market player when the units are delivered in 2019/2020. This was the first FPS award since July 2015, according to the report.
Also in 2Q 2016, the first FLNG unit was delivered. In May, thePFLNG Satu (also known as PFLNG1) was completed by Samsung/Technip and installed at the Kanowit field offshore Malaysia. Commissioning of Petronas' 1.2 mtpa unit is under way. This will be the world's first FLNG facility in operation.
While it is a positive sign that a new order was placed after almost a year, the analyst says it does not believe a rebound of the FPS market is imminent. EMA says it considers the award to a new yard by a new market entrant more as an opportunistic investment, rather than a sign of a fundamental recovery of the offshore production industry.
In addition, EMA says the FPS market recovery has not begun because oil prices and costs need to be in balance. Capital and operating costs have decreased sharply since 4Q 2014, but not as much as oil prices. Oil prices did reach $50/bbl in 2Q, but then retreated into the $40's. Before a sustainable recovery can take hold, EMA points out, costs must decline further and/or oil prices must rise.
The analyst has identified the projects most likely to be awarded: seven units in 2016 and 18 units in 2017. This assumes project costs continue to drop while oil prices remain above $35/bbl. If oil prices decline to this level, sanction of these projects are likely to be delayed by at least six-12 months as oil companies monitor their cash flow and defer capex.
EMA says the recovery of the floating production market will begin when large, long-term projects such as Mozambique's Coral FLNG and Brazil's Libra FPSO are sanctioned.
The report also pointed out that since June, BW Offshore and Teekay Offshore Partners completed financial initiatives to improve their balance sheets. Multiple adjustments were made by both companies, including increased share capital, extended bond maturities, and revised bank facilities. Additional contractors, particularly those with idle assets the analyst says, may need to execute similar activities to survive this extended downturn.
EMA Managing Director David Boggs said: "With oil prices touching $50/bbl in 2Q and increased drilling activity onshore US, some have called the bottom of the oil and gas market. In the floating production sector, there are beginning to be signs of life, such as the first floating production order in over 11 months. However, more time is needed before costs and oil prices re-align, allowing a sustainable recovery to take hold.
"In addition, oil companies must have sufficient cash flow to invest in new capital projects. In-line with our annual forecast for low activity throughout 2016 and a slow recovery beginning in 2017, we have identified seven possible developments for award by the end of this year and another 18 in 2017. This is out of 241 projects in the planning pipeline."