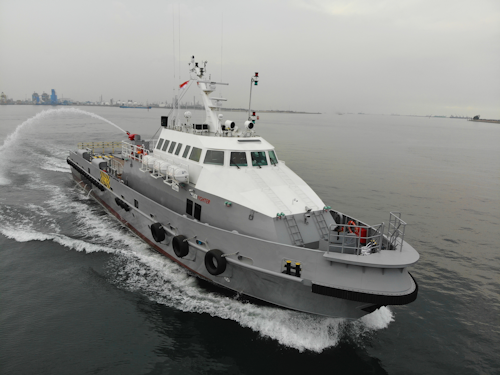 (Courtesy Homeland Integrated Offshore Services)
Offshore staff
LAGOS, Nigeria – Homeland Integrated Offshore Services has ordered various Flex Fighter security/crew boats from the Singaporean Penguin Shipyard.
Delivery is scheduled for December 2019.
The 40-m (131-ft) vessels are among the first of a new design developed by the shipyard. Previous versions have been deployed by the offshore industry for security purposes.
The new version features an all-round wheelhouse ballistic protection, machine gun mounts and gunner shields forward and aft, along with comfortable cabins and amenities for up to 12 security personnel facing long periods at sea.
As a crew boat, the Flex Fighter also has reclining seats for 42 passengers and a 93-sq m (1,001-sq ft) cargo deck with a knuckle boom crane for equipment and components.
Additional features for operations in the Gulf of Guinea include heavy-duty/self-cleaning fuel oil purifiers, an external fire-fighting monitor and a FuelTrax electronic fuel management system.
09/20/2019