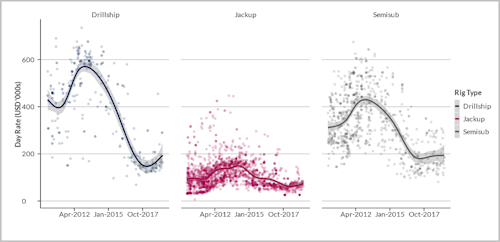 (Source: RigLogix / RigOutlook)
 In May 2019, 460 MODUs were working globally. Over the same period, supply has decreased due to 207 being withdrawn, but 101 newbuilds have been delivered. MODU fleet utilization is at 59%.
The rig market as a whole appears to have emerged from one of its worst ever downturns. Demand is expected to continue to increase as operators work through a backlog of delayed projects, and more aging, under-spec rigs are retired.
There is room for cautious optimism, but the offshore rig market seems unlikely to return to the heights of the previous up-cycle.
– Matt Adams, Senior Analyst, Rigs & Wells, Westwood Global Energy Group