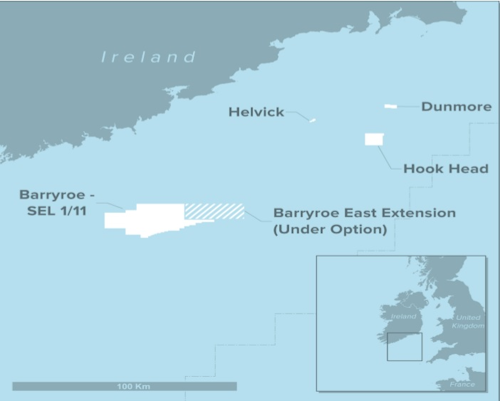 Offshore staff
LONDON – Providence Resources and partner Lansdowne Celtic Sea have signed a farm-out agreement with APEC for standard exploration license (SEL) 1/11 in the North Celtic Sea basin offshore southern Ireland.
The license includes theBarryroe oil discovery, 50 km (31 mi) offshore in 100 m (328 ft) water depth, and operated by Providence subsidiary EXOLA.
APEC is a privately-owned Chinese company which has a partnership with China Oilfield Services Co. Ltd. and JIC Capital Management to invest in and develop offshore oil and gas opportunities worldwide using Chinese drilling rigs, services and equipment.
Under the terms of the farm-in, APEC will gain a 50% interest in SEL 1/11. In return, it will cover 50% of all cost obligations associated with the drilling of three vertical wells and any associated side tracks and well testing.
It will provide a rig and associated services for the campaign, and will also finance, via a non-recourse loan facility, the remaining 50% of all costs attributable to the Barryroe partners for the drilling.
Once the loan is repaid, APEC will be entitled to 50% of any resultant production cashflow from SEL 1/11 with EXOLA and Lansdowne assigned 40% and 10% of production cashflow respectively.
EXOLA will operate the drilling program with the APEC consortium providing technical assistance. On completion, APEC will have the right to become operator for the development/production phase.
Six successful wells have been drilled to date on Barryroe, each logging hydrocarbons, with flow test results from four wells.
Esso drilled the initial four wells on the prospect in the 1970s while Marathon drilled an appraisal well in 1990: Providence/Landsdowne drilled the sixth well in 2011/12.
The 43° API oil has a wax context in the range 17-20%. Successfully tested reservoir sands are of Cretaceous Middle and Lower Wealden age, between 4,500 and 7,550 ft (1,372 and 2,301 m) TVDSS. The field is covered by 2D and 3D seismic, the latter acquired in 2011.
Netherland Sewell & Associates Inc. assessed the Basal Wealden oil reservoir 2C volumes at 761 MMbbl, with recoverable resources of 266 MMbbl of oil and 187 bcf of associated gas, based on a 35% oil recovery factor.
RPS Energy assessed 2C volumes in the overlying Middle Wealden at 287 MMbbl, with technically recoverable resources of 45 MMbbl and 21 bcf of associated gas, based on a 16% oil recovery factor.
Providence has identified further major potential in logged hydrocarbon-bearing intervals within stacked Lower Wealden and Purbeckian sandstones, but reservoir and well test data over these two intervals is limited, so further drilling of these zones would be needed to firm up their recoverable resource estimates.
The company expects to close out the farm-out this summer, subject to approvals from Ireland's Minister of State at the Department of Communications, Climate Action and Environment and the Chinese government.
Colin Lui, chairman of APEC Energy Enterprise, said: "This field has significant recoverable resources and we look forward to jointly developing this opportunity. Whilst the farm-out agreement has been agreed specifically for Barryroe, the parties have also agreed to jointly investigate further opportunities in other licensed blocks offshore Ireland in the future."
03/28/2018