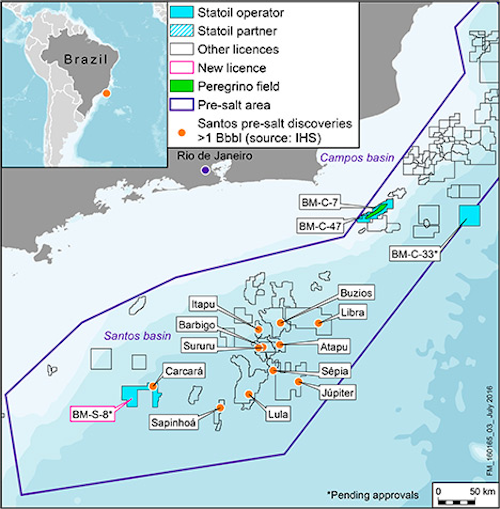 Offshore staff
STAVANGER, Norway–Statoil has acquired Petrobras' 66% operated interest of the BM-S-8 offshore license in Brazil's Santos basin, completing the transaction announced this summer.
BM-S-8 contains what the Norwegian operator called "a substantial part" of theCarcará presalt oil discovery, said to be one of the world's largest finds in recent years.
Discovered in 2012,Carcará is located on the geological trend of the nearby Lula field and Libra area. It contains 30° API oil with associated gas in a thick reservoir with good properties. It straddles both BM-S-8 and open acreage to the north that is set to be offered in a license round next year.
When the deal was announced, Statoil claimed to be well-positioned to operate a unitized Carcará field following this transaction.
Pre-unitization, the new operator said that the BM-S-8 development contains about 700-1,300 MMboe recoverable reserves within the license from Carcará, plus additional exploration upside.
On the completion of the transaction, Statoil paid Petrobras $1.25 billion, half of the total consideration. The remainder will be paid at the passage of certain future milestones, mainly relating to the future unitization of Carcará. The base price was originally announced at $2.5 billion.
11/23/2016