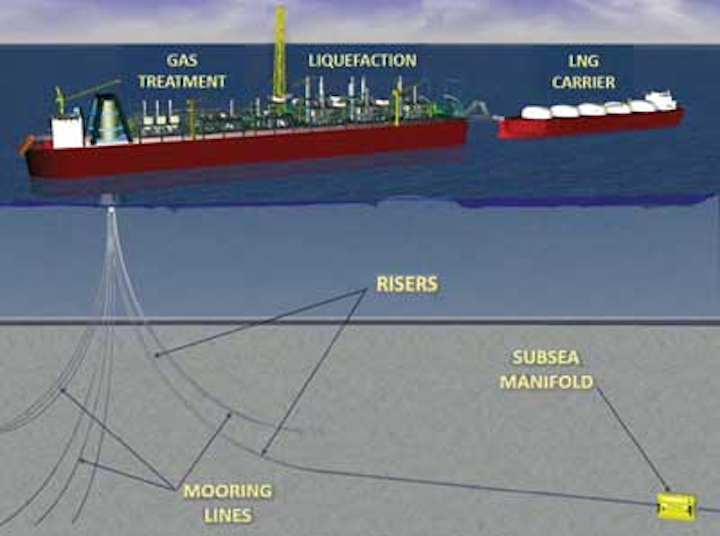 Gene Kliewer
Technology Editor, Subsea & Seismic
With growing energy demands in China and India, and huge LNG export projects under way off Australia, the Asia/Pacific region is a tale of two complementary ends of oil and gas exploration and development continuum. Add to that the continuing work offshore Indonesia, Vietnam, Myanmar, and others, and you have a region of extreme contrasts.
Looking at the Asia and Australia region, offshore exploration and production capex spending is forecast by Douglas-Westwood to total $56.3 billion over the next five years. The long-term nature of the projects and the high capex for each one suggests that operators with deep pockets will make up most of the list of players. Also, spending is going toward subsea and deepwater developments rather than shallow-water infrastructure, further raising the costs of the projects.
Infield Systems says seven of the top 10 field developments expected onstream over 2013-2017 are offshore Australia. The three largest developments, Jansz, Gorgon North, and Gorgon Central, are expected on production before the end of 2014
The two largest developments outside Australia are expected to enter production during 2013. China's Liwan 3-1 deepwater gas development, jointly operated by Husky and CNOOC, holds potential reserves of 5 tcf. The second largest development is expected to be the Shwe field offshore Myanmar. The Shwe development, which includes the Shwe, Shwe Phyu, and Mya discoveries, is estimated to hold combined gas reserves between 4.79 and 8.63 tcf.
Malaysia is expected to bring onstream the second largest proportion of reserves in the region with development led by ConocoPhillips' Gumusut-Kakap project. The development saw early start up in January, ahead of the completion of the FPS. Currently tied-back to the Kikeh production facility offshore Sabah, the field's FPS is expected to be installed toward the end of 2013.
Offshore Indonesia, the Gendalo Gehem joint project is at the forefront of the country's offshore development and is globally acknowledged as one of the key deepwater fields expected to come onstream during the period. Operator Chevron awarded the FEED package for the development to Technip and Worley Parsons.
Australia
Offshore Australia is the world's hotbed of gas export projects. Gorgon, Wheatstone, and Prelude all are progressing toward first production and additional exploration successes support these long-term investments.
Eni Australia Ltd. says it will drill a well in the Blackwood area of NT/P68 to evaluate a discovery made in 2008. This comes after a 3D seismic survey of the Blackwood East area by CGG'sVeritas Viking.
The PMP 38158 (Tui) Joint Venture plans to drill two wells in the second half of this year using theKan Tan 4 semisubmersible. One well will be an infill in the Pateke field. The other is an exploration well targeting a four-way dip closure created by a compaction drape over an underlying basement high.
Santos says its Crown 1 wildcat in the Browse basin permit WA-274-P in 440 m (1,443 ft) water depth confirmed 61 m (200 ft) of net gas pay in Jurassic Montara, Plover, and Malita reservoirs.
Another big offshore LNG development seeing significant progress the Inpex/Total Ichthys project. The project calls for gas to get preliminary processing offshore to remove water and condensate before piping to shore 889 km (552 mi) via a subsea pipeline.
China
China is the world's largest consumer of energy and the second largest oil consumer. With this as a starting point, any increase in demand is going to have a significant impact. And, with its older fields in decline, exploration and production offshore in Bohai Bay and the South China Sea take on rising importance.
Bohai Bay holds most of the proven oil reserves offshore China. The South China Sea is predominately a gas play, although some small oil reserves are on the books. Further exploration of South China Sea's deepwater Pearl River Mouth basin could hinge on additional leasing. CNOOC opened a licensing round for nine blocks in mid-2012, and the close of bidding is scheduled for this June.
Ownership disputes have clouded developments in the South China Sea, with boundary differences between China and Japan, and China and Vietnam. The nine-block lease round includes some territories in the disputed area between China and Vietnam.
The South China Sea may have hydrocarbons in underexplored areas. The U.S. Geological Survey estimates that about 12 Bbbl of oil and 160 tcf of natural gas might exist as undiscovered in the South China Sea, excluding the Gulf of Thailand and other adjacent areas. About one-fifth of these resources may touch contested areas, particularly in the Reed Bank at the northeast end of the Spratly Islands, which is claimed by China, Taiwan, and Vietnam.
CNOOC says its long-term domestic development plans include exploration and production from deepwater fields in the Pearl River Mouth and Qiongdongnan basins. Development of other deepwater fields in the area, Panyu 34-1, for instance, may benefit from the Liwan infrastructure with tiebacks possible to the processing platform.
China is on schedule to complete the Myanmar-China Oil and Gas Pipeline in 2013, two parallel oil and gas pipelines that stretch from Myanmar's ports in the Bay of Bengal to the Yunnan province of China. The oil pipeline will be an alternative transport route for crude oil imports from the Middle East to potentially bypass the Strait of Malacca. The oil pipeline capacity is expected to reach about 440,000 b/d.
Myanmar
Myanmar's Ministry of Energy was scheduled to put 25 offshore exploration blocks up for auction this past April. There is no news of any results as of this writing. This would be the most recent move on behalf of the government to attract foreign capital and technology into the country's oil and gas business, and it has been signing directly negotiated production-sharing contracts and licensing rounds since 2011. A revision to the foreign investments regulations last year aims to improve incentives to bidders.
In field activity since the first of this year, Mitsui Oil Exploration Ltd. has agreed to acquire from PTTEP Indonesia a 20% operating interest in offshore block M-3 in the Gulf of Martaban. Gas was discovered on the tract by the Aung Sinkha-2 exploration well that flow tested two zones at a maximum flow rate of approximately 25 MMcf/d with a condensate flow of approximately 150 b/d.
On the field development front, Kvaerner ASA won a job from Premier Petroleum Myanmar Ltd. to upgrade the existing Yetagun platform in the Gulf of Martraban. The plan is to increase the production capacity to 300 MMcf/d of gas starting in 4Q 2013. Kvaerner did the front-end engineering design earlier this year and now will provide engineering, procurement, and construction management services for the $30-million upgrade.
In Yetagun North, Petronas Carigali has contracted a new wellhead platform from Larsen and Toubro for about $100 million. L&T will provide engineering, procurement, construction, installation, and commissioning of the platform and related subsea pipeline for the project in 108 m (354 ft) water depth.
Scheduled to come onstream this year is the $2-billion Zawtika natural gas project. The development includes Szwtika, Kakonna, and Gawthaka fields in blocks m9 and M11 in the Gulf of Martaban spread across 11,746 sq km (4,535 sq mi) of area, says operator PTTEP International. Initial production is expected to be 300 MMcm/d, or about 1 bcf/d. Most of this production is scheduled to go to Thailand. This is the first phase of development in what eventually could encompass three wellhead platforms, a processing and living platform, and 21 km (13 mi) of subsea pipeline.
Malaysia
The final investment decision by Shell Malaysia, Petronas, and ConocoPhillips to go forward with the Malikai oil field development is the big news from Malaysia. The planned installation of a TLP for development has drawn even more attention to the project.
The field is in waters up to 500 m (1,640 ft) deep in part of the block G production-sharing contract awarded by Petronas in 1995. Operated by Sabah Shell Petroleum Co., it is the country's third deepwater project. The Malikai development will require 17 wells drilled from the TLP.
Dril-Quip Inc. has the contract to supply drilling and production equipment and services to Sabah Shell for Malikai. Dril-Quip will supply subsea wellheads, tensioner systems, risers, production trees, injection trees, and tieback connectors. Delivery is expected to start in 2014.
A joint venture of Technip and Malaysia Marine and Heavy Engineering Sdn Bhd has won the contract to engineer, procure, and construct the TLP. It will be 110 km (68 mi) offshore Sabah, Malaysia. The TLP will weigh approximately 26,000 metric tons (28,660 tons) and will include topsides with facilities to process 60,000 b/d of oil and 1.4 MMcm/d (49.4 MMcf/d) of gas.
Sabah Shell Petroleum Co. also has commissioned Technip for pipelay at Malikai. The scope covers transportation, installation, and pre-commissioning of one 50-km (31-m), 8-in. gas line and one 55-km (34-mi), 10-in. liquid pipeline, plus steel catenary risers. The pipelines will extend from the Malikai TLP to the Kebabangan platform.
Indonesia
While most of the talk about energy demand in Asia centers on China and India, Indonesia increased its consumption by 50% from 2001 to 2010. To meet the demand, state-owned PT Pertamina and a number of international oil companies are working Indonesia's upstream. Among the IOCs in Indonesia are Chevron, Total, ConocoPhillips, Exxon, and BP. In addition to Pertamina, NOCs in Indonesia include China National Offshore Oil Corp. and South Korea's KNOC.
Indonesia's government is trying to increase interest in the country with incentives for such things as 3D seismic surveys focused on developing oil reserves in Indonesia's frontier and deepwater areas. Further, Indonesia plans to offer 23 oil and gas blocks before year end. These blocks include offshore Timor Sea and offshore Java island.
With operators and national oil companies embarking on their exploration plans, there is also significant field development already under way offshore Indonesia. This past August, BP Migas reportedly approved a dozen development plans with $830 million in total investments.
---
Exxon proposes FLNG development for Scarborough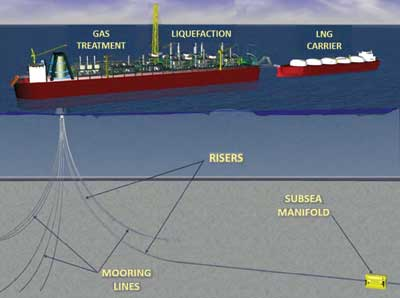 Exxon Mobil FLNG development schematic.
Exxon Mobil Corp.'s Esso Australia Resources Pty Ltd, as operator, and partner BHP Billiton Ltd. have filed a public notice with the Australian Department of Sustainability, Environment, Water, Population and Communities regarding a plan to develop the Scarborough LNG project offshore Western Australia.
At the heart of the proposed action is an FLNG facility fed by 12 subsea production wells drilled in two phases. Phase 1 drilling would start in 2018 with seven wells to be followed by five wells in Phase 2 within 15 years of production start-up. Production through the FLNG is proposed to start in the 2020-2021 range.
Offshore installation and commissioning of the umbilical, risers, and flowlines as well as tieback to the FLNG would come in the 2019-2020 timeframe. Preliminary estimates are for 125 km (78 mi) of infield flowlines and umbilicals. Three to six umbilical riser bundles would connect the flowlines to the FLNG turret. The mooring is expected to have about 24 steel chain mooring lines in a four by six pattern anchored to piles in the seabed. The mooring design would be for up to 10,000-year return period weather, and thus expected to stay on location permanently.
The project currently is in the pre-front-end engineering and design phase and is expected to move into the FEED phase this year with a final investment decision in 2014-2015.
General plans now call for the FLNG vessel to be 495 m (1,624 ft) long, 75 m (246 ft) wide with a capacity to process 1,100 MMcf/d. It will have gas treatment, liquefaction, storage, and transfer capability with a 25-35 year lifespan.
The FLNG unit and subsea infrastructure would be in WA-1-R in the Carnarvon basin 220 km (137 mi) northwest of Exmouth in waters 900-970 m (2,952-3,182 ft) deep.
Exxon's filing does point out that these are preliminary plans subject to change as drilling progresses.


Click to Enlarge
More Offshore Issue Articles
Offshore Articles Archives
View Oil and Gas Articles on PennEnergy.com