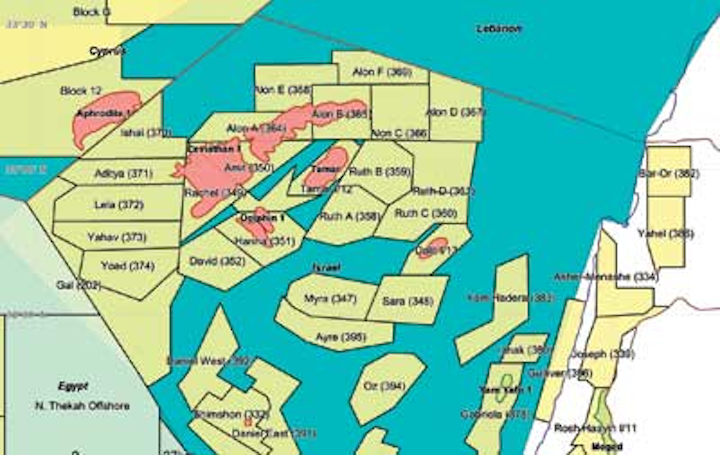 Phase 2 plans in works, Leviathan sanction imminent
Russell McCulley
Senior Technical Editor
This month, Noble Energy is scheduled to bring onstream the first phase of the Tamar gas field in the Levant basin offshore Israel, which the company is billing as the world's longest subsea tieback and the largest offshore project to date for the Houston-based operator. The Alliance Engineering-designed deck and topsides were installed in December 2012, in 800 ft (244 m) of water near Noble's existing Mari-B platform.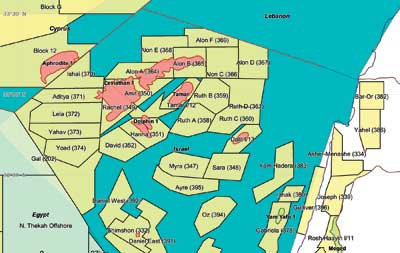 Eastern Mediterranean offshore. Image courtesty of IHS.
The Tamar platform was designed to process up to 1.2 bcf/d of natural gas; Noble estimates that peak production will hover around 1 bcf/d. The subsea wells connect to the platform by 150-km (93-mi) long flowlines supplied by Aker Solutions, which also delivered subsea control equipment and an MEG reclamation unit for the project.
Noble estimates that the Tamar field, discovered in 2009, could hold as much as 8.4 tcf of recoverable reserves. Coupled with the even bigger Noble-operated Leviathan discovery, with estimated recoverable reserves of 18 tcf, the recent offshore gas finds promise big payoffs not only for the operator and its energy partners, but also for the energy security of the host nation itself. In April 2012, Egypt terminated a long-standing agreement that supplied Israel with 40% of its gas, and the pipeline that supplies gas to Israel and Jordan has been sabotaged repeatedly since the fall of the Mubarak regime in early 2011.
Prior to the Tamar discovery, Israel's modest domestic reserves were depleting fast, while its gas consumption was increasing. Mari-B, where Noble holds a 47% working interest, was the country's first offshore gas development when it went onstream in 2004. Last year, Noble brought the nearby Noa and Pinnacles fields into production as tiebacks to the Mari-B platform. The fasttrack development program was meant to be a stop-gap measure to keep domestic supplies flowing until Tamar came onstream.
"Mari-B has been an outstanding field that is rapidly approaching the end of its production life, although it could have an important role going forward as a gas storage reservoir," Noble Energy Chairman and CEO Charles Davidson said in a conference call with analysts in early February. "Our focus right now is to squeeze as much gas as we can out of these depleting existing reservoirs to bridge the gap until Tamar comes online in just a few months."
Energy security
Plans are in the works for Tamar's second development phase, which will increase peak capacity to 1.5 bcf/d. The project will add compression at the Ashdod onshore terminal to increase onshore delivery capacity and storage at Mari-B to boost offshore delivery capacity by 2015.
Meanwhile, the company is discussing development plans for Leviathan, where Australia's Woodside Energy has been brought in as a strategic partner. Under the agreement, Noble will retain upstream operatorship and a 30% working interest in the field, located on the Rachel and Amit licenses in 5,500 ft (1,676 m) of water. The first phase of development will include domestic capacity to deliver up to 750 MMcf/d to an onshore point in the north of the country by 2016, most likely using an FPSO; further development plans include additional capacity for export via pipeline, onshore LNG, or floating LNG by 2018. If, as expected, Israeli lawmakers approve a gas export scheme, the country could in just a few short years make a remarkable transition from gas importer to regional exporter.
The transformation could raise both revenues and morale in Israel, says Kevin Whited, a principal analyst at IHS who studies political risk.
"The self-sufficiency aspect is huge for Israel," he says. "Securing their own supplies is a huge boost to national pride, as well the economic benefits. The great irony for years was, Israel is the military superpower in the region, but there was no oil there. This is a pretty crucial development for their security."
Export options
In early February 2012, Noble announced its sixth consecutive Levant basin discovery at the Tanin prospect northwest of Tamar, where a well drilled in 5,100 ft (1,554 m) water depths encountered 130 ft (40 m) of gas pay in high-quality Miocene sands. The Tanin prospect, in the Alon A license, holds an estimated 1.2 tcf in gross mean reserves, bringing the discovered resources in the Levant basin to an estimated 35 tcf.
That number was set to rise one month later, when the company released the results of the Leviathan 4 appraisal well. The well was drilled to a total depth of 16,992 ft (5,179 m), encountering 454 ft (138 m) of natural gas pay in multiple intervals - "the thickest net pay of any well drilled to date at Leviathan," Noble said.
At press time, Noble was preparing to mobilize theEnsco 5006 from Leviathan to the Karish prospect in the Alon C license northeast of Tamar, which Noble estimates could hold up to 3 tcf in gas reserves. A fifth Leviathan well, in the field's northern area, is in the planning stages. Toward the end of 2013, the newbuild AtwoodAdvantage ultra-deepwater drillship is scheduled to arrive in the region to begin drilling the deep Mesozoic oil play below the Leviathan gas discovery, Davidson said.
Last November, one of Noble's Eastern Mediterranean partners, Israel's Delek Group, announced that Daewoo Shipbuilding & Marine Engineering had been enlisted to carry out front-end engineering and design on a floating LNG system that would serve as a 3.4 MM ton/yr-capacity export terminal for Tamar, with a possible startup in 2018. Delek Drilling and its affiliate, Avner Oil Exploration, hold interest in several Noble licenses in the region, including a 15% stake each in block 12 offshore Cyprus.
Woodside's 30% farm-in at Leviathan, where Delek, Avner and Israel's Ratio Oil Exploration are also participants, brings extensive LNG experience to the project, Davidson told analysts. "The addition of Woodside as a partner in the Leviathan project contributes to our confidence that we can deliver on our development plans in Eastern Mediterranean. Our initial focus at Leviathan is delivering natural gas to the domestic market in 2016. That is a market where natural gas demand continues to grow," he said. "Longer term, our plans anticipate exporting gas via LNG. We expect that Israel will enact their export policy later this year, and Woodside's experience and expertise in LNG projects will contribute to our progress on an export facility."
Frontier payoff
Late last year, Davidson floated the possibility of developing its Cyprus assets as tiebacks to a regional hub located outside the nation's maritime border. "We're exploring a number of sites in the region," he said. "Some of those sites could accommodate gas from both Israel and Cyprus. And so that is still one of the possible solutions. But quite a bit of work needs to be done, both engineering work as well as working with our partners and the governments involved."
While the extraordinary hydrocarbon discoveries in the Eastern Mediterranean hold the promise of wealth and energy security, they could also ignite longstanding rivalries in the region, including border disputes. And there's the question of Palestinian claims to a share of the wealth should the gas finds extend to areas offshore Gaza. "This part of the world is politically unpredictable," says IHS oil and gas equity analyst Hassan Eltorie, with no small understatement.
Noble Energy no doubt knew the risks, political and exploratory, going into the region. "At the time, not a lot of people thought it was a good decision," Eltorie says. "But it has turned out to be a huge game-changer. The company is doing very, very well financially. Tamar is a big part of it. But (analysts) also like to see diversity. Noble has depth of portfolio. They're doing more than one thing right."
More Offshore Issue Articles
Offshore Articles Archives
View Oil and Gas Articles on PennEnergy.com