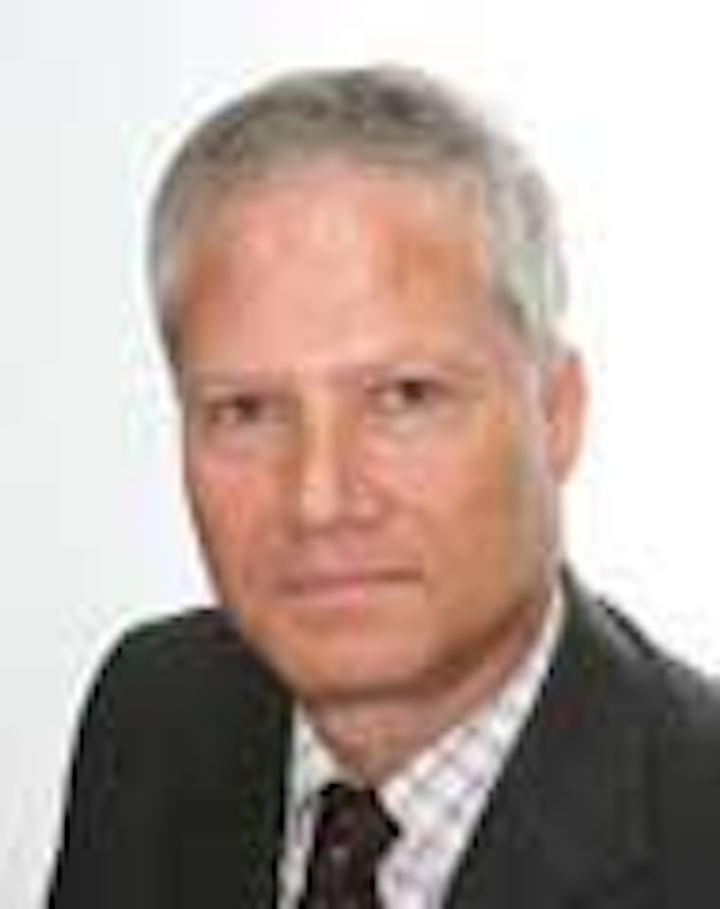 | | | |
| --- | --- | --- |
| | | Jeremy Beckman • London |
Statoil has scored its second oil discovery this year offshore Newfoundland and Labrador. The semisubmersibleWest Aquarius drilled the well on the Bay du Nord structure in 1,100 m (3,609 ft) of water in the EL 1112 concession. The location was 500 km (310 mi) northeast of St John's, 10 km (6.2 mi) from the earlier Harpoon find, and 20 km (12.4 mi) south of Statoil's 2011 Mizzen discovery, thought to hold 100-200 MMbbl of oil. The company plans follow-up appraisal drilling.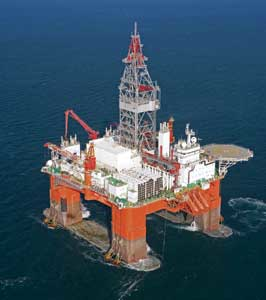 Seadrill's semisubWest Aquarius drilled the Bay du Nord discovery. (Photo courtesy Seadrill)
Caribbean Sea
The government of Trinidad and Tobago has made six blocks available under the islands' Deep Water Competition Bid Round 2013, all off the north and east coasts. Bids are due in by the end of January 2014.
In the shallow-water sector, Trinity plans to spud two exploratory wells this quarter. The jackupGorilla III will drill the GAL-25 prospect on the Galeota license targeting an extension to Trinity's producing Trintes field, which could contain 32 MMbbl of oil. On the western flank of the producing Brighton field, the mat-supported jackup WS-152 is due to drill the smaller El Dorado structure.
South America
The Eni/Repsol joint venture Cardon IV has contracted Foster Wheeler to provide project management for the Perla field production facilities in the Gulf of Venezuela. These are under construction in more than 15 countries - Foster Wheeler will supervise the EPC process from engineering centers in London, Madrid, and Rijeka, Croatia.
Perla holds in-place gas of 17 tcf (481 bcm) and around 170 MMbbl of condensate. Eni has agreed to form a new venture with state oil company PDVSA to exploit the condensate reserves.
•••
Petrobras has confirmed three new ultra-deepwater finds off Brazil. The Farfan 1 well in the Sergipe basin proved an extension of the earlier Farfan discovery well, in 2,476 m (8,121 ft) of water. The location is 104 km (65 mi) offshore Aracaju. In the same region and in similar water depth, the Munù 1 well encountered a 24-m (79-ft) thick reservoir, which Petrobras views as an extension of another discovery.
In the presalt Santos basin, another well found oil in the Iguacu Mirim structure in the prolific BM-S-9 block, 34 km (21 mi) south of the Carioca discovery and 303 km (188 mi) offshore São Paulo state.
Sinochem has offered the company $1.54 billion for its 35% stake in the offshore BC-10 concession, where operator Shell plans further development of the Parque das Conchas field. Petrobras hopes to sell further assets offshore Brazil and in the Gulf of Mexico.
West Africa
Afren has sanctioned fabrication of a new 12-slot wellhead platform for the shallow-water Okoro Further Field Development offshore Nigeria. This will be designed to accommodate up to 24 wells and accommodate wireline and coil tubing systems. The platform will be bridge-linked to the existing Okoro Main complex, with a new mobile offshore production unit stationed nearby.
•••
Total's Diaman-1B gas condensate discovery offshore Gabon has opened a new deepwater presalt play. The well was drilled in 5,673 ft (1,729 m) of water in the Diaba license G4-223, 60 mi (96 km) from the nearest other presalt commercial discovery. It intersected up to 180 net ft (55 m) of hydrocarbon pay, according to partner Marathon.
In Gabon's shallow-water Dussafu license, Harvest Natural Resources is working on a development concept for three oil discoveries with potential resources close to 50 MMbbl. This would involve stationing an FPSO on the Tortue field with subsea tie-ins for the Ruche and Walt Whitman structures. Production could start in March 2015.
•••
The Murphy-operated Azurite field offshore Republic of Congo (Brazzaville) is set for a premature termination, according to partner PA Resources. Continuing reservoir issues have kept production way below original expectations, and abandonment will start later this year.
Mediterranean Sea
Work on the Elyssa field offshore Tunisia should move forward once EnQuest is confirmed as the new operator. Following recent 3D seismic interpretation an appraisal well is expected to be drilled early next year, according to current operator PA Resources. Elsewhere in the sector, PA says the partners in the various licenses containing the Zarat field are working on a joint development. This could involve re-injection of gas to allow production of oil and condensate prior to first gas sales.
•••
Montenegro's Ministry of Economy has invited bids for the country's first offshore licensing round. This takes in 13 blocks over an unexplored area totaling 3,191 sq km (1,232 sq mi). Companies that have viewed the data room include Eni, ExxonMobil, and Total. Bids must be received by the end of February 2014.
•••
Greece's sole offshore oil producer, Energean Oil & Gas, has initiated a new development drilling campaign on the Prinos and Prinos North fields.
This includes one injection well to raise pressure in Prinos and one horizontal extended-reach well on Prinos North. The jackupGSP Fortuna is drilling the wells, which should more than double current production to 4,500 b/d. Energean plans further drilling next year on the offshore Epsilon field.
Saudi Arabia and Kuwait have reportedly halted development planning for the offshore Dorra gas field after failing to agree on how to share production and where to send it. The original plan called for a joint development via two offshore pipelines.
However, Saudi Aramco is looking to boost its offshore construction capability, after signing a memorandum of understanding with Sembcorp Maritime and National Shipping Co. of Saudi Arabia (Bahri). This would involve developing a new yard in Saudi Arabia providing engineering, manufacturing and repair services for rigs, platforms, and offshore service vessels.
•••
ADMA-OPCO has awarded Technip and NPCC a $1.69-billion EPC contract for the Umm Lulu Full Field development project offshore UAE. The scope includes engineering, construction, and installation of a complex comprising six bridge-linked platforms. Technip will deploy its floatover technique for the installations. All work is expected to be completed during the first half of 2018.
•••
Masirah Oil has reportedly contracted the cantilever jackupAban VI for exploratory drilling offshore Oman. At least two wells will be drilled on offshore block 50, targeting prospective resources close to 160 MMbbl.
•••
Golar Nor has agreed to a time charter with Jordan's Ministry of Energy and Mineral Resources for a floating storage and regasification unit. The FSRUGolar Eskimo, capable of storing 160,000 cu m (5.65 MMcf) of LNG, will be moored at a newly-built structure off the Jordanian Red Sea port of Aqaba, and will deliver up to 500 MMcf/d (14 MMcm/d) via a connection to the country's gas transmission pipeline.
East Africa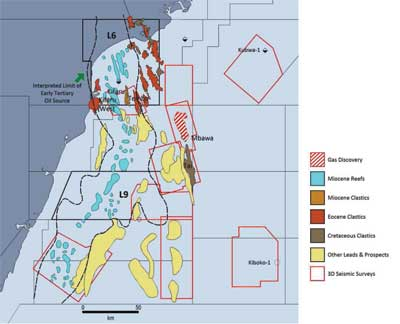 Block L9 offshore Kenya. (Image courtesy FAR)
Australian company FAR is looking to farm out part of its 30% stake in the oil-prospective block L9 in the Lamu basin offshore Kenya. The company and operator are looking to drill their first well on the permit in late 2014.
•••
Eni has discovered more gas in Area 4 offshore Mozambique in the Agulha prospect. The company estimates potential resources in the 5-7 tcf (142-198 bcm) range. Three appraisal wells could follow next year. The location was 80 km (49.7 mi) offshore Cabo Delgado, in 2,492 m (8,174 ft) of water.
Statoil's second well off Mozambique was a dry hole, according to partner Tullow Oil. The drillshipDiscoverer Americas drilled Buzio-1 in a water depth of 1,534 m (5,033 ft). The main targets were Tertiary and Upper Cretaceous stratigraphic traps.
•••
PetroSeychelles has received two new applications for petroleum exploration blocks offshore the Seychelles, in Application Areas 1 and 2. Earlier, the islands' president James Michel held talks with officials from Japan's JOGMEC over a possible joint oil and gas exploration program.
Indian Sub-Continent
Reliance Industries and BP have a second deepwater discovery in block CY-DWN 2001/2 in the Cauvery basin offshore India. The well, drilled in 1,743 m (5,717 ft) of water, was targeting Mesozoic reservoirs. It flowed just over 35 MMcf/d (991,090 cm/d) of gas and 413 b/d of condensate.
•••
Sri Lanka's Petroleum Resources Committee is offering six ultra-deepwater blocks around the country's coastline on a joint study basis. These range in area from 18,000 to 26,000 sq km (6,950 to 10,039 sq mi). They will be awarded outside the current Sri Lankan bid round.
Asia/Pacific
PTTEP has proven more gas in the Aung Sinha field in the Gulf of Moattama, offshore Myanmar. The company drilled four successful appraisal wells, with three flowing more than 34 MMcf/d (962,773 cm/d) in total with more than 2,000 b/d of associated condensate in two of the wells. PTTEP plans more drilling on the field next year, and is looking to bring in Mitsui Oil Exploration as a partner on the block.
•••
Mubadala Petroleum and partner KrisEnergy have committed to the Nong Yao oil development in the G11/48 contract area in the Gulf of Thailand. The initial phase calls for 23 wells, a wellhead processing platform and a minimum facility wellhead platform, with oil exported via an FSO. Production capacity will be 15,000 b/d of oil and 30,000 b/d of fluids. Start-up is scheduled for the first half of 2015.
•••
AWE is set to transfer 50% of the Northwest Natuna PSC offshore Indonesia to a subsidiary of Santos for $188 million, subject to approval from the Indonesian authorities. The concession includes the 2000 Ande Ande Lamut oil discovery, which will likely be developed via a wellhead platform and an FPSO.
•••
Rosneft and ExxonMobil have started the contractor selection process for a new LNG project on Sakhalin Island offshore eastern Russia. They aim to complete design work, including preferred liquefaction technology, next year, with gas supplied from Rosneft's offshore reserves in various structures around Sakhalin. The new facility could have capacity of 5 MM tons/yr, and should start operating in 2018.
Australasia
The Browse joint venture partners have accepted Woodside's recommendation of floating LNG to develop the three Browse gas fields offshore northwest Australia, using Shell's FLNG technology. Woodside will lead the basis of design work, which will determine the main parameters for the front-end engineering and design for the proposed subsea and FLNG facilities and associated infrastructure.
•••
Anadarko Petroleum reportedly plans to drill a deepwater exploration well off New Zealand's Otago Peninsula. The location is 60 km (37 mi) offshore in the Canterbury basin in water depths of more than 1,000 m (3,280 ft). Drilling should start early next year.