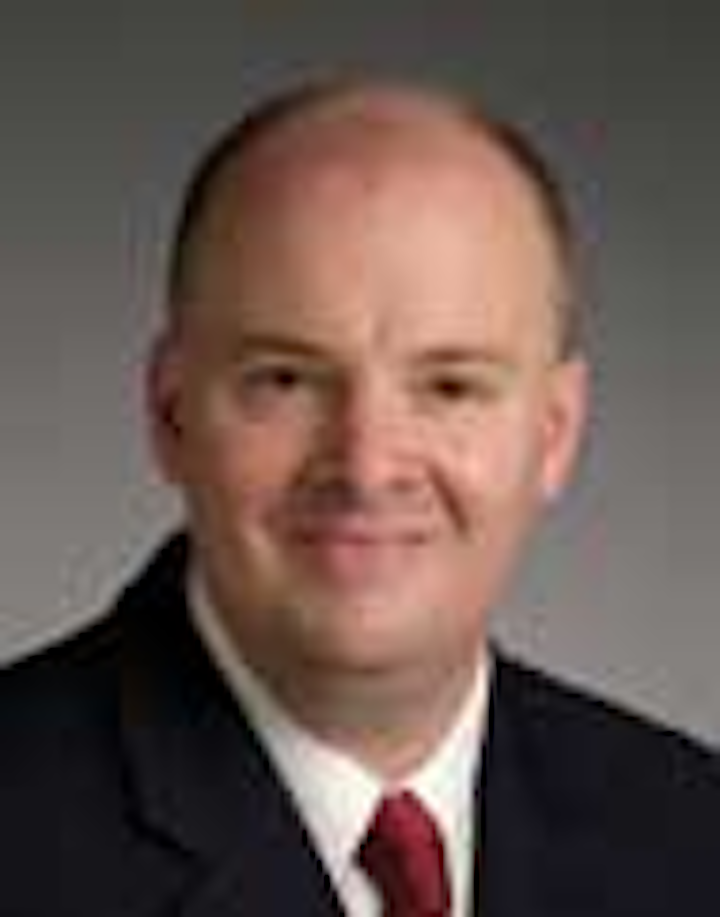 | | | |
| --- | --- | --- |
| | | Bruce Beaubouef • Houston |
Crowley Maritime Corp. reports that its ocean-class tugs and 455 series high-deck-strength barges have successfully delivered, moored, and made storm safe the Jack/St. Malo semisubmersible floating production facility in the US Gulf of Mexico.
As was done when Crowley's ocean class tugs successfully delivered theOlympus platform and Lucius spar to the Gulf last year, the company's Houston-based project management team, which manages the tugs and barges, completed the delivery in three stages of work in both nearshore and offshore waters.
During the first stage, the nearshore phase, the topsides were skidded onto the company's 455 series bargeJulie B at the Kiewit facility dock in Ingleside, Texas, where they were later lifted and installed onto the hull of Jack/St. Malo.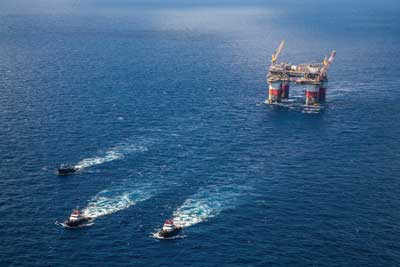 TheOcean Wind, Ocean Sun, and Crowley-contracted tugboat Harvey War Horse II tow the Jack/St. Malo semisubmersible floating production facility to location in the deepwater GoM. (Courtesy Crowley Maritime Corp.)
Once in place and secured, theOcean Wind and Ocean Wave next provided assistance by pushing the Jack/St. Malo facility, away from Corpus Christi, through the Port of Aransas, Texas, and out to deeper waters. The Ocean Sun followed the flotilla and was equipped to provide assistance, if needed.
The second phase of work, the offshore stage, started when theOcean Wind and Ocean Sun towed the facility to its final location, alongside the Crowley-contracted tugboat Harvey War Horse II. Also during this phase, the project team arranged for the company's 455 series barge 455 7, towed by Crowley's tug Warrior, and third-party barge Marmac 400, towed by Crowley's tug Pilot, to deliver the piles to the project site.
Finally, theMarty J, towed by the Pilot, made three subsequent trips to the installation site to deliver additional equipment – including chains, connectors, and line reels – used in the mooring of the floating facility.
In the final stage, the positioning phase, theOcean Wind, Ocean Wave, Ocean Sky, Ocean Sun, and Harvey War Horse II worked together to hold the semi in its final location, and remained on site in a star pattern to provide support during connections to its moorings in more than 7,000 ft (2,134 m) of water.
Scheduled to begin producing oil and natural gas later this year, the facility will have a capacity of 170,000 b/d and 42.5 MMcf/d (1.2 MMcm/d) of natural gas. Jack/St. Malo will act as a hub for the 43 subsea wells, including pumps and other equipment on the seafloor.
BOEM releases GoM lease sale totals
The March 19 oil and gas lease sales for federal waters in the Gulf of Mexico received $872,143,771 million in high bids on 329 tracts covering 1,707,358 acres, according to an announcement from theBureau of Ocean Energy Management.
Lease Sale 231 for the Central Planning Area attracted $850,809,921 in high bids on 326 blocks covering 1.7 million acres on the outer continental shelf offshore Louisiana, Mississippi, and Alabama. A total of 50 companies participated in submitting 380 bids.
Lease Sale 225, the first of two lease sales proposed for the Eastern Planning Area under the Five-Year Program, received no bids. This was the first sale offering in that area since 2008. The sale encompassed 134 whole or partial unleased blocks covering approximately 465,200 acres 125 mi south of eastern Alabama and western Florida. Plans are to offer the area again in 2016.
In addition to opening bids for these two sales, BOEM opened three pending bids submitted in the August 2013 Western Planning Area Lease Sale 233 for blocks located or partially located within three statute miles of the maritime and continental shelf boundary with Mexico. A total of $21,333,850 in high bids was submitted on three tracts by one company. Leases awarded as a result of these bids will be subject to the terms of the U.S.-Mexico Transboundary Hydrocarbons Agreement.
BP cleared to enter new federal contracts
BP has reached an administrative agreement with the US EPA that resolves "all matters related to the suspension, debarment, and statutory disqualification" of BP after the Macondo incident in the Gulf of Mexico.
This allows BP to enter into new contracts with the US government, including newdeepwater GoM leases.
In the agreement, BP agrees to a set of safety and operational, ethics and compliance, and corporate governance requirements, including those in the remedial order under the 2012 Plea Agreement with the US Department of Justice and the Final Judgement Order with the US Securities and Exchange Commission.
BP also will dismiss its lawsuit against the EPA for improper statutory disqualification and suspension.
Energy XXI to acquire EPL
Energy XXI has agreed to acquire for $2.3 billion all outstanding shares of EPL Oil & Gas Inc., including the assumption of debt. This will give Energy XXI production of about 65,000 boe/d, 70% of which is oil.
EPL owns working interests in 37 producing fields, mainly in nine producing areas: an estimated 91% of proved reserves, 88% of production, and 91% of revenues are associated with the Ship Shoal, East Bay, South Timbalier, South Pass 78 and 49, West Delta, Main Pass, Eugene Island, and South Marsh complexes. EPL operates 90% of its properties, by reserves, similar to Energy XXI's 94%.
"This acquisition adds meaningfully to our reserves, production, infrastructure and acreage positions, complemented by seismic data and field studies," Energy XXI executive vice president of exploration and production Ben Marchive said. "Upon completion, the combined company will own and operate 10 oil fields on the shelf with cumulative production exceeding 80 MMbbl of oil each, with ample opportunity to grow organically by increasing recovery from those known reservoirs as well as by exploring around and below the producing horizons."