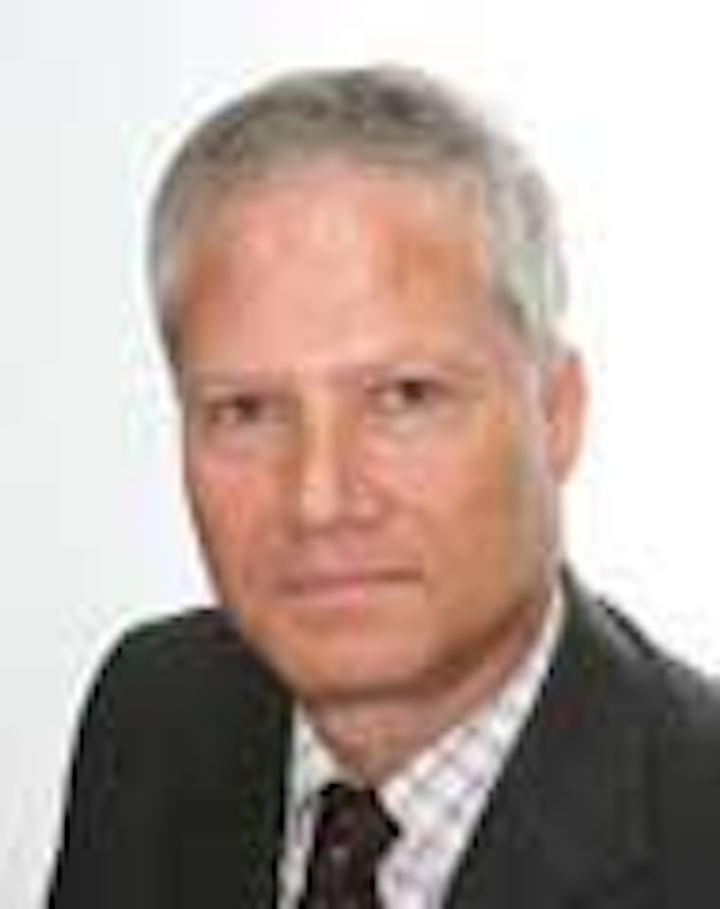 | | | |
| --- | --- | --- |
| | | Jeremy Beckman •London |
Industry urged to safeguard UK's future
UK offshore operators must adapt to the low oil price environment, according to Elisabeth Proust, managing director of Total E&P UK. Returns from UK North Sea production are at their lowest for all companies, she added, and many are striving to keep their operations going. But rather than wait and hope that the price will eventually increase, measures should be enacted now, she said, to sustain the sector's future.
Proust was speaking in London at the recent "Europe: a region in transition" conference, organized by the Institute of Petroleum for IP Week. Of the UK offshore oil fields currently in production, around 70% are still operating above $30/bbl, she claimed. Over the last 10 years running costs have tripled worldwide, but the North Sea is one of the regions to suffer most. Total E&P UK realized it needed to put the brakes on spending, Proust said, even at $100/bbl, and asked its contractors for suggestions. These and other actions have reduced the company's opex by 20% so far, and the target is 30% by the end of this year.
At the same time, the company's UK production is rising this year to 160,000 boe/d following start-up of the Laggan-Tormore gas fields west of Shetland. "It's strange…when the price is not right, but we have no choice," Proust said. The UK provides 10% of Total's global production, and further major projects are under way at the company's three main UK offshore hubs.
In recent years, Britain's fiscal regime for petroleum operations has been one of the most unstable worldwide, she pointed out, with taxes raised just after Laggan-Tormore was launched. The government has since introduced an array of incentives following the industry's recommendations, and the current regime should stay in place, Proust said - fiscal stability is more important to investors in the North Sea than oil prices, she stressed.
The future for the UK sector remains uncertain if the current environment persists, she concluded. "It's difficult to say if this is the end of a great story, or a new phase starting, but we are confident we can find solutions to regain competitiveness. However, the UK has mature production, and in some cases mature management. We mustn't think that the UK has the best technicians in the world, and we need to focus more on creating a motivated and efficient workforce."
Majors prosper in Irish frontier round
More details have emerged of some of the licensing options (LO) awarded by Ireland's government under the country's 2015 Atlantic Margin Licensing Round. Statoil gained six, all in partnership with ExxonMobil, and will operate four. The acreage covers a total area of around 7,700 sq km (2,973 sq mi) in the Porcupine basin offshore western Ireland, in water depths of 1,100-3,150 m (3,609-10,334 ft). ExxonMobil has already drilled a deepwater exploration well in the basin on the Dunquin structure, discovering oil, according to partner Providence Resources. Statoil said the duo would acquire 2D and 3D seismic this year and next before determining whether to apply for frontier licenses in order to drill.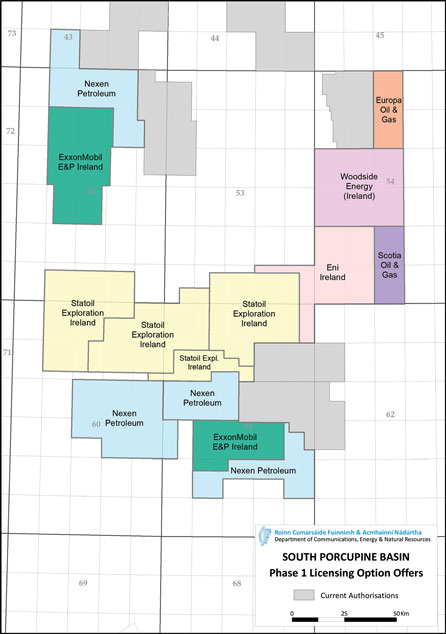 Licensing options in the Porcupine basin offshore southwest Ireland. (Map courtesy Statoil)
Irish independent Europa Oil & Gas secured LO 16/2 in the south of the basin, which includes three prospects mapped on 3D seismic acquired by the company's former partner, Kosmos Energy. Europa, which is looking to bring in a replacement for Kosmos, estimates potential reserves from these prospects at 895 MMboe, and claims to have identified analogies with the emerging pre-rift play in the Flemish Pass basin across the Atlantic offshore Newfoundland.
NPD details Norway resources
The Norwegian Petroleum Directorate (NPD) has upgraded its estimate of Norway's petroleum resources, discovered and undiscovered, to 14.2 bcmoe. Of this, 47% has been produced, with 37% of the undiscovered resources thought to reside in the Barents Sea. Just over half the country's remaining proven resources are in the North Sea, with the remainder split between the Norwegian Sea and the Barents Sea.
Last year, NPD added, Norway had 82 fields in production, and exploratory drilling added 30 MMcmoe of new reserves from 16 discoveries. Recently Statoil added to the balance by proving a small new gas accumulation 5.5 km (3.4 mi) west of Oseberg South in the North Sea. The company has also awarded Forsys Subsea, the FMC/Technip joint venture, its first subsea front-end engineering and design study for a tieback of the Trestakk oil and gas field to the Åsgard A FPSO in the Norwegian Sea. According to analyst ScanBoss, Statoil's previous development attempts for the field, discovered in 1986, were defeated by profitability and complexity issues.
UK spending set to slow further
Exploratory drilling in UK waters is set to remain subdued, according to Oil & Gas UK's 2016 Activity Survey, despite an above average success rate in 2015. Twenty-six exploration and appraisal wells were drilled across the sector last year, and the association predicts a lower total this year, comprising seven to 10 exploration wells and six to nine appraisal wells.
Last year, UK field development capex slipped to £11.6 billion ($16.5 billion), against £14.8 billion ($21 billion) the previous year. In 2016, the association predicts a further decline to around £9 billion ($12.8 billion), with numerous projects on hold or deemed uncommercial at current oil prices. At the same time, UK decommissioning activity is set to speed up, with more than 100 fields set to cease production between 2015 and 2020.
Oil & Gas UK additionally unveiled findings from its first report on decommissioning on the Norwegian continental shelf. Operations director Oonagh Werngren said: "While the Norwegian oil and gas industry is less mature than the UK sector and decommissioning is in its infancy, the report shows there are 12 concrete facilities, 19 floating steel facilities, 88 [fixed] steel facilities, and nearly 350 subsea systems in place, most of which will eventually require decommissioning. An estimated 3,000 wells will also need to be plugged and abandoned."
Discussions with five of Norway's leading operators suggest there will be 23 decommissioning projects between 2015 and 2024, and the NPD estimates associated expenditure of potentially NOK160 billion ($18.8 billion).