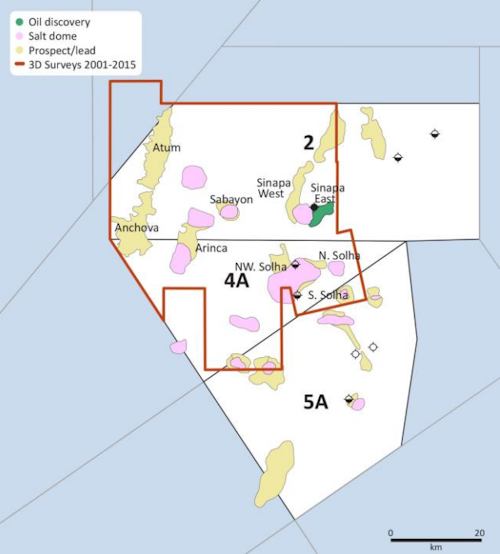 (Courtesy FAR)
Offshore staff
MELBOURNE, Australia – FAR has approved Svenska Petroleum Exploration GB's request for a farm-out to CNOOC offshore Guinea-Bissau.
Svenska plans to transfer 55.55% of its share of the Sinapa and Esperanca petroleum licenses to CNOOC and retain operatorship with a 23.03% interest. FAR holds the remaining 21.42% in each of the concessions.
Under the arrangement, the Chinese major will fund 55.55% of all expenditures incurred under the joint venture participation and joint operating agreements. Its participating interest will drop to 50% in each of the licenses in the event of a commercial discovery.
Completion of the transaction remains subject to approval from the government of the Republic of Guinea-Bissau.
The partners are preparing to drill the country's first ever deepwater exploration well in 1Q 2020 on the Greater Atum prospect.
According to FAR, prior offshore exploration focused initially on shallow waters – less than 200 m (656 ft) – and targeted salt diapiric-related features.
Drilling to date has proven good quality reservoir sands across multiple intervals with widespread oil and gas shows. There have been two light oil discoveries on the Sinapa permit, with the Sinapa discovery thought to hold around 13.4 MMbbl recoverable.
Greater Atum, which will also be the country's first offshore well since 2007, will test a shelf-edge play analogous to the deepwater SNE oil field offshore Senegal, with prospective resource of 471 MMbbl.
08/06/2019