Shell starts up Stones in the ultra-deepwater Gulf of Mexico
Shell has started production from the Stones development in the Gulf of Mexico.
Sep 6th, 2016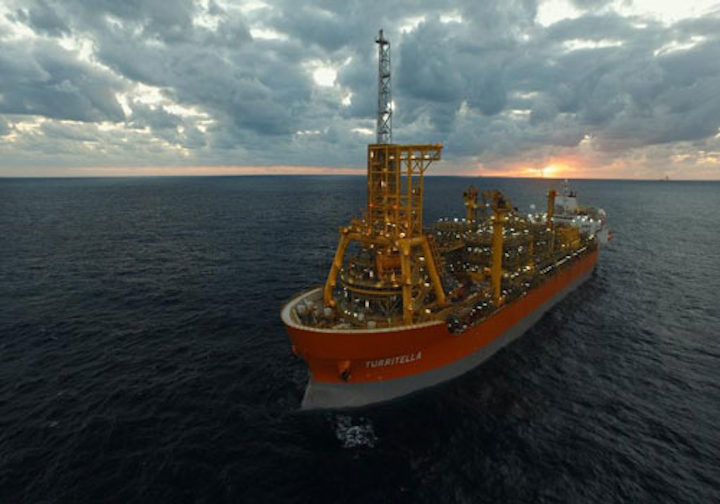 Offshore staff
HOUSTON– Shell has started production from the Stones development in the Gulf of Mexico.
Stones is expected to produce around 50,000 boe/d when fully ramped up at the end of 2017.
The host facility for the world's deepest offshore oil and gas project is theFPSOTurritella. It is the thirteenth FPSO in Shell's global deepwater portfolio and produces through subsea infrastructure beneath 9,500 ft (2,900 m) of water. 
Stones is located about 200 mi (320 km) southwest of New Orleans in the Walker Ridge area.
Stones, which is 100% owned and operated by Shell, is the company's second producing field from theLower Tertiary geologic frontier in the Gulf of Mexico, following the start-up of Perdido in 2010.
The development will start with two subsea production wells tied back to the FPSO, followed later by six additional production wells.Multi-phase seafloor pumping is planned for a later phase to pump oil and gas from the seabed to the vessel, increasing recoverable volumes and production rates.
According to the operator, the project features a more cost-effective well design, which requires fewer materials and lowers installation costs; this is expected to deliver up to $1 billion reduction in well costs once all the producers are completed.
The FPSO is also specially designed to operate safely during storms. In the event of a severe storm or hurricane, it can disconnect and sail away from the field. Once the weather event has passed, the vessel would return and safely resume production.
Andy Brown, upstream director, Royal Dutch Shell, said: "Stones is the latest example of our leadership, capability, and knowledge which are key to profitably developing our global deepwater resources. Our growing expertise in using such technologies in innovative ways will help us unlock more deepwater resources around the world."
09/06/2016
Share your news withOffshoreat news@offshore-mag.com