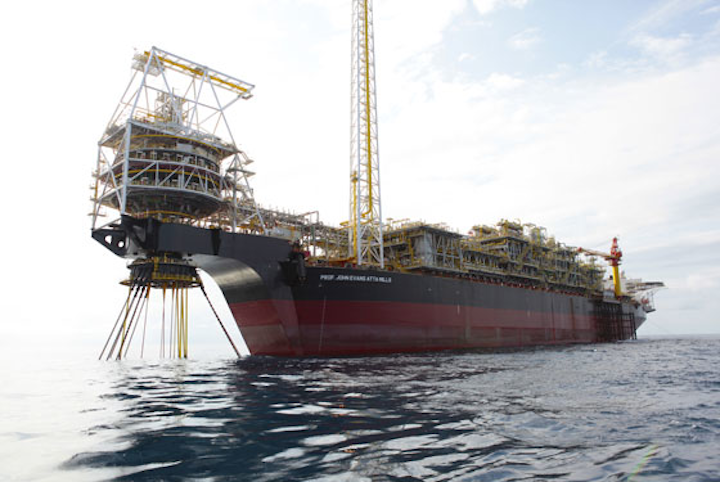 Offshore staff
LONDON – Current oil production from the Tullow Oil-operated TEN development offshore Ghana is about 50,000 b/d.
The first offtake of 650,000 bbl was completed last month.
Commissioning of the oil production, gas compression, and water injection systems continues, with all systems set to be fully operational by year-end.
However, production ramp-up has been slower than expected due to water injection commissioning taking longer than planned, limiting the volume of water injected to date.
Tullow is addressing this situation and the system can now inject water at the design capacity.
In October, the company declared Force Majeure under its contract with Seadrill for theWest Leo drilling rig. Seadrill has started legal proceedings in response.
Production from theJubilee field offshore Ghana has averaged around 100,000 b/d since August, Tullow adds. The FPSO turret remediation project is progressing as planned, with the interim spread-mooring of the vessel on its current heading due to be completed by year-end.
The next phase of the project involves spread-mooring the FPSO in its permanent and optimum heading position. The program, which should be completed during 2017, will likely cause production to be shut down for up to 12 weeks.
Elsewhere, a drop core survey has been completed in block 54 offshore Suriname (Tullow 30%) and results will be evaluated with 3D seismic acquired in 2015.
Preparations continue for drilling the potentially high-impact Araku prospect in the same block in the second half of 2017.
The company has further plans to acquire 3D seismicoffshore Guyana, Uruguay, and Mauritania and to complete a further 2D seismic program off Jamaica in 2017.
Tullow is in the process of divesting its Norwegian offshore interests, selling four licenses, including theWisting discoveries in the Barents Sea, to Statoil, and eight licenses including the Oda asset, to Aker BP.
These deals should be completed by the end of year. Tullow aims to conclude the disposal of its remaining Norwegian assets by the first half of 2017.
Decommissioning operations on the company's CMS assets in the UK southern North Sea remain on schedule and should be completed during 1Q 2017.
11/09/2016