Christophe Valdenaire
Saint-Gobain Performance Plastics, Seals Group
Statoil is due to install the world's first subsea gas compression station in 2015 on the Åsgard field in the Norwegian Sea. Saint-Gobain Performance Plastics, Seals Group will provide polymer spring-energized seals, specially engineered to address performance and reliability needs relating to the axial control valves portion of the gas compression system which will operate in a water depth of 3,000 m (9,842 ft). In line with API 6A PR2 test procedures, the seals successfully completed a 500,000-strokes endurance testing without leakage.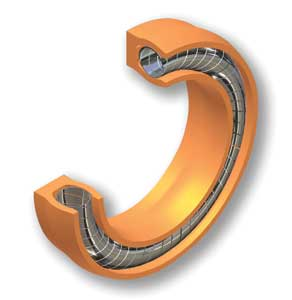 The OmniSeal-103-A.
Subsea compression technology, developed in Norway, is designed to improve gas recovery and offers numerous advantages compared to the alternative of installing a new platform. These include reduced capex and operating costs, a smaller environmental footprint, and safer operations. This enabling technology has great potential to change offshore gas field developments worldwide as projects move into deeper waters farther from shore.
However, operating conditions in deeper, more remote locations are often severe, characterized by pressures beyond 15,000 psi (1,034 bar) and temperatures above 150°C (302°F), as well as aggressive chemicals arising from the more complex reservoirs and implementation of recovery techniques.
Due to new industry requirements, contractors and OEMs are being pushed to switch to new sealing solutions that exceed the limits of conventional solutions such as packings and O-rings. Over time, the performances of elastomers have decreased in direct proportion to the difficulties experienced with extreme operating conditions and chemically aggressive environments. Moreover, elastomers under high pressures have proven to be susceptible to rapid gas decompression.
Polymer spring-energized seals were initially introduced to the oil and gas sector primarily to solve reliability and durability problems caused by the performance limitations of elastomeric seals. Polymer spring-energized seals are pressure-assisted sealing devices, consisting of a PTFE jacket or other polymer, partially encapsulating a corrosion-resistant metal spring energizer. The spring-energized seals are designed to withstand critical areas of concern such as aggressive media (sour gas with H2S > 15%, methanol, and other harsh chemicals) and extreme temperatures and pressures.
The OmniSeal-103A seals that Saint-Gobain Seals Group will supply for the Åsgard subsea gas compression station were engineered and manufactured with a unique blend of the company's Fluoroloy material, qualified to the NORSOK M710 standard. The latter describes the required physical tests for sealing materials: in this case, most of the tests were conducted at Saint-Gobain's R&D facilities, while the ageing tests were performed by an independent laboratory.
We have developed a specific PTFE-based formulation of Fluoroloy for the Åsgard project which is being used for the jacket of our spring-energized seal. Also, the seals for this application have been custom-designed based on the technical specification of our customer, the valve OEM. In addition, we have back-up rings to prevent extrusion of the jacket material into the extrusion gap. These back-up rings are made from PEEK-based material.
Ageing results can be used to estimate service life for materials in sour applications as well as a more general assessment of their suitability for sour service. For this specific ageing test in the qualification process, Fluoroloy materials were subjected to extreme temperature and high percentages of hydrogen sulfide of up to 15% H2S, giving new insights and potential application possibilities into the properties of these high-performance and custom formulated compounds.
To date the subsea axial control valves have completed the following qualification program:
FMECA: In order to establish all failure modes, a Failure Mode, Effects, and Criticality Analysis (FMECA) was performed for anti-surge valves and for regular control valves.
Component qualification: The seal arrangement and the volume compensator have been designed specially for the subsea control valve. Both have been tested thoroughly prior to use.
API testing: Following assembly and verification the API 6A PR2 test was conducted, which involved testing of the valve at the pressure and temperature extremes, proving the quality level of the design.
Endurance test: To simulate a lifetime of operation, the subsea valve has been subjected to an accelerated endurance test. During this test 500,000 strokes were made in all possible combinations of operating temperatures and internal/external pressures. The endurance test was passed with zero leakage to the environment.
Hyperbaric test: Hyperbaric testing has been completed. A 12,000-stroke test was performed at 165 bar (2,393 psi) external pressure, simulating 1.5 times the project's water depth.
Production tests: For each delivery production tests are applicable. The standard program includes material testing, dimensional verification, non-destructive engineering, operating thrust measurement, hydrostatic pressure, and leakage testing.
As the industry continues to extend field development in ever-deeper waters, the oil and gas supply chain needs to focus on and develop new materials and components for subsea production systems including trees, wellheads, BOPs, manifolds, gate, ball and choke valves, flow meters and couplings, that allow them to operate at higher pressures and temperatures.
All these new systems must also adhere to strict requirements for sealing at 20 psi (1.37 bar) and 205°C (401°F) for 2,000-3,000 m (6,561-9,842 ft) water depth; seals have been identified as a critical component in the development of these systems.
More Offshore Issue Articles
Offshore Articles Archives
View Oil and Gas Articles on PennEnergy.com