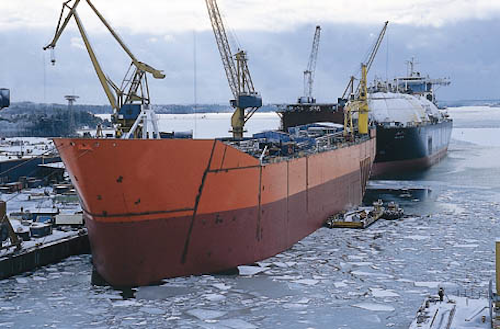 The virtually complete FSU during its recent launch at Turku.
Norsk Hydro's Njord development is gradually slotting into place, in readiness for first oil this October. One of the key components, the floating storage unit, was recently launched at Kvaerner Masa-Yards' Turku New Shipyard.
June is the scheduled delivery month. The FSU will then be towed to the Njord Field which lies in blocks 6407/7 and 10, 30 km from Draugen in the emerging Haltenbanken region. There it will be anchored in approximately 330 meters of water using a submerged turret loading system anchored to the seabed - one of the first such applications off Norway.
Development is based around subsea wells tied back to a newbuild steel semisubmersible based on Aker's P-45 design. Individually completed wells, arranged in a V-formation within the semsib's anchor pattern, will be connected via flexible risers. Produced oil will head to the FSU 2.5 km away for storage. Up to 10 days' production, or 112,000 cu metres of oil, can be stored on this vessel.
The passive turret mooring system is located in the FSU's fore body. Crude will be fed in via a flexible riser and a swivel through the turret into the vessel. Electrical power at 11kV will be transferred through the turret by electrical cables and a slip ring unit. Should Norsk Hydro decide to switch to unmanned operation of the FSU at any time, remote operation and communications will be possible through a telemetry link.
From the storage unit, offloading of stabilized crude to shuttle tankers will be achieved through a flexible hose in the vessel's stern, at a rate of 8,000 cu m/hr. A 2.5MW azimuth thruster in the aft will be used for heading control during offloading.
Thirteen double cabins have been fitted to accommodate the crew during offloading and maintenance operations. The 236m long, 100,000dwt FSU is designed for 15 years continuous operation, with a 25-year fatigue life for the hull.
Copyright 1997 Oil & Gas Journal. All Rights Reserved.