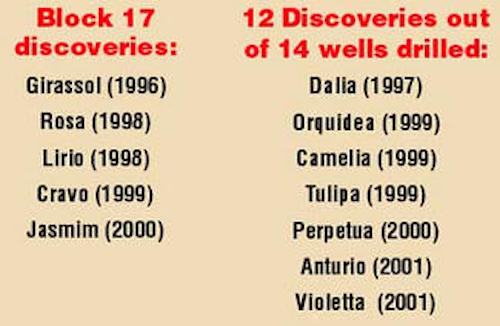 TotalFinaElf (TFE) has a lot planned for Block 17 offshore Angola. Even if the current Girassol field were the extent of the operator's production plans it would be impressive. TFE, partnered with ExxonMobil, BP, Statoil, Norsk Hydro, and national oil company Sonangol, brought the field on line late last year.
Eventually Girassol will include 39 subsea wells (23 producers, 14 water injectors, and two gas injectors) tied back in three riser towers to the world's largest Floating Production, Storage, and Offloading (FPSO) vessel. But Girassol seems to be only the beginning. An entire "arrangement" of fields (all named after different flowers): Lirio, Cravo, Rosa, Jasmim, Girassol, Orquidea, Perpetua, and Dalia is in the offing.
In the bargain, TFE will best itself by building an even larger FPSO to develop the Dalia, and other related fields, in the same block.
Dalia
Dalia sets itself apart from Girassol, since it is composed mainly of heavy oil from Miocene sands. Girassol and the similar fields are produced from Oligocene sands.
The Dalia Field is also larger than Girassol. Dalia will have a total of 67 subsea wells, 35 of which will be production wells, 31 water injection, and two gas injection. The wells will be produced through horizontal trees that feed into six-well manifolds. From there, 12-in. interior diameter (ID) flow loops will carry production 40 km to a pair of riser towers that will feed into the FPSO. The 10-in. ID water injection lines will also travel 40 km. The gas injection wells will be located 8 km from the FPSO and will transport through 12-in. ID flowlines.
Producing this field will take a larger FPSO than Girassol, and it must be outfitted for heavier production. The Dalia FPSO will be designed with a daily capacity of 240,000 bbl, with a planned production plateau of 225,000 b/d. This is larger than Girassol, but the storage capacity of the two is the same, 2 MMbbl. While this will be a large vessel, it does not rely on one field for its input. Down the road, Orquidea and Perpetua, also heavy-oil fields, will be brought on line and feed their production into the new FPSO.
Block 17
That leaves the Girassol vessel to handle Girassol, Jasmim (scheduled to come on line next year) Rosa, Lirio, and Cravo. Jasmim is located behind the riser towers on the west side of the FPSO about 40 km northwest of the Girassol site. Northwest of Jasmim are Rosa Channel D and E. Even further to the north are Cravo and Lirio, each waiting its turn to be processed through Girassol. One thing that seems to be clear is that Block 17 will produce a lot of oil and a lot of jobs for years to come.
While all the prospects, and subsea wells of each prospect for that matter, will not be brought on line concurrently, Girassol is a world-class project in terms of scope and volume. TFE officials had to go all the way back to the heydays of the North Sea to recall a field with similar production numbers.
Girassol flows fast
Girassol went on line on Dec. 4, 2001, and within two months reached 180,000 b/d. The eighth production well was brought onstream Feb. 11, which enabled the project to reach the planned production plateau of 200,000 b/d.
The Girassol Field is being produced at a speed the FPSO can comfortably handle, and the other fields will be phased in as needed. As this first field pours into the belly of the FPSO, geologists and field development personnel are watching closely to learn more about the reservoir dynamics.
Girassol was conceived as a freestanding development since Angola's existing facilities do not have the capacity to handle the production. The Palanca terminal on Block 3, operated by TotalFinaElf (handling production from blocks 1,2,3 FS, FST ) exports around 225,000 b/d of oil by tanker. A main driver for this development choice was Girassol's remote location, far from existing infrastructure and in deepwater. Located over 60 miles offshore, the FPSO feeds tankers that carry the oil to distant markets.
The decision to have a stand-alone development is related to a number of considerations: logistics, remote location, water depth, and distance from existing infrastructure, economics, and technical feasibility. The combination of subsea wells and an FPSO give TFE some options not only in the development of this first field in Block 17, but those coming on line in the future. Depending on how Girassol develops, modifications can be made in the design of future production scenarios. While the oil does not go ashore, there is a wide-range of support activities in the Angolan capital of Luanda.
Luanda Oil Service Center
Built in 1999, the Luanda Oil Service Center is a base of activity for the Girassol development. Progress in the completion phase of Girassol can be charted by the equipment being sent offshore. The facility was ISO 9001 certified earlier this year. It receives FMC Kongsberg production equipment from Norway. The equipment is inspected, stored, hooked up, and tested at the center before going offshore. The facility also fabricates the well jumpers used in the Girassol deepwater development and supports other offshore operations. FMC Kongsberg is working closely with the domestic labor force to ensure as many jobs as possible go to qualified locals. The company has a training program and has brought on over 40 Angolan nationals so far. These workers are not only trained on and offshore Nigeria, but flown to Norway for additional classes. Beyond promoting the local workforce, there is an effort to manufacture components locally and involve the locals in life-of-field management for Girassol. While such a program is a mandate from the government, it is clearly in the company's best interest to have qualified workers on the ground here as more and more large, deepwater fields are developed.
Future production
All of this early production is certainly good news for the operator, and plans are to bring gas and water injection wells on line right away to make sure it continues. The only question now seems to be "How long will it last?"
Girassol's field life is 20 years, but this will be prolonged by the connection of other Oligocene discoveries, starting with Jasmim in second half of 2003. Jasmim, Rosa, Cravo, and Lirio are all higher quality, Oligocene oil. TFE has completed conceptual engineering studies, and selected scheme is to connect all Oligocene discoveries to the Girassol FPSO and all Miocene discoveries to a planned FPSO development on the Dalia Field. TFE said it is working on how to connect all these discoveries around the two poles. Conceptual studies for the development of Rosa, Lirio, and Cravo are underway.
Formerly known as the Girassol C reservoir, Jasmim is due onstream during the second half of 2003 as a satellite to Girassol. A development plan encompassing five producing wells and five injectors was submitted to Sonangol for approval. The installation work for Jasmim is planned to be carried out in tandem with phase II of Girassol, and the drilling will follow on from the final wells on Girassol. Phase one of Girassol taps the B3 Girassol reservoir, while phase two will tap the B1 and B2 reservoirs on the eastern side of B3.
There are several (four or five counting the Rosa D and E channels separately) similar fields near enough to Girassol that they could easily be tied back. All these fields need is space on the FPSO. With all the wells TFE is developing on Girassol, the wait should not be too long. It the others wells produce as rapidly as the first seven, the field should make room for its successors in the near future. Even the subsea arrangement, positioning, and mooring of the vessel are designed to accommodate these upcoming projects.