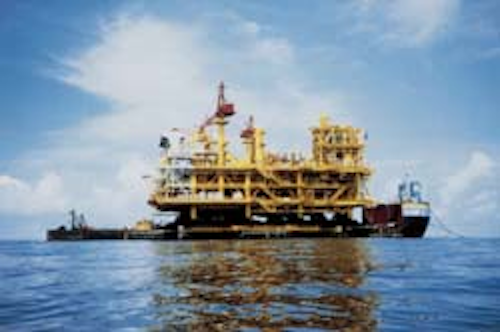 Neil Potter
Contributing Editor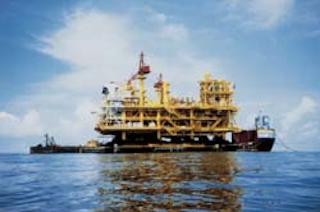 Elf's N'Kossa deck at loadout in Fos.
West Africa is one of the cornerstones of Elf's worldwide strategy, accounting for more than 5O% of its worldwide reserves. One third of the group's total annual investments of Fr3 billion will be spent there over the next few years.
Next month, the N'Kossa Field, 60 km off the Congo, will come onstream. In mid-March the completed, 220 meter long, concrete hulled production barge (cost Fr4.7billion) was towed out from Fos in southern France to the field by two Smit tugs. The barge, with its six modules, is the centerpiece of the Fr9.4 billion field development which also comprises two unmanned steel drilling platforms tied back to the barge. Oil and LPG will be exported from two storage/offloading tankers.
Plateau production is forecast to reach 120,000 b/d and field life is estimated at 30 years. N'Kossa represents the deepest water depth development undertaken in the Gulf of Guinea. Water depths range from 150 meters in the east to 300 meters in the west, where the continental shelf drops suddenly away.
Elf has been a pioneer in the Congo and today operates over 65% of the country's oil production. Offshore production really started in 1972 with the Emeraude Field.
Congo's output has risen steadily in recent years, currently exceeding 195,000 b/d. Without N'Kossa, production would have declined to an estimated 119,000 b/d in 1998. With N'Kossa, it should peak at 250,000 b/d in 1998.
But there may be more to come. There is a southerly extension to the N'Kossa reservoir yet to be tapped and developed.
While N'Kossa is the largest field yet operated by Elf, there are indications that last year's Moho discovery in 800 meters water depth will prove to be far bigger. Moho reserves could contain up to 600MM bbl or more, compared with 440MM bbl at N'Kossa.
Moho Marine 1 was drilled by the drillship Pelerin in the Haute-Mer concession, about 14 km west of N'Kossa. Two production tests were performed over two intervals. One produced 3,500 b/d and the other 2,200 b/d. The oil was 38-42 API and there was no associated gas cap.
A 1,000 sq km 3-DE seismic has since been shot over Moho and the surrounding area. An appraisal well is currently being drilled, with a further two likely next year. If these prove up the reserves, a fast-track development will take place, with a possible production start in 2000.
1,000-meter well
Another key offshore area is Angola, where production is currently 180,000 b/d. Elf has been drilling the Girassol-1 well in 1,000 meters of water in block 17. In Block 3, where it already has six fields onstream, total investment between 1990-99 is estimated at Fr7.4 billion. Main features here are:
Development of Cobo, Pambi, and Oombi Fields with drilling platforms COB F1, Pam F1, and Oom F1, and production platform COB P1.
Enhanced oil recovery of the northern field using gas lift and water injection.
Possible extension of facilities for future discoveries and requirements.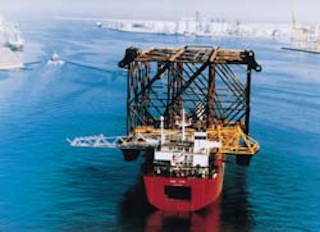 Elf Angola's COB-PI platform on its way to the Cobo Field on the Smit barge Giant 4.
The $435 million COB P1 platform will become the production center for the southern area. It will be bridge-linked to the existing Pam F1 (Pambi) drilling platform.
The 9,600-ton integrated deck left the Eiffel yard at Fos, fully commissioned, at the end of 1995. It was mated with the 4,500-ton jacket (built in Dubai and installed in November) through transferral from the barge Giant 4 using a combination of jacking and ballasting. This method, in which the barge moves inside the jacket's eight legs, was considered preferable to having a crane barge lift the deck. The jacket was therefore designed specifically for this form of installation, with vertical sides to resist the stresses.
The deck has a production capacity of 24,000 cubic meters of gas and will also process the gas from four main platforms. Later it is planned to bring Oombo should onstream with the Oom-F1 drilling platform tied back to COB P1.
Copyright 1996 Offshore. All Rights Reserved.