OTS replicates platform equipment and systems
Ilya Vasilyevych Fotin
LUKOIL
Viacheslav Kulikov
Emerson Process Management
LUKOIL has deployed an offshore training simulator (OTS) at its corporate training center near Astrakhan,Russia, that enables its employees to become familiar with exactly the same type of equipment and systems they will use in the field.
The OTS features a modern control system from Emerson Process Management and modeling software from Kongsberg, and was developed with the same Emerson developers who configured LUKOIL's North Caspian Sea platform in the Yuri Korchagin oil field. The following reviews the development of that training center and explains how it operates.
Production facilities
In 1995, LUKOIL began to investigate a previously unexplored area in the northernCaspian Sea. Exploratory drilling began in 1999, and the first production platform began operating in April 2010, with five more fields to be developed by 2017. The company realized the need for trained operators to work safely and consistently, so they embarked on a program to develop a center to provide operators with the most up-to-date and complete training possible.
The platform is located about 70 km (43.5 mi) offshore in theYuri Korchagin oil field, and while the water is not very deep – 11 to 13 m (36 to 43 ft) – the operating conditions can be severe, with low temperatures, ice fields, and strong winds. The complex consists of two platforms: the production platform, LSP-1, and the habitation platform, LSP-2, which accommodates up to 105 employees and is connected to the production platform by an elevated walkway. There can be as many as five shifts on the platform at one time.
Oil produced by the platform is transported 58 km (36 mi) to a floating storage unit via a 300-mm (12-in.) subsea pipeline. The main production facility is powered by extracted gas, backed up by diesel motors when necessary.
The platform uses a modern distributed control system (DCS) from Emerson Process Management: a DeltaV distributed control system, DeltaV SIS (safety instrumented system), AMS Suite plant asset management software, and the controls for the platform's fire and gas systems. The total I/O comes to about 14,000 points.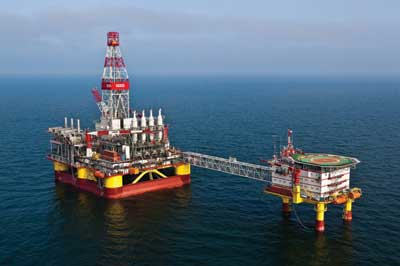 LUKOIL's North Caspian Sea platform is located about 70 km (43 mi) offshore in theYuri Korchagin oil field. (Images courtesy Emerson Process Management)
Need for training
Training is vital for proper and safe operation. At one time, LUKOIL conducted operations training onboard the platform, but it quickly became apparent that this was not a safety arrangement. The company started planning an onshore training facility, and in 2011 opened a corporate training center in the suburbs of the nearby city of Astrakhan. Initially aimed at training in firefighting and other emergency procedures, the center has grown into a multi-purpose training facility for safety training (fire and gas, sea rescue, and first aid training) as well as instrumentation and offshore operations training, focusing on skills development for operations and engineering staff. Operators are trained in safe and efficient process operation; process knowledge development; knowledge of process control systems; and startup, shutdown, and abnormal situation handling skills. The center has a capacity of 2,500 trainees per year.
The safety training is realistic, and even includes a mockup of a helicopter that can be filled with people and then dropped into a water tank so that trainees can learn to escape a crash at sea. It also provides realistic fire training, with instruction in the use of fire extinguishers and the various fire-fighting systems on the platform.
A similar level of realism is necessary for operator and supervisor training to prevent process upsets, lost production, spills (the entire production operation operates under a strict no-discharge rule), and danger to personnel. This means that the simulated control system on which the training is done must exactly duplicate the control system on the platform.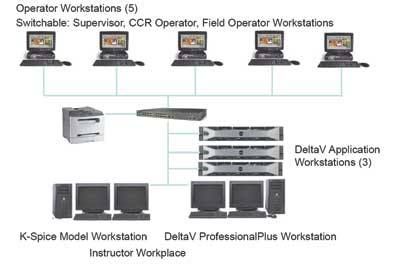 Hardware for the OTS includes five PC workstations connected to the control system emulator, three DeltaV application workstations, a K-Spice model workstation, and a DeltaV ProfessionalPlus workstation.
Displaying 1/3 Page 1,2, 3,Next>
View Article as Single page